This virtual
cocktail-making event will show you how to lighten up your
financial performance analysis and budgeting process with Phocas Budgeting and Forecasting.
Phocas customer and CFO of Montana Food Bank Network, Clark Tower, will discuss how the right approach and tools can eliminate the usual headaches and help you "sleigh" your company's budget. Learn how to modernize your finance team with a more dynamic and collaborative approach, followed by a mixologist's cocktail-making demonstration.
To create an immersive experience, we will ship you a cocktail box full of all the ingredients you need for a holiday-themed Seasonal Mule.
Space is limited, and we will contact you directly if you'll receive a curated cocktail box.
We are unable to ship alcohol to the following locations: AK, AL, DE, HI, KY, MO, UT, & outside of the US. Someone 21+ MUST sign for delivery.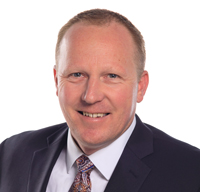 Clark Tower
Chief Financial Officer for the Montana Food Bank Network.
The Montana Food Bank Network's mission is to end hunger in Montana through food acquisition and distribution, education, and advocacy.
Clark started his career in the wholesale auto-glass industry working for a Fortune 500 Company. He is married and has six children. He loves the outdoors and spending time with his family.