Rivertrace is a manufacturer based in Surrey, England and makes monitoring systems for pollution control for the maritime, offshore and industrial sectors. It designs, manufactures, commissions and services equipment across the world. Operations Director Martin Saunders explains how Rivertrace uses data analytics to enhance reporting, stay in control of its component usage and manage its Bill of Materials, providing an example.
Martin Saunders was interviewed by Hollie Harrison, Customer Success Consultant at Phocas during the recent Lunch and Learn series.
Why did Rivertrace implement Phocas data analytics?
Saunders identified a need for live reporting from its MRP. The business runs Merlin MRP software which "is brilliant for transactional data for everything from sales, to production and finance but I wanted a dashboard to provide an overview of all of these areas". Saunders found Phocas through Merlin because Phocas and Merlin have a direct integration — so it was a good fit — and Phocas could provide the reporting he wanted.
How does Phocas data analytics help Rivertrace?
Saunders says he likes having consolidated data —in one place — which he can access from anywhere in the cloud. The two main reasons data analytics help Rivertrace are 1. to make better, informed decisions day-to-day and to make stronger decisions from a planning perspective and 2. to hone in on exceptions in the business, and be alerted when there are issues in the business, so they act quickly to fix the problem.
How does Phocas helps Rivertrace stay in control of component usage?
Rivertrace has over 7000 components to manage, and it was struggling to work out the demand for the components. Saunders says Rivertrace is a relatively traditional manufacturing company in how it works and processes.
Rivertrace designs everything in Solidworks, which creates a Bill of Materials that imports into its MRP system. The MRP provides a top level assembly number which is the one they sell, but it has many child assembly components that belong to that product.
The problem they had was managing all the components of the lower level. One component relates to multiple products which they make for both stock or for an order.
"We were having trouble determining the demand for the components across all orders, whether they were work orders or sales orders for those individual components,"says Saunders.
For example, Rivertrace has 200 active high level assemblies, 500 sub-assemblies and 3000 component parts that belong to the assemblies. It was difficult to work our demand and determine whether the components were under or overstocked.
The reason Phocas works for component usage control is because of the integration of Merlin MRP and Phocas - the data is already there and up to date. Previously Rivertrace was using spreadsheets but the data wasn't live. Phocas displays the component situation in a meaningful way for Rivertrace.
Phocas also allows Rivertrace to create alerts and favourites on the components to avoid running out of components and it suggests what components Rivertrace needs to purchase. The data analytics tool also calculates lead times of suppliers to avoid delays.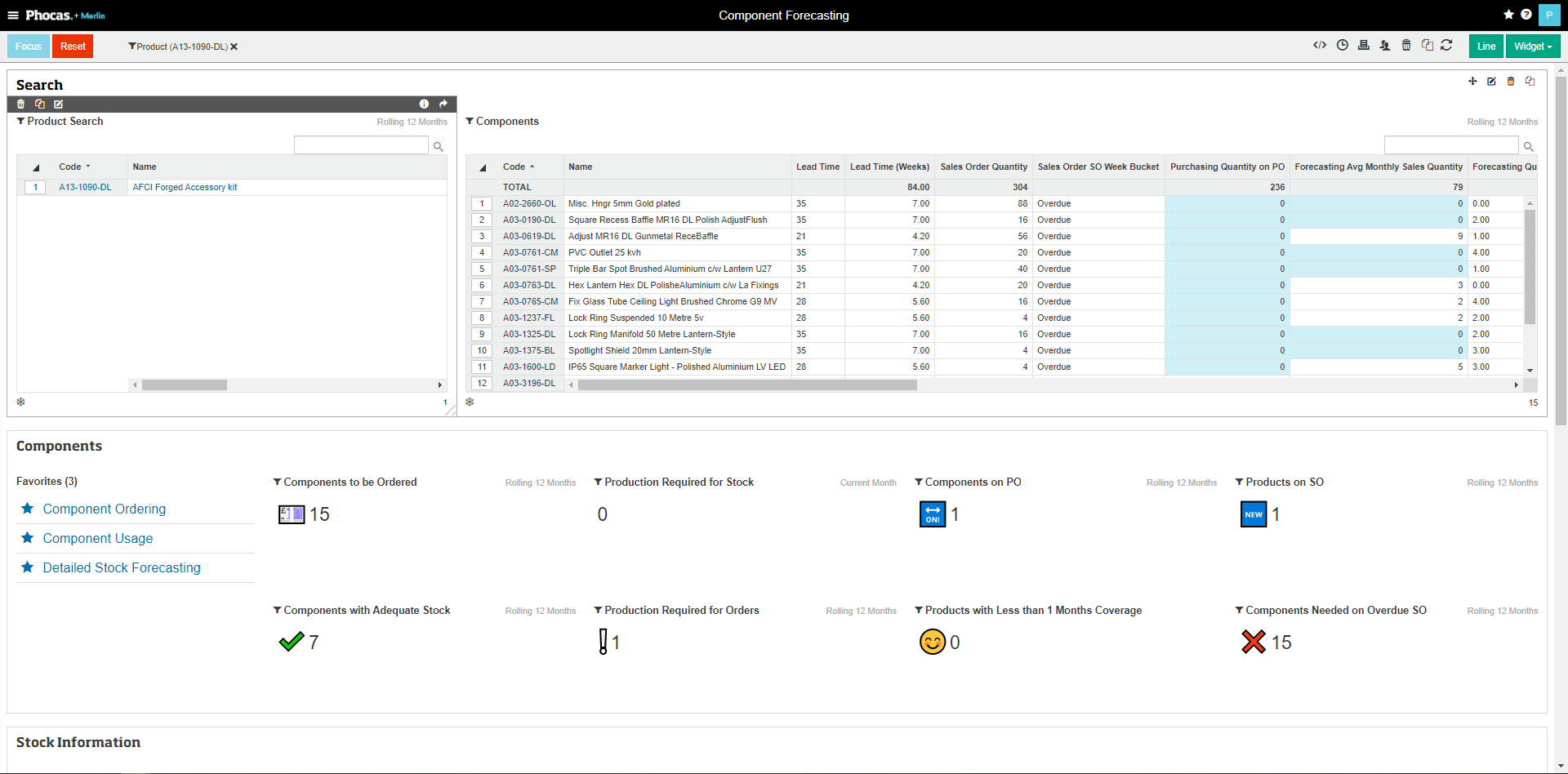 While Saunders says the bedding in process is just coming to an end, "we have already seen an increase in efficiency as the procurement team no longer need to collate spreadsheets because the process has been automated."
For more information about inventory control and managing Bill of Materials in Phocas, you can watch the Lunch and Learn series here.