Free 14-day trial
Phocas Software trial for Infor users
Try Phocas Software with your business' sales data with 3-user licences for 14-days.
Based on 250+ customer reviews on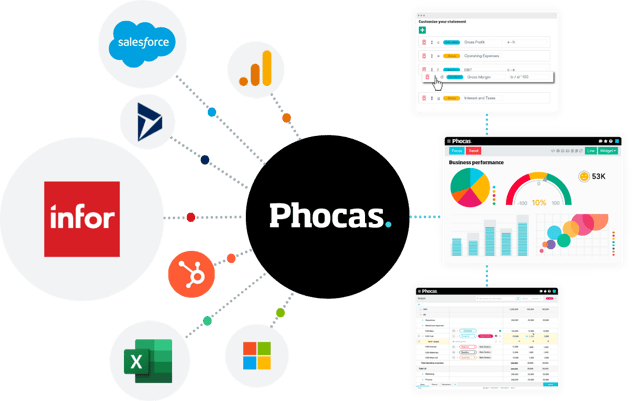 More reporting power and deeper insights from the data in your Infor system
Phocas Software are offering an exclusive 'Try before you buy' programme for Info users.
The offer enables you to get access to Phocas Software with your business' Sales and Stock data for 14 days for 3 users.
Phocas Software helps organisations find ways to reduce costs, streamline processes and increase margins.
A single source of truth for all your business' data with the ability to sync from multiple sources
Smart data you can drill into for key metrics and insights
Customizable reporting, dashboards and data visualization
Easy-to-use software that is accessible anywhere
Secure, cloud-based data platform
Fast implementation and guided training
Submit the form to take advantage of this offer.
Try Phocas Software today
Complete the form below to register your interest.
Next steps
Express your interest in a free 14 day trial with Phocas Software
Phocas will call you to arrange the NDA, for peace of mind that your data is protected
Phocas will arrange a show and tell training session to commence your trial
You will have access to 3 user licences and full access to Phocas sales and stock data for 14 days
Email support available from Phocas during your trial
Review meeting with Phocas after the 14 days
Please note: If you choose to proceed with ordering Phocas after the free 14 day trial, Phocas will enable automatic data updates and activate the additional data points and functionality. Sales and Stock in the 'Try before you buy' programme accounts for 20% of the total available data streams in Phocas for the Infor solution. Phocas can provide a full 'packing list' of data sources, available on request. If you choose not to continue with Phocas after the free 14 day trial, Phocas will remove access and delete your data in accordance with the NDA.