It's time for intuitive BI and financial reporting
Management, finance, sales and operations - all on the same page with the numbers that make your business tick.
Based on 250+ customer reviews on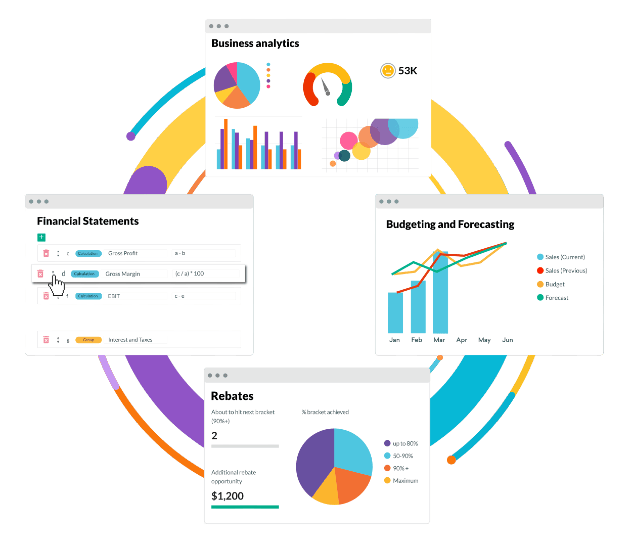 Drive results with Phocas
Increase in sales via new opportunities
Increase in reporting speed
Decrease in report requests to IT
Decrease in administration costs
Reduction in inventory holding costs
Reduction in month end close time
Get a grip on your data
Take back the time spent on spreadsheets
Finance and operations spend over 50% of their time gathering data from spreadsheets, ERP systems or third-party systems.
Transform your business with the perfect tool to:
Phocas gives you better visibility to best serve customers and more financial control.
No more waiting for changes and reports so you can get on with making smart moves today and planning a more certain future for your business.
Successful businesses of all sizes use Phocas to empower their decisions
Phocas makes people feel good about data
"Using Phocas makes me feel like I am a leader"

Ken Lauder - CIO, Litex Industries

"Phocas created a lot of efficiency in our Finance team"

Ingrid Vanlangenberg - Finance Systems Manager, Whiting Holdings

"I feel like I know what is happening within the business at any point in time"

Gordon Howell - Data Engineer, LSC

"Customers appreciate that Phocas is really designed for the non-technical users"

Tim Leonard - VP of Design, Phocas

"I don't feel like there's anything that I've missed... and that is really important"

Chris Douglas - National Channel Manager, uvex

"Using Phocas makes me feel like I'm being proactive"

Emma Russ - IT Technician, Arran Isle Holdings Ltd

"The most valuable thing we offer clients is peace of mind"
Understand the past, operate better today, and plan well for the future
Whether you want to get your data organized for your team or you're looking to combine business intelligence capabilities with financial reporting, planning and analytics… We can guide you. Let's see if we can help.