Analytics + Finance =
A full business planning and analytics platform
Tired of wrangling multiple data sources? Does reporting and budget building leave little room for strategic planning and analysis? Phocas combines financial capabilities with analytics to bring you a comprehensive business planning and analytics platform.
Streamline your workflow and maximize your potential with Phocas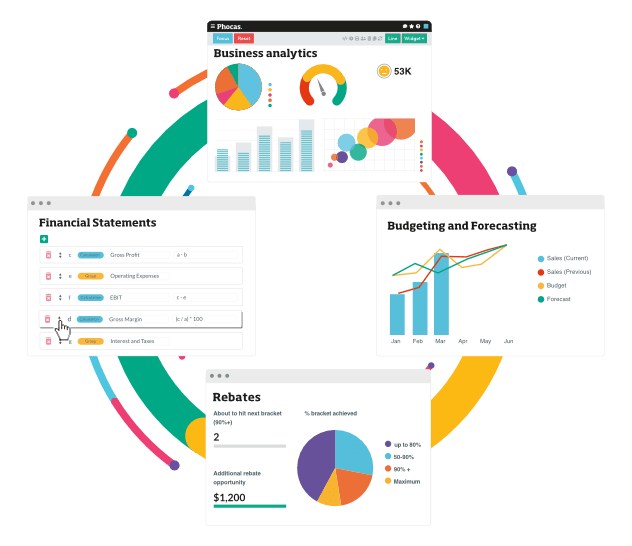 The Phocas product suite
Make better business decisions using smart products that are intuitively simple for everyone to use
Data Analytics
Access a single source of data truth
Consolidate ERP, CRM and multiple other data sources into one accessible business planning and analytics platform

With an intuitive interface and visualization tools, people of all skill levels can become more data-driven

Hit the ground running with built-in dashboards, customizable reports and ongoing support from real Phocas humans

Learn more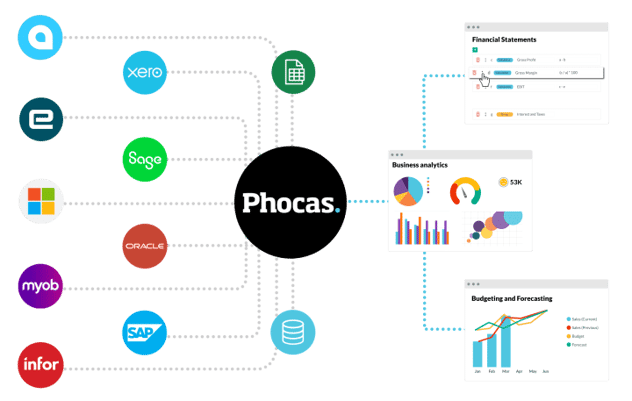 Prior to Phocas no one trusted the data, and if there was something in the reports that was out they would blame the data. Now, if the report is showing a variance, people will consider other reasons for this because everyone is more informed and they trust the data.
— Muhsin Schroeder, Data Analyst at National Tiles.
Financial Statements
Customize to suit your business
Automated reporting effortlessly consolidates both financial and operational data




Gain more time for regular, deeper analysis and provide answers to on-the-spot questions in just a few clicks

Make holistic business decisions based on complete data; chart the impact of your actions by tracking KPI trends and sharing data insights
Learn more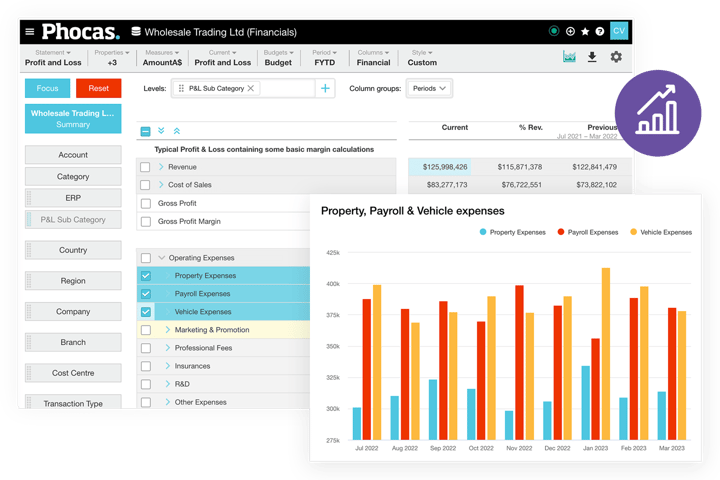 Prior to Phocas, we had eleven Excel spreadsheets to make one report x 100. The many levels of reporting is an amazing feature. Reports are automated everyday without any human intervention.
— Adam Kiyuna, Business Systems Manager at Ellume Health.
Budgeting and Forecasting
Collaborative budgeting, efficient forecasting
Workflows allow financial and non-financial contributors to collaborate in real time, accelerating budget cycles and improving accuracy
Use operational insights to drive your budget
Easy-to-use interface, secure task assignment and real-time visibility of changes
Move away from static Excel spreadsheets and turn budgets into living value-add tools for financial and non-financial engagement
Learn more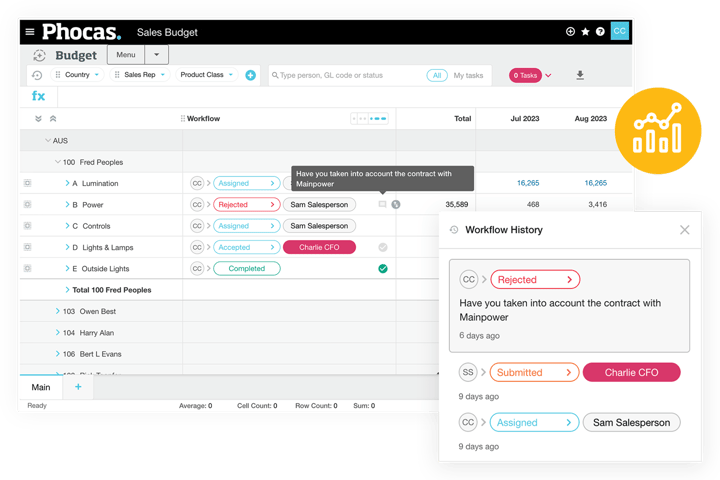 The Budgeting and Forecasting tool has allowed us to automate and simplify the process and help us reduce mistakes. In Phocas, you have access to the audit trail, and you can see who's changed what and who has access to what. It makes the budgeting process a lot smoother."
— Daniel Lyons, Finance Manager at Fuzzy.
Rebates
Drive growth, secure margins and ensure accuracy
Save time by setting up clear and flexible rules - from simple to complex, and ensure critical accuracy

Make informed purchasing and inventory decisions and accurately forecast profits with automated real-time reporting

Track rebates down to transactional level to maximize returns instantly

Visual dashboards provide at-a-glance understanding of rebate performance
Learn more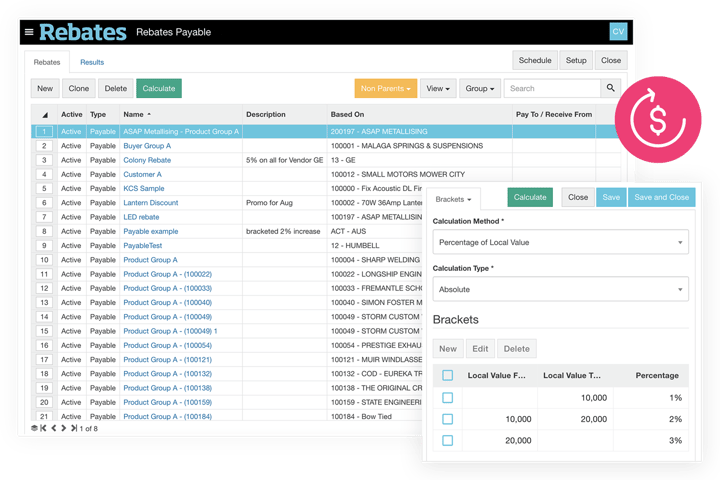 CRM
Unlock new opportunities by understanding your customers better
Interlock CRM data with actual sales information and identify, track and analyze opportunities and risks, turning data analysis into action

Gain complete clarity on what actions and activities drive customer revenue



Learn more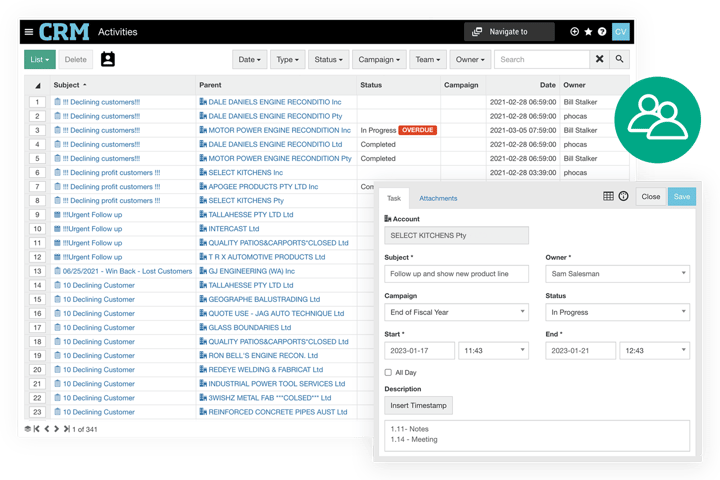 Frequently asked questions
A
data
analytics
platform
is a collection of
apps
that collect, store, and process business
data sets
to identify patterns and trends. It is used to create reports,
dashboards
, and other
data visualizations
to help users better understand the data. It can also be used to create
predictive analytics
models and
automate
data-driven decision making.
Data analytics
tools
aggregate
and analyze a wide variety of business data, including sales, financial & inventory data from ERPs, marketing & customer data from
CRMs
, and more. Using automated Extract-transform-load (
ETL
)
data processing
,
data
analytics
platforms
can help with
data management
and
optimize
regular
data modeling
and reporting processes. Phocas has pre-built
API
connectors
for many common business systems, and can integrate with many more using data exports.
A data analytics platform improves business planning by providing powerful insights based on multiple sources of data. By consolidating and analyzing large amounts of relevant data, the platform helps people identify patterns and trends to help them make more informed decisions about a range of areas such as inventory management, sales forecasting and budgeting.
We pride ourselves in making financial reporting and analytics software that truly is self-service and easy to use. We help everyone, not just 'Jim in finance', to access company data and generate actionable insights with ease every day. Don't just take our word for it though, see what real customers say in the annual BARC BI survey.
Every new Phocas customer benefits from a structured implementation plan tailored to each business. Once up and running on our data analytics platform, you can rely on our best-in-class support teams and helpful documentation to navigate our ever evolving business planning and analytics platform.
We are B Corp certified and really live our 'fun fulfilling forever' mantra, enabling our customers bring their data into play.
Understand the past, operate better today, and plan well for the future
Whether you want to get your data organized for your team or you're looking to combine business intelligence capabilities with financial reporting, planning and analytics… We can guide you. Let's see if we can help.