Key data in one easy to understand view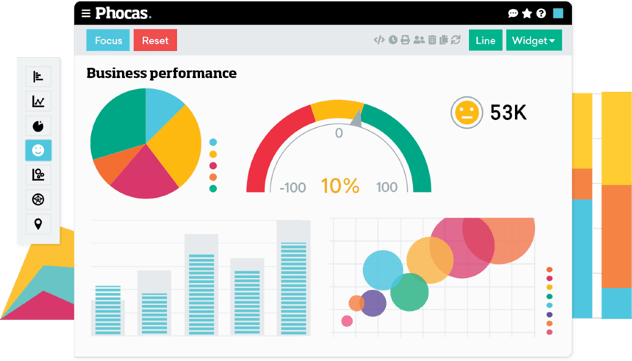 See snapshots of the data that drives business decisions
The key to managing your data's complexity is simplifying the analytics and data discovery process. Funnelling all your data into a single repository and creating easy-to-understand visualizations is essential when dealing with vast amounts of information.
Identify trends
Pinpoint business-changing opportunities
When you drill down into the data underlying the dashboard, it can become easy to ask questions in the moment — and answer them in real-time. Slice and dice the data to follow your train of thought and get the answers you need on the fly.
Take a guided tour of Phocas Analytics

Share insights
Right data. Right people. Right time.
When you have the information you need in one place, as well as the ability to set up alerts and reports, delivering your findings is that much simpler. Easily share what you've discovered from your dashboard by sending insights right to someone's inbox or within the platform to ease the reporting burden and alert the right teams to positive or negative trends.


Customizable and self-service
Build the view you want to see. You can tailor dashboards to your needs by including any data and visualizations you choose, and revising as you see fit — all without the help of IT.

Shareable
Insights are best when communicated to the right teams. Easily collaborate with others by creating favorites, saving queries and "@" mentioning team members. You can also apply permissions to ensure the right data is in the hands of the right people.
Easy to understand
With so much important information in one comprehensive, visual view, your business will wonder how it was possible to make decisions and view data before dashboards.
Clever dashboards
See everything from suppliers, locations, products, sales, stock holding to salespeople. See what's happening in the moment on business intelligence dashboards.
Have a play...
click on something in a table or graph and press
Focus
in the top left to isolate the data points on your area of interest.
Reset
to start again.
Understand the past, operate better today, and plan well for the future
Whether you want to get your data organized for your team or you're looking to combine business intelligence capabilities with financial reporting, planning and analytics… We can guide you. Let's see if we can help.