Trend, track, analyze
Turn reporting and analysis into a well-oiled machine
Consolidating financial and operational data, reporting, analysis and data interpretation are time-consuming processes that can overwhelm even the most seasoned finance professionals.
Free up your finance team to do more complex analysis while building knowledge of financial performance across your business.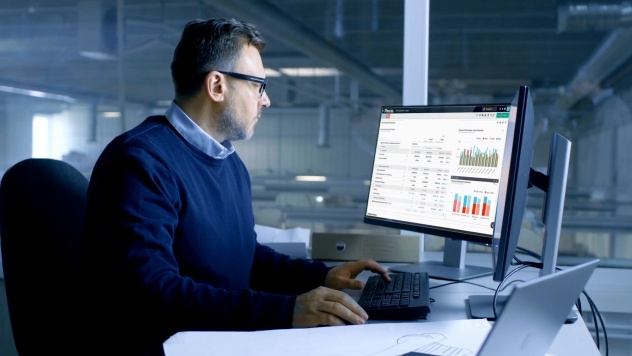 Welcome to shareable, cloud-based analytics
Automate
Get time back to spot the trends
A robust business intelligence platform that automatically consolidates financial (GL, AP, AR) and operational data

Create income statement, balance sheet and cashflow statements in just a few clicks with prebuilt templates, formulas and ratios

Move away from manual, spreadsheet-based reporting and generate real-time reports in just a few clicks, giving you confidence in the numbers

Automation enables self-service reporting for non-financial people, relieving pressure on finance
Take a guided tour of Financial Statements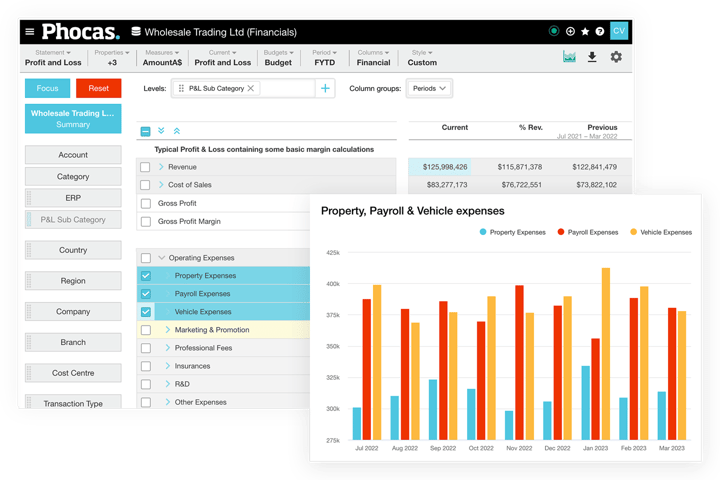 It's always been a nightmare for us to produce consolidated financial statements that are broken down by branch, division, or are consolidated for the entire company. Now we have the ability to consolidate or spilt them any way we want and at any level of detail. From the very top level (revenue and profit), down to viewing individual expense lines.
— Scott Sokoly, Business System Administrator at Trade Supply Group.
Analyze
Explore a live and dynamic user interface
Your critical financial data sits in an intuitive data analytics environment, making it easier to analyze
Any numbers can be investigated and the answers found quickly, enabling your business to respond to multiple scenarios at once
Gain full visibility of your cashflow, manage inventory more effectively and analyze sales and revenue data to identify trends and opportunities for growth
Compare actual performance with budgeted performance and make informed decisions on how to allocate resources going forward
Take a guided tour of Financial Statements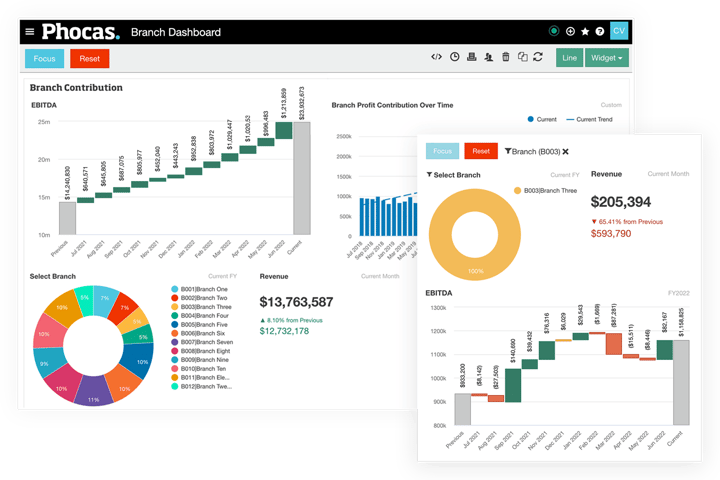 Customize
Personalize for your audience
Effortlessly customize financial statements without complex SQL or continuously outsourcing customizations at an additional cost

Include various reporting levels; multi entity, branch, country, cost centres, without the need for complex data manipulation

Create and save custom filters such as product, customer or time period - apply them to reports to make then more targeted

Add visualizations or calculations such as EBIT, margins and ratios that update automatically
Customize your cash flow statement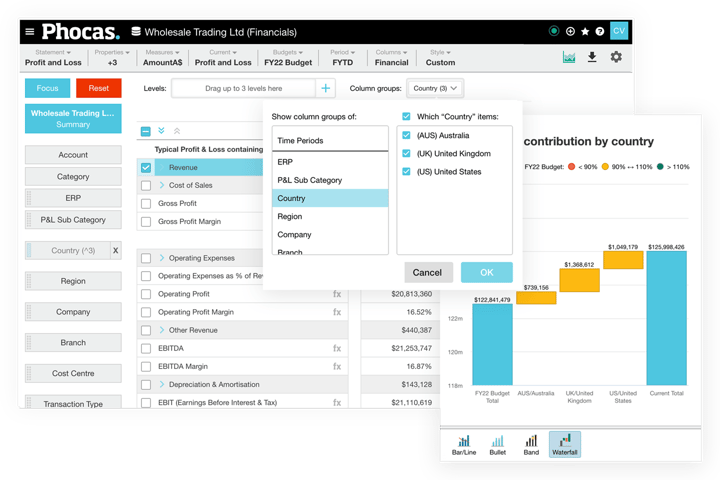 Prior to Phocas Financial Statements, we would have to pull data, dump it into Excel and manipulate it before we could really see the results. Now we can just open it up and the statements are built, we no longer have to build them and manipulate them before we can analyze them. It's real-time.
— Justin Caper, Controller at American Metals Supply Company.
Visualize
Get a snapshot view of specific timeframes and areas
Build, customize and share dashboards and workflows, creating a clear business overview

Visualize financial ratios and KPIs side-by-side to improve understanding of the performance of different entities and branches

Quickly switch from visualization to underlying data where you can slice and dice the metrics

Impactful charts and prompts make it easy to understand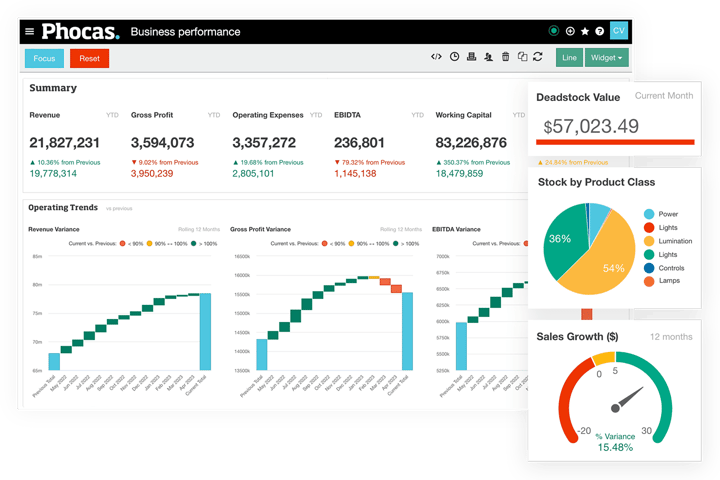 Engage
More ownership and understanding of the numbers
Sales teams can review their own income statement (P+L) and then analyze their revenue and expenses by a number of variables
Unite your team with a single set of accurate numbers
Provide branches or regional teams with permission-based access to run their own numbers and to view statements without affecting the general ledger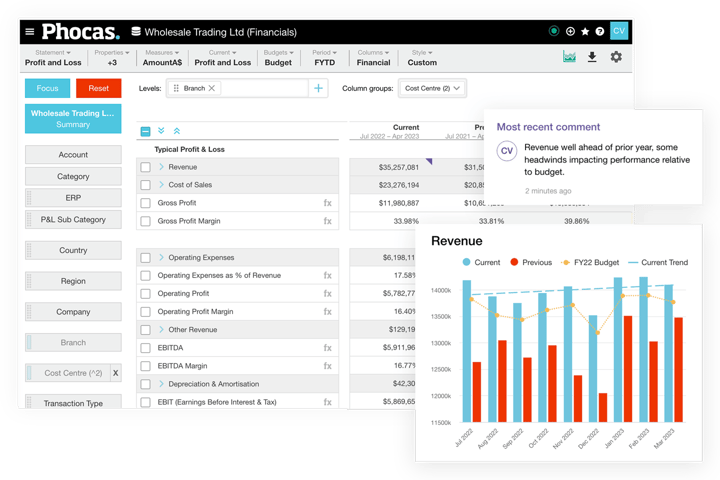 Before sales reps visit a customer, they can pull up their dashboard so they know what to pitch really quickly. It's easy to pull this information on Phocas rather than the ERP - it's a lot quicker.
— Jared Lombardi, Director of Finance at AAMP Global.
Make your financial reporting more efficient and inclusive
A direct-feed of data from your ERP into Phocas Financial Statements saves you time and reduces the need to maintain and rework static spreadsheets. Reports are customized to suit your business and updated automatically.
Month-end consolidation is faster, with more time to explore the numbers in the dynamic format, build dashboards with visualizations and export to Excel for further modeling.
Watch this 8-min demo to see it in action.
Take a guided trial of Phocas now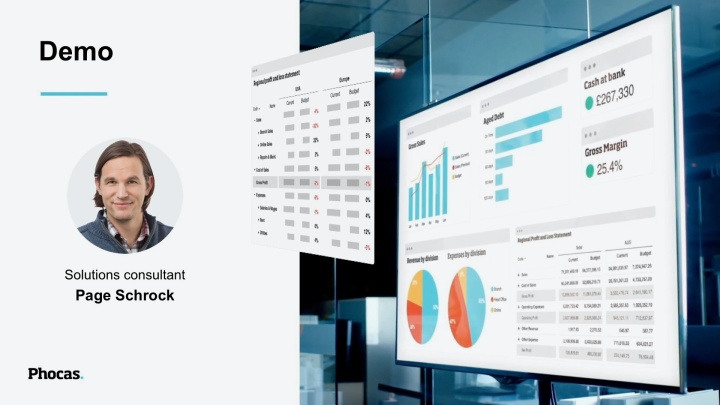 Frequently asked questions
Financial statement software is a program that is designed to help finance teams prepare financial statements and reports. It automates the process of creating financial statements by pulling data from ERP, CRM and multiple other data sources, and can help to ensure accuracy, consistency, and compliance with accounting standards.
Some financial statement software also includes advanced features such as financial analysis tools, budgeting and forecasting capabilities, and customizable report templates.
There are several benefits of using financial statement software over Excel or other manual reporting methods:
Time-saving: It frees up the finance team from time-consuming reporting tasks by automating the entire process, allowing for faster reporting, consolidation, and customization.

Accuracy: Data is pulled directly into the software which ensures accuracy and reduces the risk of errors that can occur when maintaining and reworking static spreadsheets.

Standardization: It enforces standardization across financial statements to ensure consistency in reporting and enables comparisons across different periods.

Collaboration: It enables teams to collaborate and work simultaneously in a secure and auditable environment. This can improve communication and reduce the risk of data discrepancies.

Reporting: It provides advanced reporting capabilities, such as customizable templates and interactive dashboards. This makes it easier to visualize data and identify patterns and trends.

Security: It provides better security features than Excel, including data encryption, user access controls, and audit trails. This can help protect sensitive financial data from unauthorized access or modification.

Customizable: You can add calculations to the statements such as EBIT, margins and ratios
While Excel can be a useful financial reporting tool, financial statement software can help businesses streamline their financial reporting processes, improve accuracy, and make better, faster decisions based on real-time data.
The three common financial statements are:
Balance sheet: This statement provides a summary of a company's financial position at a particular point in time. It shows the assets, liabilities, and equity of the company.

Income statement: Also known as a profit and loss statement, this statement shows a company's income and expenses over a period of time. It provides information on the company's profitability and financial health.

Cash flow statement: This statement shows the inflows and outflows of cash for a company over a period of time. It provides information on the company's ability to generate cash and its liquidity position.
Yes, financial statements are a key component of financial analysis. They provide essential financial data used to assess a company's financial health, performance, and potential for future growth.
Financial statements are used to evaluate a company's liquidity, profitability, solvency, and stability to develop a complete picture of a company's financial profile.
Business people use financial statements to assess the company's performance against industry standards, identify trends and patterns, evaluate the company's strengths and weaknesses, and forecast future performance.
Financial statements are also used by investors, lenders, and other stakeholders to make decisions about investing or lending to the company. They are an essential component of financial analysis and play a crucial role in the decision-making processes.
Choosing the best financial statement software for your business depends on your specific needs, budget, and the features of the software. Here are some key features to consider when evaluating financial statements software:
Customizable statements and reports: Custom reporting allows you to create and automate reports specific to the nuances of your business.

Automatic data entry and reconciliation: Software that automatically imports and reconciles financial data from multiple sources can save you time and reduce errors.

User-friendly data visualization tools: Highly visualized, interactive, and customizable dashboard features allow you to quickly analyze and present financial data to stakeholders.

Budgeting and forecasting tools: Software that includes budgeting and forecasting functionality can help you plan and predict future financial performance to make informed business decisions.

Integration with other ERP or financial management tools: Look for software that integrates with your ERP or financial management tools (such as accounting software, payroll software, or tax software) so you can streamline your financial management processes.

Security and compliance features: Robust security and compliance features (such as data encryption, access controls, and audit logs) help protect your financial data and comply with industry regulations.
When evaluating software options, prioritize the features that are most important to your business needs, and choose software that offers the best combination of features, usability, and affordability.
Analytics is used in finance to help businesses make informed decisions . Here are some ways analytics is used in finance:
Risk management: Analytics can be used to identify and mitigate financial risks. By analyzing historical data and market trends, businesses can identify potential risks and take steps to minimize them.

Financial forecasting: Analytics can be used to forecast financial outcomes based on historical data and other variables. This can help businesses to better plan for the future.

Performance analysis: Analytics can be used to track and analyze financial performance metrics such as revenue, profitability, and return on investment. This helps businesses identify areas of underperformance and take corrective action.

Cost analysis: Analytics can be used to analyze and optimize costs in financial processes such as procurement, inventory and supply chain management. This helps businesses reduce costs and improve efficiency.
Analytics is becoming an increasingly important tool in finance, helping businesses to gain insights, make better decisions, and manage risks more effectively.
Understand the past, operate better today, and plan well for the future
Whether you want to get your data organized for your team or you're looking to combine business intelligence capabilities with financial reporting, planning and analytics… We can guide you. Let's see if we can help.