Our analysis grid is unique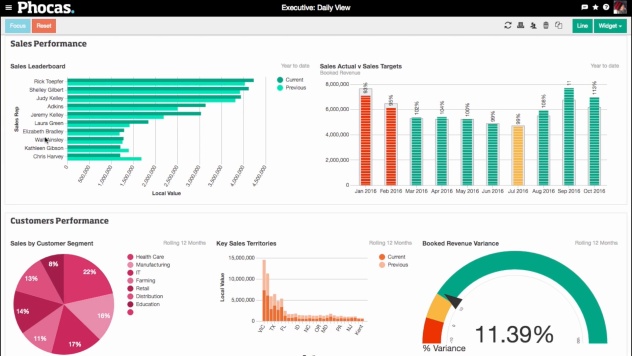 From customized overviews to deep transaction-level analysis
Phocas is a cloud-based, SaaS BI software specializing in data analytics. We use our sector knowledge to consolidate essential business data from common ERP, CRM, and AP/AR systems into the Grid and we make it simple to access company-wide insights through historic and predictive analysis.
Move quick
The information you need faster than your ERP
With a couple of clicks in the intuitive Grid you can analyze your sales data and quickly change views to see your metrics in a completely different way. Off you go!

Drill down from top-line data right into the detail of transactions. Our robust data analytics solution means broad utilization to analyze sales, finance and purchasing data.

Consolidate sources
Combine information from various systems
Most businesses generate so much data that it's too intimidating to consider the analysis of it all without a tool like Phocas. Built with ease of use in mind, we can help you dig into any type of numbers you can think of, to get to the heart of your organization.
See our most popular integrations

Freedom to dive in
Ad hoc analysis of what you want, where and how you want it
The Grid provides you with the ability to dive into category data and split by customer, customer groups, date range, and sales rep. Presenting your purchasing data to you via matrix reports and charts provides you with greater insight into what is working and where improvement is required.
Take a guided tour of Phocas Analytics

Unbreakable
When you're drilling into the data following your train of thought to find the answers to your most pressing questions you can relax because you can't break Phocas. The data resets and refreshes. And it's accessible almost anywhere.

Save time
Data is a business asset and time is precious so you want to harness that data and move fast with accuracy. Phocas deliver a data analytics solution that provides the information you want, when you want, and how you want it. It saves hours a week across the entire business.

See it all
Slice and dice the data in different ways to get in-depth analysis when needed. Find out the extended history on a customer; get transactional data over any specified time period; review by product category, vendor, customer, grade, order type and so on. Monitor and control production, stock and sales.
Understand the past, operate better today, and plan well for the future
Whether you want to get your data organized for your team or you're looking to combine business intelligence capabilities with financial reporting, planning and analytics… We can guide you. Let's see if we can help.