All-in Budgeting and Forecasting
The budgeting season can be taxing as various departments struggle to access and consolidate vital data to build a budget. Multiple spreadsheets, version control issues, broken formulas; it's a time-consuming process and it thwarts collaboration.
What if there was a better way?
Phocas, the better way to budget and forecast
Everyone on the same page
Real-time collaboration
Access financial, sales and operational data from one trusted source of truth.

An intuitive assignment, submission and approval process means everyone is accountable - no more chasing feedback.

Built-in security means you'll only see what you're permitted to see and action.

Budget changes are updated in real-time so version control issues are a thing of the past.
Get a demo
I love that you are able to assign category/accounts to individuals for review, to ensure each department has a say in the budgeting process.
— Justin Capar, Controller at American Metals.
Operational insights
Driver-based
Incorporating sales and operational data into your planning helps drive your budget.

Balance workforce planning and inventory with changing business needs.

Assess up-to-date performance data and create more accurate demand forecasts.
Get a demo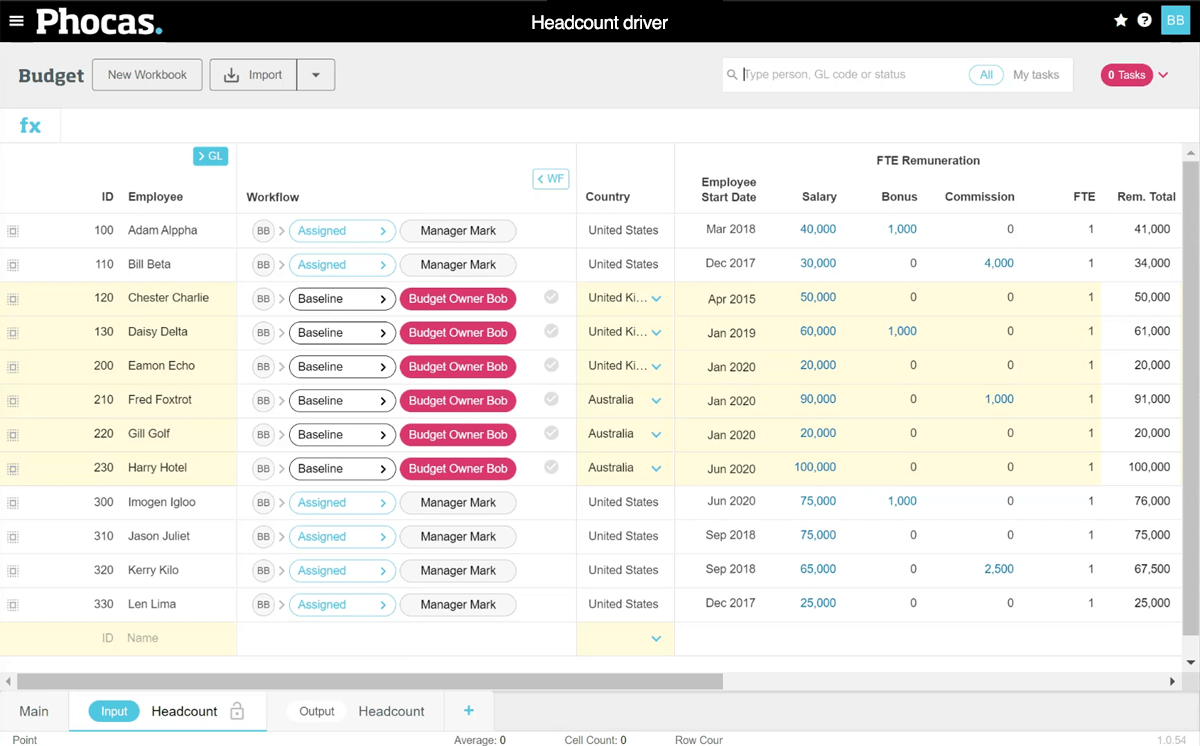 Drag, drop, click
Easy to use
An intuitive interface worksheet design offers a familiar format to Excel spreadsheets.

Swiftly navigate the budget worksheet, securely assign tasks, add commentary to cells, and gain full visibility of changes in real time.




Follow your train of thought and drill deeper to answer questions without the fear of breaking something.

The rate of user adoption is a direct reflection of ease of use - 97% of users recommend Phocas.
Get a demo
We didn't want to put something out there that was too complex. With Phocas, it was just drag, drop and click, everything was right there. This was going to be easy for everyone to jump onboard.
— Jim Hinkle, Chief Financial Officer at Superior Tire Service.
Fast and easy
Living forecast
Budgets are only as good as the latest forecast. Compare actual performance to budget, highlight focus areas for improvement and create better re-forecasts.

Turn your budgets into living, value-add tools for the whole business.

Access financial data and reports, as well as sales and operational data to help you confidently build robust forecasts across the business.

Assign security, share workflows across departments and make collaboration an intrinsic part of the process.
Get a demo
Cashflow analysis
3-Statement budgeting
Use your profit and loss to drive your balance sheet and cashflow forecasts.
Confidently forecast your future balance sheet position and financial health.
Gain full visibility of cashflow peaks and troughs throughout the year.
Get a demo
See Phocas in action
Phocas Budgeting and Forecasting is a cloud-based budget planning solution that automates the budgeting process. It's dynamic, user-friendly, and the ability to collaborate in real-time with people across your business is a game changer.
Book a personalized demo
Hear why Phocas is revolutionizing the way businesses budget and forecast
Frequently asked questions
Unleash the power of past, present and future data
Organize data across your business or combine business analytics capabilities with financial reporting, planning and forecasting. Learn how Phocas can transform your data into an easily accessible business power tool.