Accurate, efficient, profitable rebates
Let's face it, manually tracking and managing multiple rebate programs is a logistical nightmare. Manual data updates and calculations are error-prone and drain valuable resources. If you're managing rebates without proper analysis, how do you know if you're maximizing their full potential?
Phocas Rebates puts you in complete control.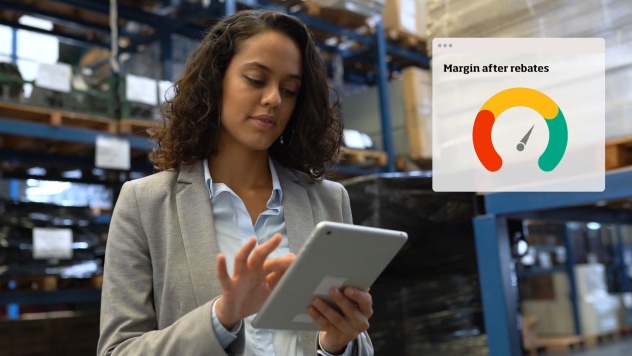 Unlock your full rebates potential
Ensure accuracy
Calculations you can trust
Accurate, real-time data integrated into one business intelligence analytics solution removes guesswork and the fear of costly mistakes
Ensure you're never making overpayments or under claiming rebates with accurate rebate data and the automation of rebate calculations
Track your rebates program alongside purchasing and sales data and gain a holistic view of rebate performance, product margin and profitability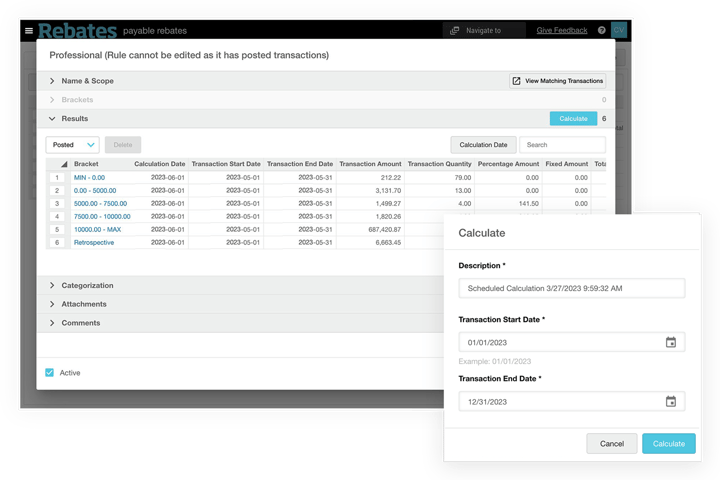 Now we have an automated rebates program, so every morning I can see whatever I need. All this work was being done manually, and by changing this and getting a new system we have found issues with what we were doing previously, and we have streamlined them. The automation has taken out hours of processing time."
— Randy Scott, ERP Manager at Tom Duffy Wholesale Distribution.
Gain efficiencies
Automated rebate management
Create and edit multiple rebate rules in bulk, from simple to complex, saving countless hours of administration
Efficiently manage multiple payable and receivable rebate programs with all source data integrated into one easy-to-access solution
Unshackle valuable resources from labour-intensive spreadsheets and empower wider teams with automated rebate software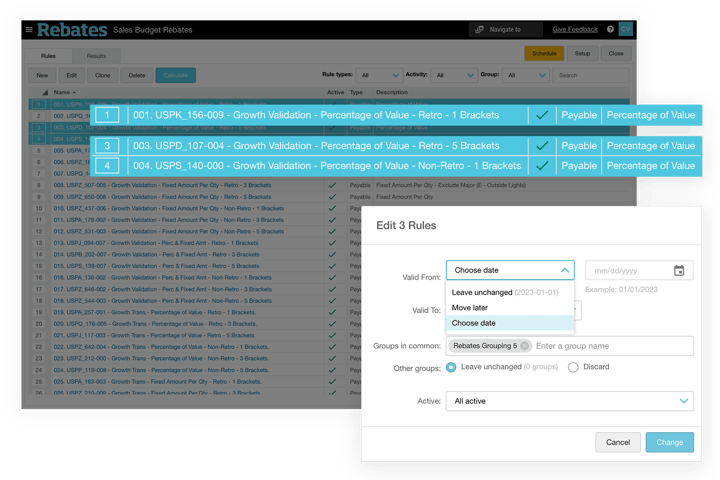 Phocas customers reaping the rewards
Figures based on combined averages for Phocas customer usage.
Protect margins
Powerful analytics
Improve profitability and cashflow forecasts with accurate analysis of individual product margins, pricing and profitability after rebates
Use real-time tracking to negotiate rebate agreements or make adjustments to incentive programs while safeguarding profit margins or creating a surplus
Use pro-rata analysis to forecast sales and accurately determine what rebate claims customers are on track to receive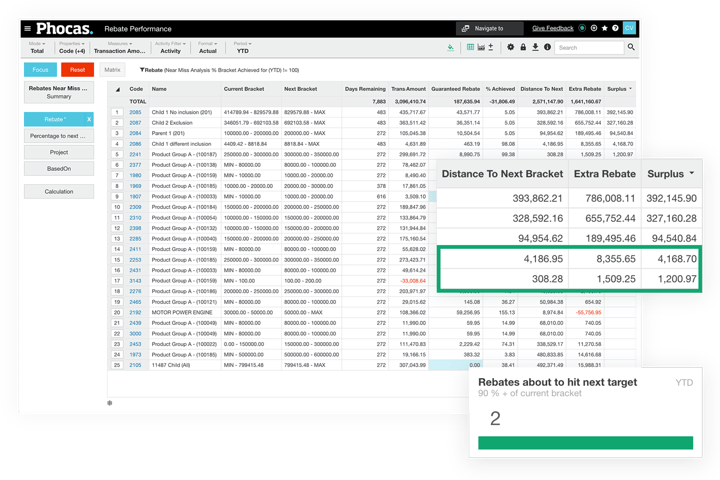 Before Phocas, we were less likely to use sales rebates as a tool as it was so cumbersome to provide information to the customer and track ourselves. Now our sales people know this is a tool they can use when selling."
— Scott Sokoly, Business Systems Administrator at Trade Supply Group.
Drive growth
Proactively seek opportunities
Consolidate rebates with other business data and quickly identify purchasing and inventory opportunities to impact bottom line revenue
Drive sell-through of specific products to maximize margins while offering incentive programs to build customer loyalty
Use near-miss analysis functionality to highlight proximity to next rebate targets, incentivizing strategic purchasing decisions or driving specific product sales
Run 'what-if' scenarios to efficiently test the impact different sales or margin mixes will have on net profitability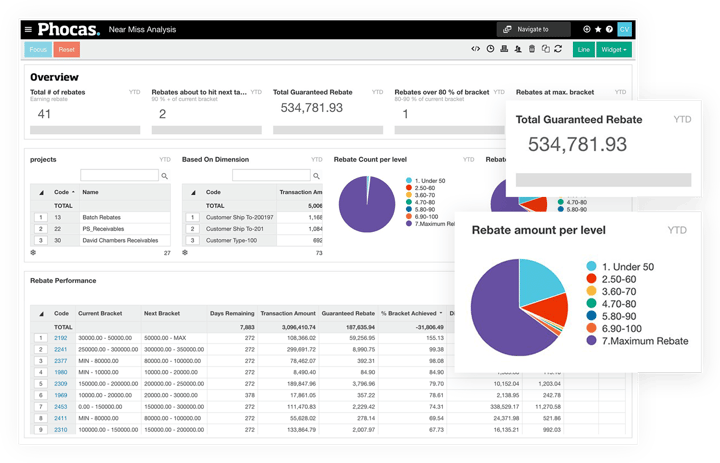 Rebate types
Take your pick
Volume: Tiered rebate pricing that varies depending on order volume
Growth: Paid on condition of targeted percentage in volume
Mix: Encourages the sale of larger product volumes with a higher profit margin
Retention: Can be volume, growth, or mix - usually accrued over a specified time
Percentage: Offered as a percentage of total revenue such as a rate of 2%
Multi-bracket: Calculate all rebate rules across a range of brackets and dimensions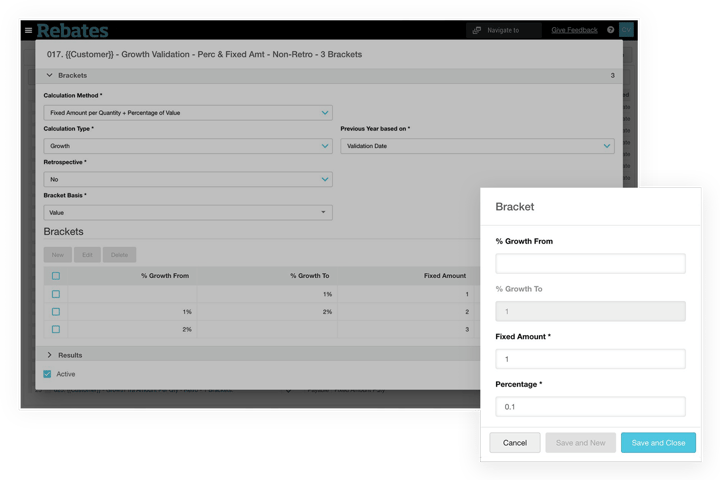 Frequently asked questions
Rebates software like Phocas provide an end-to-end solution for businesses, streamlining both payable and receivable rebate programs. For payable rebates, it automates the calculation and tracking of rebate agreements with channel partners and distributors, ensuring accurate payouts and preventing revenue leakage. For receivable rebates, the software facilitates the processing of claims from customers and enables businesses to manage complex rebate agreements efficiently. Its real-time functionality and interactive dashboards offer actionable insights to account teams, sales teams, as well as purchasing and inventory, helping them optimize rebate programs and pricing strategies for enhanced profitability and customer loyalty.
A robust solution should encompass features that cater to both payable and receivable rebate programs. It should automate the entire rebate management process, including calculation, tracking, and validation of both vendor and customer rebate agreements. Integration with ERP systems, CRM platforms and other source data ensures real-time data exchange, enhancing workflow efficiency for both payable and receivable processes. User-friendly dashboards and comprehensive business intelligence analytics provide stakeholders with insights to optimize rebate programs and pricing strategies, benefiting both the bottom line and business relationships.
Rebate management software empowers businesses to design and implement incentive programs that foster both customer loyalty and brand loyalty, catering to both payable and receivable rebate scenarios. By offering attractive rebates and promotions to customers, businesses can boost repeat purchases and strengthen customer loyalty. Simultaneously, the software ensures timely and accurate payouts to channel partners and distributors, strengthening brand loyalty and encouraging them to promote the business's products or services further. Its analysis and forecasting functionality aids in identifying opportunities for targeted incentive initiatives, enhancing market share and revenue for the business.
Retailers and distributors benefit from rebates software irrespective of their payable or receivable arrangements. For retailers, it streamlines the claims process, ensuring accurate and timely receipt of rebates from manufacturers or suppliers. For distributors, the software automates payable rebates, ensuring precise calculations and timely payouts. It fosters stronger partnerships and incentivizes distributors to support the business's initiatives more effectively.
By seamlessly integrating with ERP systems, CRM platforms and other source data, APIs ensure real-time data synchronization for vendor and customer rebate agreements, enabling accurate calculations and validations. This integration streamlines both payable and receivable rebate processes, reducing manual data entry and potential errors. Moreover, APIs allow businesses to leverage third-party tools and data sources, enriching the rebate management system with additional functionalities and insights.
Rebate software helps identify and prevent
revenue leakage
by automating the entire process. For payable rebates, it ensures that calculations are accurate, and payments to
channel partners
and
distributors
are timely, reducing the risk of
overpayments
and discrepancies. For receivable rebates, the software validates claims against predefined terms and conditions, minimizing instances of
revenue leakage
caused by inefficient manual processing. By providing detailed analytics and reports, businesses can proactively address potential issues, optimizing both payable and receivable
rebate programs
to safeguard their revenue and profitability.
The software's forecasting functionality analyzes historical rebate data and market trends to project future sales and rebate performance accurately. For payable rebates, businesses can develop data-driven pricing strategies, adjust rebate agreements, and identify opportunities for targeted incentive programs to strengthen channel partnerships. For receivable rebates, forecasting enables businesses to optimize pricing strategies, encourage repeat purchases, and design targeted incentive initiatives to enhance customer loyalty. By staying ahead of market dynamics and customer behavior, businesses can maximize revenue and foster brand loyalty for both payable and receivable scenarios.
Understand the past, operate better today, and plan well for the future
Whether you want to get your data organized for your team or you're looking to combine business intelligence capabilities with financial reporting, planning and analytics… We can guide you. Let's see if we can help.