Self-service BI software
Are you struggling to get the data you need from your ERP and other sources? Do you rely on finance or IT experts to generate reports and dashboards? Is it difficult to measure KPIs because you are constantly wrangling spreadsheets?
Phocas Analytics is the business intelligence platform you've been looking for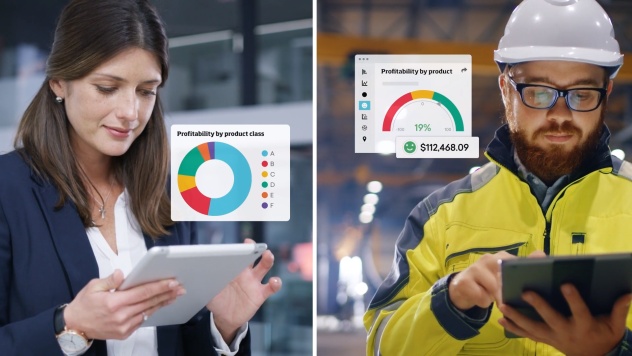 Connect your data and your people with Phocas
DATA CONSOLIDATION
One trusted source of data truth
A cloud-based

solution that

integrates with over 200 data sources - not limited to specific ERPs, MRPs, finance systems or CRMs
Consolidate financial and operational information and empower your whole business to be more data-driven
Enjoy an efficient integration process customized to your business needs, with support every step of the way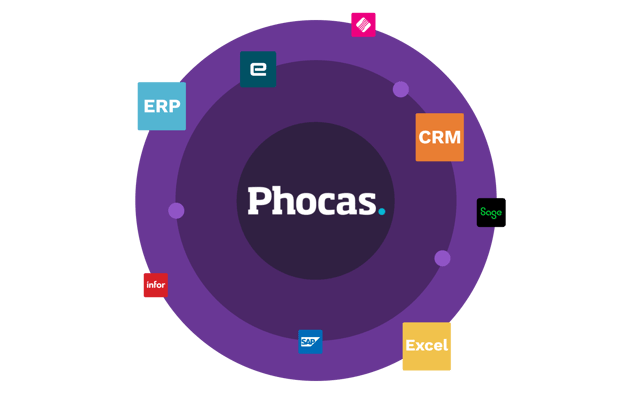 "Phocas is amazing at getting non-technical persons to use the software to find information... It's very intuitive and anyone who can use a mouse can use it."
— Michelle Nelson, Business Analyst at ECCO Equipment Controls Company.
Visualization
Move from summaries to underlying details
Interactive dashboards incorporating real-time data provide you with the full picture at a glance

Graphs, charts and graphics allow you to share business insights in a simplified format, improving individual and team engagement

Quickly jump from data visualizations into the underlying data, slice and dice the metrics to answer your question
Interactive dashboards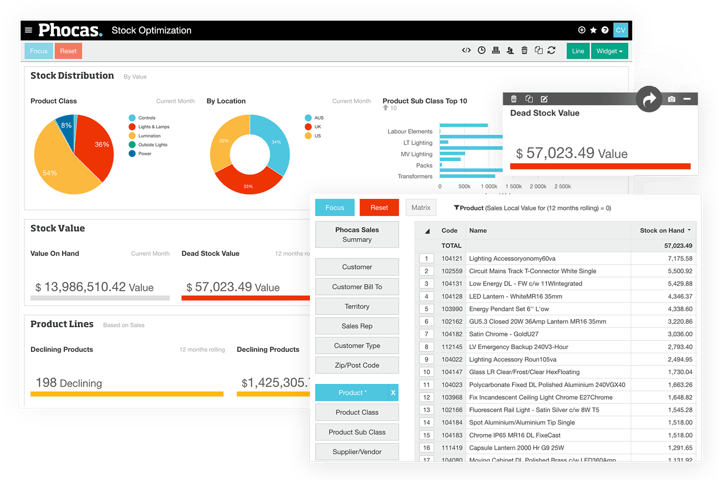 "I can now spend my time analyzing trends occurring within the business, formatting data to be fed back to the exec committee that is powerful and provides clear trend indicators of how the business is running. That's where Phocas really creates benefits for our business."
— Chris Everson, Financial Controller at Hentley Farm.
Advanced analytics
Real-time data exploration
Phocas' unique Grid is an ad-hoc analysis layer that allows free-form analysis

Drill down from high-level dashboards to cost centre, GL code and transactional-level data for the ordered detail

Easy-to-understand dashboards improve analysis engagement of non-financial people

Predictive analytics is enhanced by the ability to easily identify and track trends and share insights
Take a guided tour of Phocas Analytics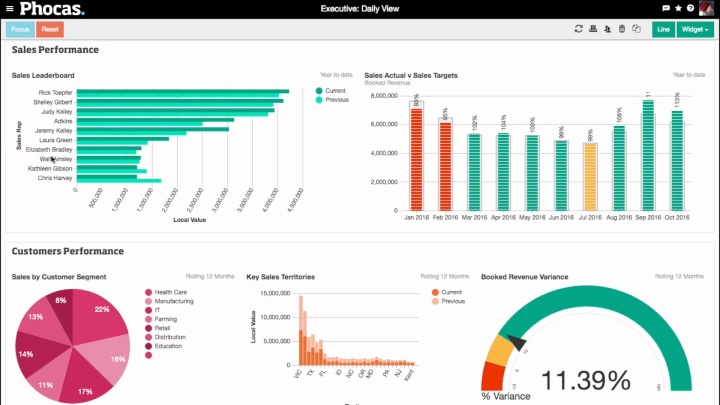 Implementation
A 5-step customized process
Our team offer a fixed-price implementation, and we do the heavy lifting to enable your success on our BI platform. We tailor the integration to your business needs to ensure longevity and the ability to add extra data sources.
Get a demo
So, you've decided to improve your analysis with a business planning and analytics platform. The good news is that Phocas is easy to set up and integrates with over 200 data sources. Based on your goals and the data you want to analyze, we'll advise you on the simplest implementation.
A team of experts will be assembled to answer questions and clarify your data needs so that everyone understands what has been bought and what will be received. This project will require the engagement of a sponsor, ERP/IT manager, and a subject area expert from your team.
Phocas will need server access to your data – this confidential information is
stored securely
. We'll connect your data to Phocas via API connectors, or we'll use SQL or text file extracts from your servers.
Once the data is connected and flowing from your systems to Phocas, we start building the solution. We create and validate databases systematically to ensure it matches your existing data. Two standard data clarity issues are: custom fields and business rules. We often need your business knowledge to address them.
This last step is all about making sure everyone in your business feels confident in using Phocas to make data-driven decisions. Your project team will receive an introductory training session so you can go live with full support from our team.
Self-service
Intuitively simple for both power user and tech novice
Hit the ground running with built-in dashboards, customizable reports and ongoing support from real Phocas humans

Simple for administrators to bring in new data sources and configure Phocas to suit your business needs - all with drag and drop functionality

Reduce costs without the need for ongoing expert help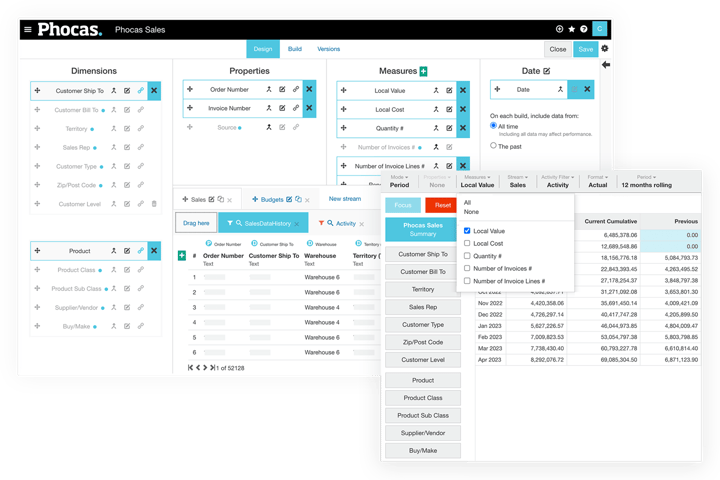 Phocas Analytics benefits
Frequently asked questions
Business Intelligence (BI) software is designed to retrieve, analyze, transform, and report on business data and metrics. BI software provides organizations with an integrated view of their core business by combining data from multiple data sets, such as enterprise resource planning (ERP) systems, CRM databases and e-commerce. BI can also be used to identify trends, uncover insights, and make informed business decisions.
1. Improved Decision-Making: Dig into the data, analytics and insights to make clear decisions. Consolidated data helps to reduce the risk of making decisions based on guesswork or limited information.
2. Increased Efficiency: automate data preparation and data analysis tasks that would otherwise require manual effort. Easily set up new connectors and data integrations to other business systems and databases
3. Reduced Cost: Business intelligence tools often provide a more cost effective way of gathering and analyzing data than traditional methods, such as manually loading data to Excel spreadsheets by numerous people.
4. Enhanced Customer Service: Discover the data and insights needed to better understand customer needs and preferences. This helps to improve customer service and satisfaction.
5. Increased Revenue: Business intelligence software helps to identify opportunities for new products and services, and to optimize pricing and promotions to maximize revenue.
The main difference between Business Intelligence (BI) and Business Analytics (BA) is their focus on when events occur. BI concentrates on current and past events that are documented in business data and systems, while BA focuses on predicting likely outcomes in the future - predictive analytics. In other words, BI answers the question "What is happening now and why?", while BA answers "What will probably happen next?".
BI helps companies create strategies for present scenarios by transforming data into actionable insights.
BA, on the other hand, uses predictive analytics to create strategies that will shape future operations, aiming to improve productivity and existing systems.
BI software is often restricted to data analysts who are experienced in writing SQL and reporting queries. Phocas is a self-service BI solution that is specifically designed for both power users and non-technical users. This ease-of-use increases user adoption across your business and encourages everyone to become more data-driven. Phocas interfaces are similar to Excel spreadsheets as well as allow for train-of-thought data mining and data discovery.
Every business needs some level of business data analysis and the capacity to plan for future growth and change. Consolidating multiple data sets is a complex process and manually generating reports using Excel Spreadsheets is time-consuming and error prone. Performing these tasks without BI software, often requires help from a power user or your IT team, meaning your data is being managed and understood by only a few people. This can leave you feeling like you're making business decisions based on incomplete data, or that your reporting process is very inefficient and it can inhibit regular data analysis and accurate forecasting.
If any of this sounds like you, Phocas BI software could be the solution you're looking for.
There are a lot of BI platforms to choose from. Here are some key points to consider:
Ask how well the software connects with your ERP and other data sources.

Ask for a demo or trial - if that addresses some of your problems, ask for a live demo using your company data.

Determine what the implementation process looks like, what support and training is provided and how long will this process takes?

Do you need a data expert for data preparation and to build reports and dashboards.

Will you need ongoing expert help for customization of reports or to interpret complex data.

How many end users need to access the software?

Is the software easy for non-technical people to use?
Understand the past, operate better today, and plan well for the future
Whether you want to get your data organized for your team or you're looking to combine business intelligence capabilities with financial reporting, planning and analytics… We can guide you. Let's see if we can help.