[eBook] How building suppliers and manufacturers can improve sales and stock management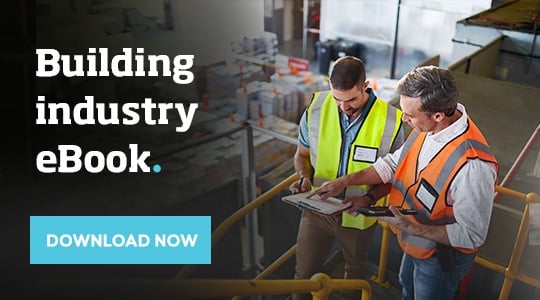 Building suppliers and manufacturers must embrace new technologies to better respond to challenges, overcome threats, and take advantage of opportunities to further grow their business.
NB: This is an excerpt from our latest eBook: 'Building Supplies and Distributors: How to increase sales and improve stock management'. To download the full eBook, click here.
Building is currently forecast to account for more than 13.2 per cent of global gross domestic product (GDP) by 2020, however, if the industry fails to address the underlying challenges in productivity, profitability and performance, growth may stagnate.
It's not just industry shifts in raw materials that suppliers and manufacturers are facing. Shifting markets and the emergence of regional instability has resulted in currency fluctuations, which need a more advanced approach to managing risk.
The building industry is now having to quickly adapt to technology – such as cloud-based software, integrated collaboration, and mobile business intelligence – to increase efficiencies and improve profit margins.

Using data to make better decisions
Building suppliers and manufacturers generate huge sums of data from their customers, and increasingly more from other areas of the business such as stock management, staff performance, and sales results.
But many are still unaware of how their data can be optimized, or think they have it covered because they have an Enterprise Resource Planning (ERP) system.
Analyzing data through complex spreadsheets or asking IT to run reports, however, can have a significant impact on a business's ability to make quick decisions, which are necessary to remain competitive, let alone surge ahead of the competition.
In this eBook, we will review how analyzing your data can be done quickly and easily with industry leading business intelligence (BI) software. We will discuss the benefits of BI over ERP and other operational systems, how BI can help improve your overall sales, and why BI is an important solution for helping suppliers and manufacturers manage stock levels.
ERP reports versus business intelligence
Organizations often overestimate their ERP's capabilities. ERP systems fall short in their inability to perform deep-dive analyses that reveal strategic insights into your business. ERPs are not built to perform trend analyses or give you in-depth data.
Relying solely on your ERP system to generate reports is time consuming and requires technical skills to understand complex spreadsheets. With the wealth of data locked away in ERP systems, trying to analyze it may only lead you deeper into a spreadsheet nightmare.
ERP reporting is also static and incomplete. A static spreadsheet only provides a snapshot of information, and users are unable to discover underlying insights and trends that lie beneath the business.

Using business intelligence to improve sales
BI lets you identify where sales are performing well, and more importantly where sales teams, and even individual sales people, can improve with additional training and/or support. You can also easily generate product and sales data without the need for IT specialists, power users or spreadsheet wizards. When collected in a single location and referred to regularly, sales data provides clarity into your company's performance. Business intelligence software can provide a central location for your data, converting confusing columns into visual charts and graphs you can use to make better decisions.

Using data to understand your customer is crucial to sales success. Equipped with business intelligence, your sales team will have a better understanding of what your customers are buying, and what they are not.
Tracking sales data by customer can reveal trends and opportunities to better position your company for growth and prevent challenges before they impact your bottom line.

Using business intelligence to better manage stock levels
A good business intelligence solution enables you to quickly view how much stock you have for a particular product, and/or material, and sort from highest to lowest, or drill down on a specific selection to nd even more in-depth information.
The most common issues relating to stock management is overstock, understock, and dead stock. These can all have potentially costly outcomes for your business.
Appropriate stock levels enable your sales team to ensure customers will get their products delivered in full and on time (DIFOT).
If overstock is not returned or sold at a discount, it may simply become dead stock over time, resulting in costs for your business.
Overstock or dead stock that is valuable represents company assets that are not accessible, and therefore not producing a profit. This may prevent the company from investing in opportunities for business growth, or may put the business in a difficult position in times where sales drop off, or prices are pressed down through competition.

Using an ERP system to perform these functions will leave you unsatisfied and frustrated with the complexity of the data, or the time it takes for IT departments to generate reports.
Instead, a Phocas business intelligence solution is designed to collate all of your data to reveal actionable insights into the underlying trends that make your business tick, simplifying the entire data analytics process, and helping suppliers and manufacturers make better decisions.
Phocas is the brick and mortar business intelligence
Our BI solution collects and converts data locked away in your business, and presents it in easy-to-understand charts, graphs and grids, allowing you to drill down and get to the core issues that make your business tick.
Information is available to anyone, anytime and you don't have to be a spreadsheet expert to use it.

In this eBook, we will discuss how business intelligence can help building suppliers and manufacturers increase sales, and better manage stock levels. We will also review the limitations of ERP systems, and discuss how analyzing your data can be done quickly and easily with the right industry-leading BI solution.
NB: This is an excerpt from our latest eBook: 'Building Supplies and Distributors: How to increase sales and improve stock management'. To download the full eBook, click here.
FEATURED EBOOK
Top 7 KPIs and metrics for mid-market executives
Download eBook
Fill out the form below to download the eBook.