Safeaid turns to Phocas to become more proactive with data
Phocas helping 45-year old PPE manufacturer to improve profitability, reduce customer leakage, and increase customer spend in product ranges.
Need to be more proactive
With its continued growth, the company recognized that data analytics would become increasingly more important to the business. The company's business management solution, OrderWise, was not open source, so it was difficult to extract data. The process required someone to go into the system, run a report, move it to Excel and then make it look presentable. For Safeaid's many customers, getting answers to a simple question such as, "What was my spend last month?", "What categories are we buying?" or "What did the home business spend last month?" was challenging and time consuming.
"We were struggling to manage our business as it grew with our existing software," said Barry Taylor, Safeaid's Operations Manager. "At Safeaid, we are all about efficiency - always striving to get the most from our resources and maximise how we manage our customers. We had a lot of leakage, and it was clear that we were being more reactive than proactive."
Selecting the company's first BI solution
Barry started doing some research into business intelligence software, getting a better understanding of how it can provide warnings of customer leakage, and deliver the information needed by the sales and operations teams.
Barry added, "We knew we needed a new perspective, and wanted to get more information out of our systems to maximise our efficiency."
After moving from OrderWise to NetSuite, Barry and the other business leaders evaluated YellowFin, Sales-I and Phocas.
"We hadn't used any BI software before, and we noticed quickly that Phocas is very user friendly," said Barry. "We also spoke with a couple of people who had moved from Sales-I to Phocas and they wholeheartedly recommended Phocas. In addition to helping us get to the right data at the right time, the biggest thing for us was talking to people we know and trust who moved to Phocas. That put Phocas in a strong position to be our first-choice BI system."
The implementation process and integration with NetSuite was "seamless," and Barry noted, "Phocas has been an excellent support for Safeaid, bending over backwards in a short period of time to dramatically cut the deployment time."
Tracking customer usage and buying habits
Now Phocas is used daily by sales, and the full management team. The sales staff review the data to prepare for meetings with customers using Phocas' dashboard to help buyers understand their spend and product categories. The internal sales support team uses Phocas to track customer usage, identify trends and monitor customer lifecycles. They can use the data to identify customers that have slowed down or stopped buying, leading to proactive sales calls. Operations also uses Phocas to monitor product sales cycles and track usage, something that was difficult to find easily in NetSuite alone.
"We currently have eight alerts set up in Phocas, in addition to a number of dashboards," said Barry. "The alerts notify us of inactive and cold customers among other trends. With a click of a button, we can review a customer's account, and determine whether or not we should be concerned."

Safeaid has also set up customer scorecards that visually illustrate a customer's annual spend via cumulative charts, graphs and tables; current annual spend compared to previous years; and spend by category groups, among other KPIs. If Safeaid notices a drop in customer spending, the sales team can proactively set up a time to have constructive discussion using real data points to help customers understand their spending habits.
"Tracking customer spend was a major challenge for us prior to Phocas," said Barry. "Now, we can quickly review top spenders in any month or year. We can review gross profit for a customer any time, and if customers want to challenge our reports or ask a question, we can show them meaningful data on a dashboard. BI has helped us be a lot more responsive - faster in identifying customers that may be walking away or turning to competitors."
Three core benefits of Phocas BI Software
Barry summarized three core benefits of Phocas:
Tracking customer spend – forecasting production and stock management is improved with having greater clarity on sales of individual SKUs
Tracking gross profit –understanding which products generate the most gross profit allows Safeaid to make buying decisions and manage the ranges effectively
Productive customer meetings – Phocas allows Safeaid to show customers meaningful data, and provides useful information to maximise discussions in review meetings
Getting more out of Phocas
Safeaid is keen to expand how Phocas is used within the business, looking at ways to manage products that need changing or updating, deadstock and products that are no longer working for the company. The sales team is focused on maximizing gross profit, information that Safeaid was struggling to get out of Orderwise.
"We sat down with our Phocas account manager and were really impressed by what we can do and what we can get out of Phocas going forward," said Barry. "Phocas can give us more visibility in multiple areas and aspects of our business. We need to get more out of it and make it work even better for us."

Safeaid's expectation is that Phocas will help the company to increase profitability, reduce the number of customers it loses to leakage, and maintain or increase current customer spend in product ranges. Barry added, "Phocas BI has helped us become a lot more responsive, and quicker to identify customers that may be walking away or using other resources. We are confident that with Phocas delivering additional alerts and better, more accurate data, we can make good commercial decisions that move the company forward."
Safeaid Supplies
is a manufacturer and supplier of personal protective equipment based in Portsmouth, England. The company started out of a garage in 1976 and has grown to include 20 employees who service the entire country with guaranteed next day delivery. Safeaid prides itself in providing responsive, first-class customer service. In fact, over the past 12 months, 97 percent of customers said they would recommend Safeaid to a friend or colleague.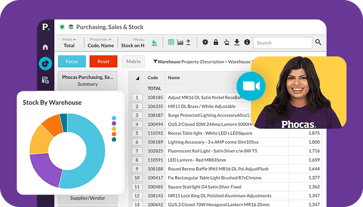 Get a demo
Find out how our platform gives you the visibility you need to get more done.
Get your demo today
Understand the past, operate better today, and plan well for the future
Whether you want to get your data organized for your team or you're looking to combine business intelligence capabilities with financial reporting, planning and analytics… We can guide you. Let's see if we can help.