The BI & Analytics Survey 2023, BARC
Want to see how Phocas performs in the largest and most comprehensive BI survey in the world?
Download report
The voice of the BI and analytics community has spoken.
Software selection and strategy experts BARC have released their highly-anticipated BI & Analytics Survey 23. And [drum roll please], we're so proud to report it's been another record year for Phocas Software.
Almost 2000 people provided detailed feedback about 24 business intelligence (BI) tools and solutions, including DOMO, Looker, Power BI, QlikView, SAP Analytics Cloud and TARGIT; ranking the software across 34 Key Performance Indicators (KPIs).
Continuing to outperform BI competitors on many KPIs in its peer groups, Phocas achieved 37 top rankings, 41 leading positions and scored 100% customer satisfaction from its participating users.
Download the Phocas highlights report to learn more about how Phocas compares with other vendors against each of the KPIs.
Read the report to:
Learn more about BARC + how it can help you choose the right BI solution for your business

See how Phocas performs on a range of KPIs including Business Value + Product Satisfaction

Understand how Phocas compares to other perceived BI leaders in the industry
Download this report by completing the short form below.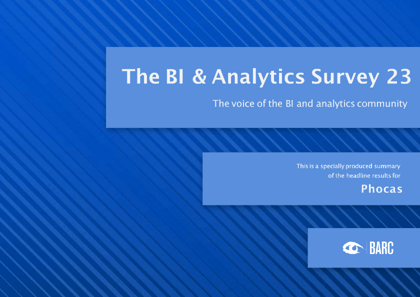 Let's download your free report