Bringing finance to the Business and the business to Finance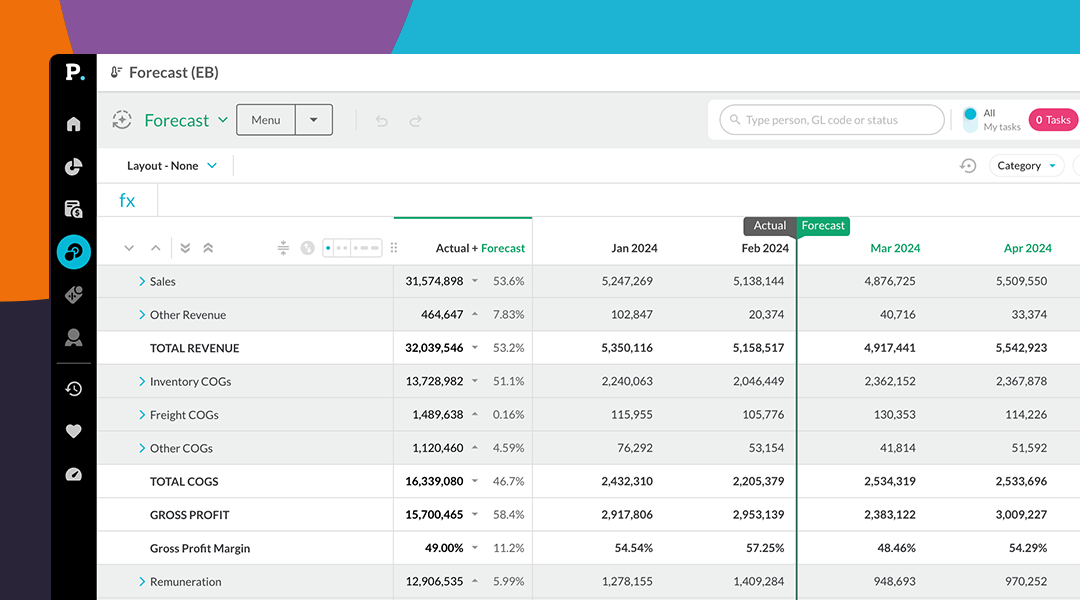 When we think of sales and finance, it can sometimes feel like these two professions will never see eye to eye. They're skilled and wired differently and let's face it, Excel and complicated accounting methods don't help. That's where the magic of Phocas software comes into play.
Phocas appeals to both the money people and the business movers and shakers. Our software achieves this by empowering your business with cutting-edge financial planning and reporting solutions and seamlessly pairing it with company-wide business intelligence.
Let's Phocas on what we can do for you
At Phocas, our mission is to make people feel good about data. We bring people together around their data, creating a business world where sales and finance could actually become BFFs! So, if you're drowning in a sea of Excel spreadsheets, or your existing software limits you from accessing your data as a single source of truth, Phocas provides you with an easy-to-use solution that improves organizational effectiveness.
When it comes to modern cloud-based financial reporting, we discovered that many finance leaders and their teams were searching in the dark. Their overwhelming feedback was a desperate need to overthrow painful reconciliations and spreadsheet-based monthly reporting and to usher in Financial Statements. So, it came as no surprise when those finance leaders and teams applauded the release of Phocas Financial Statements back in 2020.
In December 2022, updates to our Financial Statements' sister product, Phocas Budgeting and Forecasting, resulted in the inclusion of driver-based budgeting, 3-statement budgeting, and forecasting. These new features, coupled with the software's improved performance at handling large sets of data, are significant advancements. This makes life easier for finance leaders who are now more active in choosing software for consolidated reporting and are responsible for digital transformation and strategic business partnering.
The full Phocas enchilada
All of these Phocas products come together to form our unique business planning and analytics platform (BP&A). Unique in that we specialize in blending both financial planning and business intelligence together, creating a robust platform that enables informed decision-making across your business.
Our heritage lies in BI, effortlessly unlocking data from ERP systems and into the hands of the people who need it to make informed business decisions, enabling you to better serve your customers and your business. In fact, the principles that make our BI product, Phocas Analytics so popular - flexibility, self-service, ease of use - have been extended into our financial solutions.
Unlike Excel and ERP reporting packages that are cumbersome, time-consuming and often require specialist help, our Phocas products are already widely adopted across businesses. BI capabilities are blended with 3-statement financials and budgeting and forecasting to form a single platform offering workflows, drill down, modelling and reporting across your whole business, not just finance. Phocas has a 50% higher user adoption than its peers, as reported in the 2023 BARC survey.
Scott Sokoly, Business System Administrator for Trade Supply Group in the US said, "The ability to fully customize the statement outperforms the existing solution built into [our ERP]. It would be hard to continue to use that now that we've used Financial Statements."
The beauty of Phocas is that it provides you with an easy-to-use alternative and saves you time. The obvious extension to Financial Statements was aimed at alleviating the pain of the annual budget process while at the same time helping to make forecasting and re-forecasting faster. When you have everything at your fingertips, you can be much more efficient at keeping up with new demands on your businesses to see into the future.
"There's the potential to centralize WD40's entire Europe budgeting program into a single source of truth. The advantages of combining sales data budgets onto the GL is a game changer for the budgeting process. It removes complex spreadsheets and coupled with workflow and approval processes, ensures the business is only a quick click away from seeing the status of budgets or forecasts," says UK-based Jonathan Kemp, MD, Wisx Ltd, Epicor implementation partner at WD40.
The starting point for Budgeting and Forecasting is that finance leaders can take control of the budgeting process and transform it into a streamlined workflow for contributors while eliminating reliance on manual, error-prone spreadsheets. This reduces time-consuming administrative tasks for the finance team. It also brings the budget to life so that people across your business will actually want to reference it as a guide rather than run a mile.
The perfect blend
Budgeting and Forecasting integrated with sales and operational data takes you into the future!
Sales data makes such a significant impact on profit and loss and cash flow. With the addition of 3-statement budgeting, you can bring in sales data alongside the profit and loss / income statement, balance sheet and cashflow. The cost of staff can also be factored in with headcount drivers. It's all designed so that anyone in your business can see the full cycle of all inputs and drivers of performance, not just in profit and loss but also in balance sheet and cash flow. So not only accountants but professionals across your business can access and analyze different facets of the business in a single place.
Your trusted source of truth
We want the Phocas platform to become the destination for harnessing interactive company wide data flow directly from ERP and other key sources, combining operational and financial information. Phocas is the default space to do the work together in dashboards, scorecards, the Grid, in dynamic cloud-based financial statements and in budget workflows and workbooks. We've built it to ingest the data and be the trusted source of truth as well as a fun place to perform the data-heavy tasks every organization has.
"Critical information about revenue, margins, profit and the KPIs that really drive and dictate the most important business decisions can be shared with everyone. When this happens, work becomes fulfilling, people can contribute and have more fun with strategizing together and problem-solving," says Myles Glashier, Founder and CEO Phocas.
"We reckon it's time to bring your data into play. Have some fun. And get everyone feeling good about data."
Find out more about Phocas Budgeting and Forecasting.
FEATURED EBOOK
Top 7 KPIs and metrics for mid-market executives
Download eBook
Fill out the form below to download the eBook.