Capital Coated Steel uses real-time data to react faster to change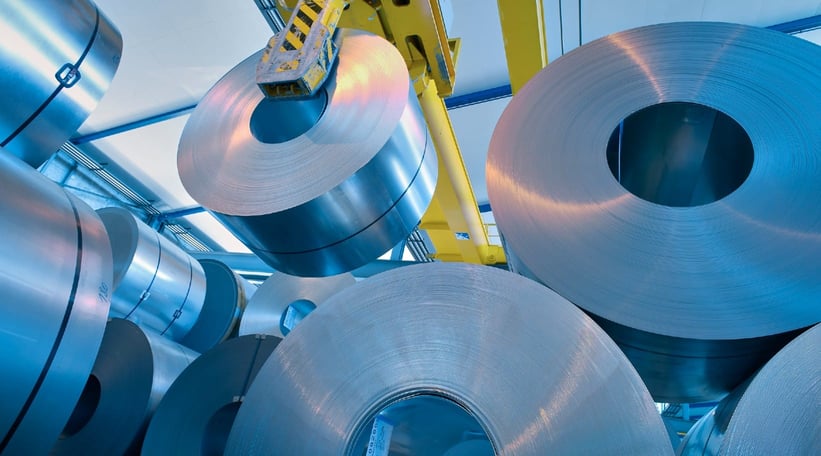 Critical insights are required by steel wholesale distributor to remain nimble and navigate a turbulent global market.
A love for data analysis and commitment to continued innovation led to Capital CS's introduction to Phocas
Capital CS use an ERP product called iMetal which is produced by a company called Metalogic. They have been trusted partners for many years as Capital CS uses iMetal from Metalogic to manages its stock and sales data, and Capital CS also use Sage for financial data management.
With a deep understanding of Capital CS's data and its appetite for innovation, Metalogic suggested Simon Nurse, Head of works and self-proclaimed data enthusiast at Capital CS, see a demonstration of the Phocas data analytics and financial platform (and partner of Metalogic).
"My role is varied, in addition to IT, I oversee the works, quality assurance, operations and environmental management. Much of my role is now on a strategic level but in the past, I would have been more of a systems analyst and looking to see how things fit together. I now pick the systems that we use, and I look to make sure that if we bring a new piece of IT software that it dovetails on top of the ERP." said Simon.
"I didn't know I was looking for Phocas until I found it. Then I realised it's exactly what I'd been looking for."
Steely determination to deal with uncertainty
The software recommendation from their trusted ERP partner came at a crucial time for Capital CS as the pandemic required the business to rethink and reshape their operations to maintain the high level of customer service, they pride themselves on.
During the pandemic, the company has had to make some difficult decisions to consolidate branches and restructure operations to work smarter in response to the dramatic changes in the global steel market.
"Steel supply right now is severely constrained. China and India have rowed back on exports, there are high tariffs that are now applicable on European products when we hit certain points, and each of the individual markets aren't exporting but consuming their own steel. As a result, we've got to be strategic and carefully plan our demand and supply to continue to serve our customers.
"What Phocas helps us do is track clearly and carefully, plot where material is going to be headed and allows us to anticipate the next sales strategy to implement. Without the transparency Phocas provides, it would take us longer to join the dots and react to market changes." said Simon.
More strategic selling is necessary
Simon believes selling strategically is essential for Capital CS particularly in the next two years. Thanks to considerable previous experience of the cycle of boom and bust, the current turbulence can be quantified, offset, and optimism remains for the eventual recovery phase.
"What Phocas is going to help us do is recognize the point at which that change is starting to be made so we're going to be able to react faster when it does. Phocas is shining a light into previously dark corners. Data insights are directly feeding into our strategic meetings and telling us what product lines to shift focus on if we see something that's growing exponentially in a way that might have been buried in the data previously, now we can see it very, very clearly. The comprehensive information is also crucially telling us which market sectors to hit reverse on and start pulling back rather than pushing forward." He continued, "We sell 2000 plus products, Phocas quickly shows how your top 10 products are doing the job for you. In the case of our main runners, we use the insights to drive purchasing decisions to ensure that we're securing supply for key customers."
Speedy insights, new ideas, reporting in seconds
When asked about his favourite features in Phocas, as with many of the challenges he faces every day, Simon turns to his data analytics to provide the answer. Clicking through a few of his regular searches Simon answered, "I like the ease with which you can pivot the data. I l enjoy playing, you go in and I look for relationships just by changing streams and seeing what it throws back. Quite often I get ideas for analysis through simple changes, for example, the measures, the stream, and the activity filter. I like to see what trends I can spot by playing with the data. I just like the fact I can manipulate data speedily for the purposes of discovery in a way that I couldn't have done without writing a specific report. Every time I change one of these streams, such as invoices to orders, and I change the measures to either margin percentage or value, I've produced fresh management information that would have taken ages before, and in Phocas that was five seconds."
"Integrating sales, operational and financial data means you can directly relate cause and effect."
Time-consuming financial reporting was a growing challenge
In addition to Phocas analytics, Capital CS has added Phocas Financial Statements to their software package to address the significant drain on the senior financial team to deliver regular reports.
Despite the team being very efficient in creating Jasper reports, the process was taking several days, with even longer dedicated to reshaping the content for different internal partners.
"When I talk about a Jasper report, it will literally be one graph looking at one element, say turnover. So, to produce that single graph might take a day or two. If it's as simple as comparing two things, such as turnover in relation to invoiced or produced tonnage, then it's going to take a bit longer maybe take two or three days including pulling and validating the data which is a large part of the process."
"In Phocas, we created a dashboard that would look at cost but contained 12 individual graphs all reporting against different dimensions. It took us two hours to do from scratch which compared to Jasper reporting meant probably three weeks' worth of work, and it looked that much better!"
"Without Phocas Financial Statements we'd be fighting with one hand behind our back."
Long term financial stability easier
Customised reports to deliver long term financial sustainability When asked how he saw Phocas enabling continued innovation for Capital CS, Simon said, "It's still quite early in our Phocas journey, but I know precisely where it's headed next which is good and while we're using it primarily for sales information, financial information, plotting our sales strategy, and looking at trends, the next phase for me is to extend it into the works.
"We were forced into making some big changes during the pandemic, but we chose well, and as a result, we are looking at the business entirely differently.
Phocas Financial Statements is going to help us deliver long-term financial sustainability for the company and protect the hard yards that we've had to make over the last 12 months or so.
I'm devising a database that will then give us the holy grail of management information we've been after for years, which is to ally our production data with our sales data in several dimensions, and we know we can do that in Phocas - we just need a little bit of time to do it."
Simon added how he sees Phocas becoming a valuable point of self-serve data for the wider company, "Currently, it is the senior management team using Phocas. We disseminate information that we get from Phocas to the rest of the company. I intend to extend the visibility to more seats when we build in this second database of productivity data".
"Phocas is going to be at the heart of our decision making and it's going to be our chief analytical tool for our strategic plans."
The full Phocas experience
When asked about working with Phocas from the first contact through to onboarding to ongoing support, Simon couldn't wait to share his positive experiences.
"Phocas is really easy to work with - that's a massive positive. I deal with a cross-section of people and organisations from hauliers to engineers and everything in between and I'd say that. Phocas is amongst the very best of the companies I've dealt with for communicating and delivering. Phocas has been the whole package. You've got a great application, alongside a really supportive team who communicate well and deliver when they say they're going to deliver. You can't ask for more than that."
"I would definitely recommend Phocas, except to our competitors!"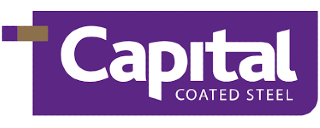 Capital Coated Steel
is an independently owned pre-finished steel wholesale distributor, supplying over 2,000 products to both large and small-scale customers in the UK. The company, which employs 78 people, have recently consolidated operations, and work solely out of its headquarters in Wattsville, Wales.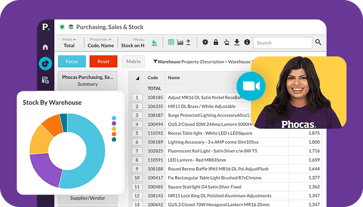 Get a demo
Find out how our platform gives you the visibility you need to get more done.
Get your demo today
Understand the past, operate better today, and plan well for the future
Whether you want to get your data organized for your team or you're looking to combine business intelligence capabilities with financial reporting, planning and analytics… We can guide you. Let's see if we can help.