Enhanced data access improves customer reach and service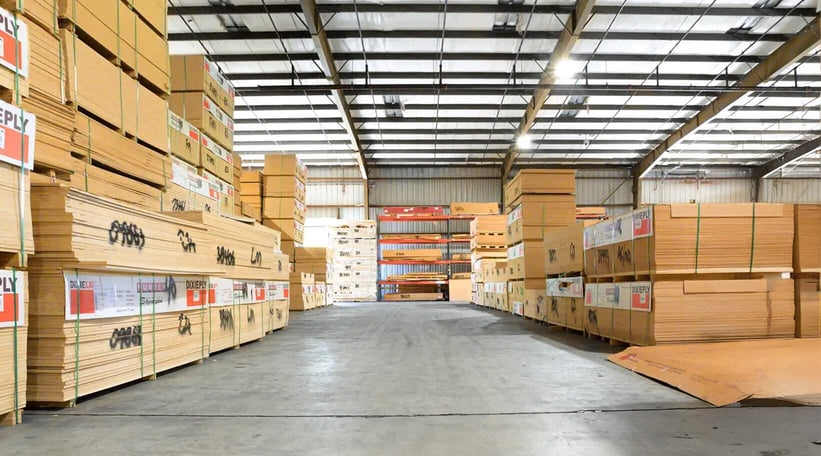 Phocas helping improve sales and customer service while alleviating pressure on IT at building supplies wholesale distributor
The lumber industry is not known for being high tech. For the most part, the industry focuses on getting building materials from one location to another. With its growth, the company recognized a variety of new challenges with managing customers, sales, inventory and supply chain, as well as the extensive data generated from day-to-day business. Years ago, Dixie Plywood's leadership team recognized the need to upgrade from outdated accounting machines, keypunch and mail systems leading them to begin investing in more sophisticated computer equipment. This opened the door for new technology using data communications and acoustic couplers.
The challenges
In the early days of data management, the company used a homegrown ERP system developed by the IT team.
Led by Bobby Awtrey, Director of I.T. Services, the IT Team spent weeks visiting people in the field and in the warehouses, noting their day-to-day processes and identifying their pain points. From their experiences, they developed the company's B.E.S.T. ERP system, which was used until 2003.
"It was solid when we put it out there," said Awtrey. "But those were the days of green screens and things were more character-oriented versus graphics."
Over time, the ERP became antiquated, and the company recognized that there were better, more powerful solutions on the market. After researching several ERP systems, the company purchased SX.e by NextTrend, which was later acquired by Infor. The ERP and accounting system provided many of the core functionality that Dixie Plywood needed, but it was difficult to find third-party software that would easily integrate into the system. In many cases, the IT department had to write its own interfaces.
For Business Intelligence (BI), Dixie Plywood looked at several BI-type systems, but many were too expensive and would have required a lot of time to install. The company deployed a product called BRIO, which later became known as Hyperion, from an Infor third-party vendor. Users found it heavy duty, clunky and hard to use; thus requiring the IT staff to do most of the analytical reporting.
"Hyperion is a big resource hog, that took a lot of time to learn so none of our sales team would use it," commented Awtrey. "Even with the solution, they would call IT and want the same report day after day with a tweak here and there. "
"When they were out in the field on their way to visit a customer, they would call in to ask what they should do about reporting. We had the tools, but sales would not use them because they were too complicated. We learned that if our software slows our salespeople down, they will not use it, regardless if it's a CRM, ERP or a BI tool. All they want is information and tools that will help them sell."
The solution
While at an Infor conference, Awtrey and his team were walking through the vendor booths, and were introduced to Phocas.
Although not actively looking for a new BI tool, they were intrigued by the combination of Phocas software's price and simplicity, as well as the commitment of the Phocas team to install the BI system within a month.
"We were skeptical of the price and time frame of the installation, but too intrigued not to consider Phocas," said Awtrey. "In the end, the system went in easy. Phocas came with the software already mapped to our ERP, set up the extracts and then overwhelmed us with the data. Phocas worked immediately right out of the box, and we did nothing but provide access to our systems."
Dixie Plywood installed the sales module, as well as the inventory management and AR components. IT conducted significant testing, and verified all of Phocas' data with the numbers from their Hyperion system. The bottom-line numbers always balanced.
"Drilling down into the numbers with Phocas was a snap, allowing us to see what was going on by product, customer, product category or vendor. When we turned it on for our sales managers, they were naturally cynical, given our past BI tools. After an hour class, we gave them their usernames and passwords, and it wasn't long before we received emails and phones calls wondering where Phocas had been all along," added Awtrey.
Phocas is used by a variety of departments across the company, each extracting data that is unique to its role. For example:
Purchasing
Dixie has a lot of vendor-managed inventory, both from the vendor and from Dixie to its customers. The purchasing department uses Phocas to manage the product groups and sub groups that are purchased from vendors, as well as any consigned items.
Accounts receivable
AR uses Phocas to identify good paying customers so they can receive better discounts. Knowing what customers merit the discounts can be difficult, but Phocas allows AR to drill down, see trends, and identify companion product to upsell.
Sales
The sales team appreciate the ability to access data on their mobile devices, allowing them to look at sales and receivables quickly and easily. They walk into meetings with customers better prepared, armed with information to help customers make better buying decisions. With previous BI tools, reports consisted of old information, but with Phocas, sales has real-time information about current orders, which are tied into routing systems and other relevant databases. Phocas helps them to set prices so they can stay competitive.
Management
Dixie Plywood's leadership team uses Phocas to find out who are the best customers and what they are buying, as well as who are declining customers. They drill into the layers of data to identify what customers are worth focusing on based on profit margin and/or location.
IT
The IT staff is constantly monitoring Phocas to see what are the top products, customers and salespeople. IT uses the data to see how they can help the top and bottom salespeople be more successful.
The benefits
When asked about Phocas' top benefits, Awtrey offered three things:
1. Timely information
With 65 people in the field, Phocas provides each with the data they need when they need it. They no longer have to call IT to request reports, which frees up IT to focus on more intricate IT problems.
"Everyone wants reports. To sit down and figure out what each of the 65 people needs requires significant time and it takes our team away from other things. With Phocas, our salespeople create their own reports. They have quickly learned how to use and manipulate the data, and they recognize their own ability to accomplishing the tasks. Once we introduced Phocas, IT's phones stopped ringing for timewasting report tweaks and queries," says Bobby Awtrey, Director of I.T. Services with Dixieply.
2. Management view
Phocas gives the management team immediate access to the information it needs to make informed decisions about customers, vendors, deliveries, product groups, sub groups, rebates, etc. Most of the questions in monthly management meetings can be answered on the fly with a quick glance at Phocas' dashboards.

3. Ease of use and availability of data
To date, Phocas has never gone down nor has Dixie IT had to rebuild anything. Each night, Phocas builds the reports for the next day, saving everyone time and allowing IT to focus on other things.
Overall, Phocas is having a positive impact across the company.
"We receive fewer phone calls, and it is taking us less to get things done," said Awtrey. "Our salespeople tell us that they have better access to data, which means they see more customers, and they spend less time because they have the information they need. Our bottom line has increased for a lot of reasons the last several years, one of which is that we now use a good BI tool like Phocas."
In the future, Dixie Plywood intends to tie budgets into Phocas, while a planned ERP upgrade will require additional modifications, as well as integration with new databases and pulling new types of data from spreadsheets and vendors.
Since 1944, privately owned and operated
Dixie Plywood and Lumber Company
has been the preferred wholesale distributor of plywood, lumber, building materials and specialty products. The company has grown to 10 locations supplying hundreds of retailers, dealers and industrial markets across the southeast and Texas.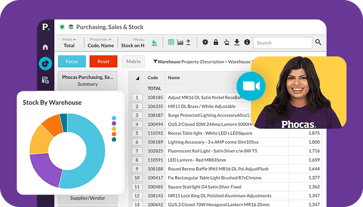 Get a demo
Find out how our platform gives you the visibility you need to get more done.
Get your demo today
Understand the past, operate better today, and plan well for the future
Whether you want to get your data organized for your team or you're looking to combine business intelligence capabilities with financial reporting, planning and analytics… We can guide you. Let's see if we can help.