Steel chain supplier enhances collaboration with integrated data
Leading manufacturer and supplier of steel leaf chain is equipped with the information they need to make accurate and informed decisions across the whole business.
Working to reduce dependence on spreadsheet
For both operations, the attention is in the details, and data has become increasingly more important over the years, particularly as the FB Chain was looking to kill spreadsheets in the business.
"Spreadsheets are always out of date, and you can't manipulate the data," said Peter Church, managing director with FB Chain.
"When someone doesn't do something with a spreadsheet within a couple of days, we have to restart the process. If someone does pull the formula down from a previous spreadsheet, then the data is wrong. Just when we think we are doing well, a quick fix of the formula may reveal that we are behind in orders or losing money on shipments. The information is not live, and as we started operating across two businesses, we really wanted to kill spreadsheets."
Several years ago, FB Chain moved to a Lakeview (now Kerridge LV) system. Integrated within the MRP platform was an early version of Phocas software. Unfortunately, the BI software was not fully integrated into the business processes, so pulling information from Lakeview was difficult and time consuming, which is why spreadsheets began to proliferate the company.
Jump forward a few years, and a frustration with data analytics led to a call to Phocas to learn more about the latest features and benefits. The new Phocas software checked all the boxes, and within a matter of three weeks, the company went from saying yes, to a complete implementation.
We had some experience with Phocas, and we wanted to move quickly," said Peter. "Lakeview contained tons of information, but it wasn't easy to get information out, especially if we were trying to get information from two different areas of Lakeview."
Users grasp and adopt Phocas quickly
Armed with Phocas and the advanced data analytics, Peter can provide his users across the business with the information they need to make informed business decisions:
There is a lot of movement currently in pricing, from average costing and trends, and with a few clicks, the purchasing manager can find out what they paid for inventory previously, compare supplier pricing and negotiate better margins.
Sales can drill into a customer, see the margins at the customer level, by product group and by part number.
Built a dashboard for the Blackburn business so managers can see a quick snapshot of the business, from margin and order intake, to salesperson performance. In a few seconds, they can see a single view of key measures for his business without having to access multiple spreadsheets.
Sales team can use customer data to negotiate fair and equitable price adjustments with multi-site customers to ensure profitability across all locations.
The key to Phocas' success for FB Chain is the live, up-to-date information, and the consistency of the data. Currently, FB Chain is using multiple databases, including financial, age credit, age debt, nominal ledger purchasing ledger, sales, stock and orders, among others.
"Phocas is so easy to use, and no one has to be a data geek to use it," added Peter. "Normally, if I asked two or three people in the business for information, they would probably come back to me with different answers because they pulled the data from different points, times or sources. Three different answers from the same system. Now, the data is fully integrated, and everyone is using the same data."
Tracking sustainability
In addition to providing data and reports for internal staff, as part of a Swedish organization, FB Chain's Swedish parent company asks for a lot of information, and is interested in sustainability. The company wanted to know how FB Chain classifies customers, a report in the past that was laborious to produce. With Phocas, Peter can quickly identify customer classifications and submit the report to the executives.
"We are also in the process of tracking and recording environmental impact on our operations," said Peter. "We hope to have a Phocas dashboard exclusively tracking sustainability in the near future."
New and different ways to use data
In the last few years, data management and analysis are critical to FB Chain success, and Peter is hoping the company has just scratched the surface of what it can do with Phocas.
He added, "We have a massive list we want to do with Phocas, including capacity planning with automated manufacturing. We have six machines, and we plan to use Phocas to identify pinch points on stock and capacity, so we can bring material in earlier, update production orders in the system, and start planning out how many production hours can and should each machine be working."
Peter predicts that the next several months of his business will be good as customers bounce back from the COVID-19 pandemic. What worked yesterday, however, is likely not going to work today so he is counting on Phocas to help him track and use data so FB Chain can continue to adjust and succeed in these changing conditions.
He concluded, "Right now, I feel like I am in a swimming pool, and I am surrounded by all this information. Phocas gives me all the different strokes I need to effectively use the data. We now have a solution that gives us new and different ways to look at the data, and improve the business, and fortunately, we no longer have to rely on someone's Excel skills."
FB Chain is a niche provider of chains for the lifting and lumber industries. The company and its 30 employees work out of two locations. The Letchworth operations focuses on chains for forklifts, trucks, telehandlers and lifting chains. Safety is essential, and FB Chain knows where every part came from, who made it and the origin of the steel. In Blackburn, the company focuses on chains for power stations, and biomass and saw mills. While Letchworths's business makes it simple for customers to put the right chain on the right machine, Blacksburg's team helps customers' chains last longer.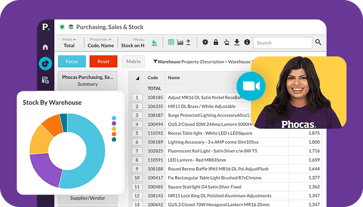 Get a demo
Find out how our platform gives you the visibility you need to get more done.
Get your demo today
Understand the past, operate better today, and plan well for the future
Whether you want to get your data organized for your team or you're looking to combine business intelligence capabilities with financial reporting, planning and analytics… We can guide you. Let's see if we can help.