User-friendly dashboards facilitate easier decision making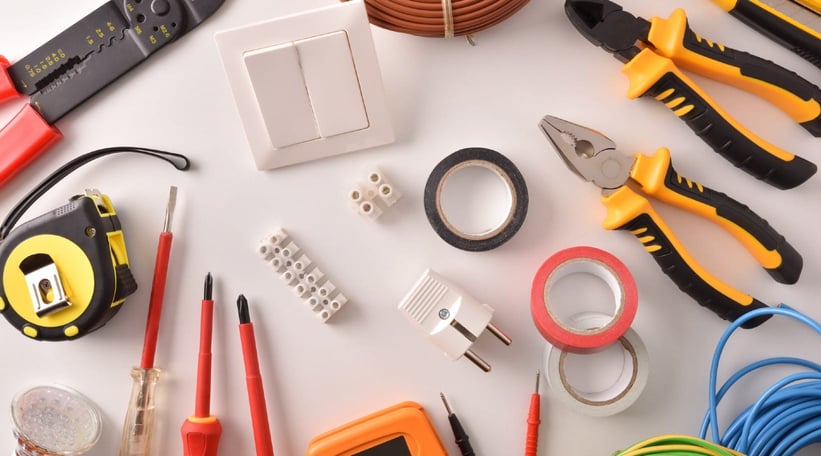 Electric supplier leverages data analytics solution to enhance data-driven culture, automate and optimize reporting, and facilitate decision making.
Data-driven culture
Since taking over as president and CEO, Paul McCool has pushed for Revere to become a data-driven business.
To do so, the IT group, led by Vice President Mike Prepelica, was tasked with finding the right combination of systems and solutions to ensure the right information got to the right people at the right time.
As the company has grown organically and through acquisitions, finding a consistent way of performing data analysis and reporting has been a key focus for Prepelica and his team.
"Once upon a time Revere was primarily focused on the industrial business, but we now have a good contractor mix as well. As our business has grown and changed, so has our culture and our IT needs. Analytics is what we do, and with the right ERP, CRM and BI solutions, we are in a much better position because of our ability to use data to make more strategic decisions," said Mike Prepelica, vice president at Revere Electric
Within the last year, Prepelica added Phocas BI software to complement the company's Epicor ERP. Phocas has had a visible presence at the Epicor user conference, where Prepelica first learned of the BI software.
"Our experience with Epicor combined with our exposure to Phocas at the conference and as part of the Epicor user board have been big reasons why we were able to hit the ground running with the software," said Prepelica. "In addition, Phocas' ease of use, which means we don't have to have IT folks build out everything, also accelerates adoption and usage."
Automating and optimizing reporting
Today, Revere has a lot of sales dashboards in Phocas and is using Phocas across several operational areas as well, including accounts receivables, purchasing and warehousing.
The sales team is the most active, with more than 50 sales representatives and managers using Phocas on a daily basis.
In the past, sales managers would send out three text-based emails from Eclipse providing sales reps with open bids, daily sales and backorder reports. Today, Revere has built one dashboard report in Phocas that combines all bid, sales and backorder information into one online page that is delivered to teams. Additionally, the report is accessible all the time from any device. The dashboard allows sales teams to see the status of their businesses, slice and dice the data in a way that Revere decided they should see it, and how they can leverage it for quarterly reviews and monthly forecasting.
"Phocas has consolidated and streamlined the sales reporting process by eliminating multiple emails and making it as simple as clicking on a link," said Prepelica. "The information is presented in a much easier format to digest and users can drill in and gather actionable insights from the data. It's pretty powerful so far."
Prepelica also has his own e-business sales dashboard that allows him to see the previous three months and drill into customers' profiles.
"Prepelica added, "It's easy to get a snapshot of what is going on and compare it to other segments, such as order automation, to see how IT is influencing sales."
A greater level of reporting
Phocas provides a faster, greater level of reporting then Revere has done in the past.
Purchasing can now identify dead inventory and make smarter inventory decisions earlier while the credit team can make faster decisions on aging accounts. Prepelica noted a lot of effort going on in other areas of the business, including in the warehouse, where analytics has never been done.
The IT team is also building executive dashboards, testing a customer profitability module and is planning to build product hierarchy for sales specialists that will measure technical segments on the industrial side of Revere's business.
"This will mean adding 25 sales engineers into Phocas who only want to see information that is relevant to them," said Prepelica. "They don't always need to see the big picture, and Phocas will allow us to give them the data they want when they want it. This is really exciting for us."
Streamlining access to data and decisions
Overall, Phocas has streamlined access to data in a reliable and verifiable format.
Its simplicity has made it easy to roll out to users of all skill levels across the organization that are quick to adopt the data analytics solution — and Revere has seen a fast ROI.
The company is looking toward the future to bring even more users on board, including the finance team that will use Phocas to analyze financial statements next to operations and sales data.
"Understanding what we have done in the past and how far we have come from a data analytics standpoint, we are definitely getting our money's worth today from Phocas," said Prepelica. "A lot of that speaks to how quickly salespeople have adopted it and the ability to streamline from three to six reports down to a single pane of glass with easy-to-understand data. Phocas is so streamlined that it has quickly paid for itself. When we have a dashboard that tells us what is going on, with clear and present data, our decisions are pretty much made for us."
Revere Electric Supply (Revere) is a fourth-generation family-owned electric supplier that will be celebrating 100 years in business in 2019.There are two generations still actively involved in the company, which serves customers across northern Illinois and southern Wisconsin.
During the past 20 years, the company has acquired five suppliers and grown to become one of the renowned automation and electrical distributors in the Midwest, representing more than 300 manufacturers.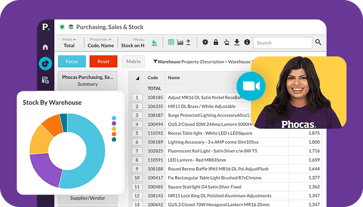 Get a demo
Find out how our platform gives you the visibility you need to get more done.
Get your demo today
Understand the past, operate better today, and plan well for the future
Whether you want to get your data organized for your team or you're looking to combine business intelligence capabilities with financial reporting, planning and analytics… We can guide you. Let's see if we can help.