Phocas adds needed visibility into future opportunities for Wessex International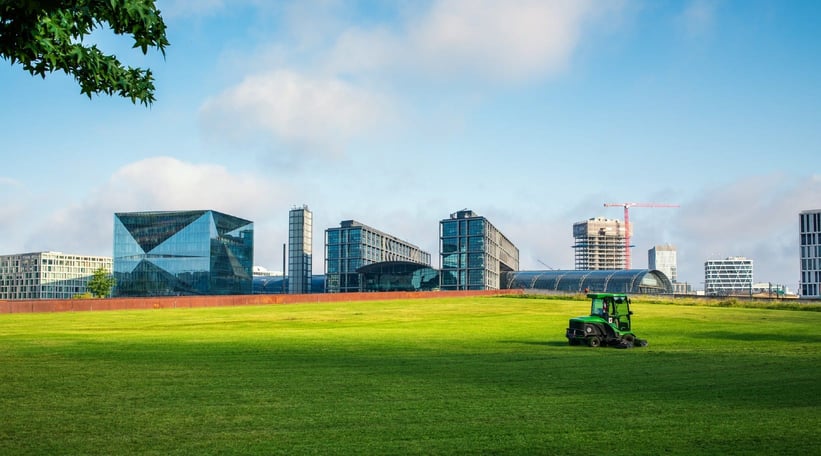 Global ground care equipment company turns to Phocas to provide visibility into business performance and much more accuracy into what is going to happen next.
Wessex International offers more than 200 machines and thousands of machine parts. To keep track of its inventory and customers, the company uses ProspectSoft, a CRM system, that while not very slick with the inventory, it works well for CRM and customer management. Unfortunately, the CRM's reporting system is cumbersome and difficult to use, and it doesn't produce any visual reports. After looking around at different options, Wessex International's Marketing manager Pete Farndell found Sales-I, which offered a CRM in addition to reporting features.
"After six months of serious work to get the software working, it fell over," said Pete. "We spent thousands of pounds for the software not to work, so we came back to Phocas"
Pete and his team wanted a pipeline for the future, a solution that could provide visibility beyond historical performance.
He added, "Everything we asked Phocas to do with our integration was not a problem, and by the time we had deployed the software, literally nothing we had asked for hadn't been done. We hit the ground running with Phocas and our team loved the ability to quickly dive into the numbers and set up dashboards and widgets."
The company started with 10 licenses and all 10 are currently used by the sales team. Sales managers can log on and see everyone's results, while area managers only see their specific customers and targets.
Mobile access is also critical to team members when they are on the road, as they can view and track their activities. Pete set up a dashboard called "Our Activity Live," which updates every 30 minutes, tracks all phone calls, customer engagement, results, targets, and daily, month and year sales figures.
Pete also set up a lead bank dashboard that displays all upcoming sales opportunities. The "Got Value" dashboard takes the estimated value and compares it against the actual value to provide greater visibility into the sales pipeline.
"Anyone at any time can log onto the dashboard and see how they are performing, something we didn't have before Phocas," said Pete."
Prior to Phocas the reporting process was done manually. A team member at the end of each day would upload numbers to a spreadsheet, take a screen grab and email it. This used to take an hour. For a manager's meeting report, which identifies month, year and sales target, best and worst customers and how certain products are doing, the same person would spend two days pulling together all the figures. Now, both reports can be done instantly, as some of the steps are now saved as a favorite and mailed every day. In addition, the live dashboards are points of conversation during daily meetings.
"The sales team really appreciates Phocas because before they would have to do all the same things themselves, but it was really clunky," said Pete. "They think it's really smart and so visual. They can quickly see how the business is doing."
Pete emphasized the value of the visibility sharing an example of a lead on a mower that got lost in all the numbers of the previous spreadsheet-based reporting system. The sales team actually forgot that the lead was there, and when it was rediscovered, a phone call to the customer revealed the customer went to a competitor.
"Unfortunately, we didn't have the visibility into what was outstanding, so we could have had many more examples like that," said Pete. "You don't know what you don't know."
For Wessex, the next phase of Phocas is in the cloud.
The company is looking to increase security and access speed for its remote workers. This means Wessex International will soon update its CRM and Phocas to cloud-based solutions. While this won't change how Phocas works, in the long-term, this means that dealers can potentially create their own logins for Wessex' system so they can have visibility into data about their own dealerships. They could see their own company targets, how they are performing, sales of products compared to last year, top and bottom sales reps, outstanding service tickets, among other key performance indicators.
"Data analytics has certainly changed things," said Pete. "Yes, in the past we did have access, but we didn't have visibility going forward. We could always see our history, but we did not have clear accuracy of what is going to happen next. We would ask sales reps or area managers what is coming down the pipeline in the next six months, and they would sit in a meeting and scratch their heads. Now it's on a Phocas dashboard with a rolling 12 months."
He added, "Phocas makes it easier to understand from a forecasting standpoint, easier to see who is performing, and to understand what customers we need to focus on to make sure they are not going to competitors. For us, the number one benefit of Phocas is the visibility it offers our business. Everyone has access to the information they need."
Wessex International
is a global company with nearly 60 years of experience manufacturing groundcare, agricultural and winter maintenance machinery. Founded in 1962, the Andover, England business has 40 people working out of its 50,000 square foot headquarters with sales reps around the world who work with its global dealer network.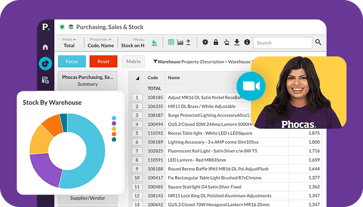 Get a demo
Find out how our platform gives you the visibility you need to get more done.
Get your demo today
Understand the past, operate better today, and plan well for the future
Whether you want to get your data organized for your team or you're looking to combine business intelligence capabilities with financial reporting, planning and analytics… We can guide you. Let's see if we can help.