Phocas is named the #1 business intelligence (BI) software and achieves the uppermost quadrant position in the 2020 FrontRunners guide by Software Advice. Using Gartner methodologies, Software Advice ranks BI software based on ratings from end users as well as considering product features. Phocas outperformed all 24 BI products reviewed. The report helps companies evaluate which BI software products may be right for them.
Phocas scored highest in both user categories with a score of 4.5/5 for "usability," which is a weighted average of "functionality" and "ease-of-use." Phocas also achieved the top score of 4.75/5 for "customer satisfaction," which is a weighted average of three user ratings, which are "value for money," "likelihood to recommend" and "customer support."
Myles Glashier, co-CEO of Phocas, says our mission is to make people feel good about data.
"It's great to have Gartner-owned Software Advice producing quadrants and reports that reflect the experience of real users of the software. When evaluating the best fit analytics and reporting software, people want to understand: how easy to use and useful is the software? Then they are interested in: is the customer support any good? And ultimately, would customers recommend the product to others? The FrontRunners report goes a long way in answering these questions," explains Glashier.
"Data is not easy for companies to bring together and present in a meaningful way. Many people find data inhibiting and are held back by not having access to the information they need. Therefore, by using business intelligence software that presents a single source of information in a format that is user friendly and current, makes a massive impact on a company," says Glashier.
The 2020 FrontRunners BI result reinforces that customers get a great experience from Phocas BI Software.
And Glashier says: we seem to be so far on the top right that they almost needed a bigger quadrant!"
"Most BI vendors say their product is easy-to-use, but it's wonderful when customers reiterate this to us. Phocas is built for the everyday user, and people from across a business can drive the software and answer their questions," explains Glashier.
Software Advice, a Gartner company, uses written reviews given by active software users to highlight top-rated business intelligence software products. To be eligible for the BI category, products must be standalone business intelligence software plus offer three features: dashboards, visual analytics and self-service data preparation. The FrontRunners for business intelligence software report is available here.
Top Business Intelligence Software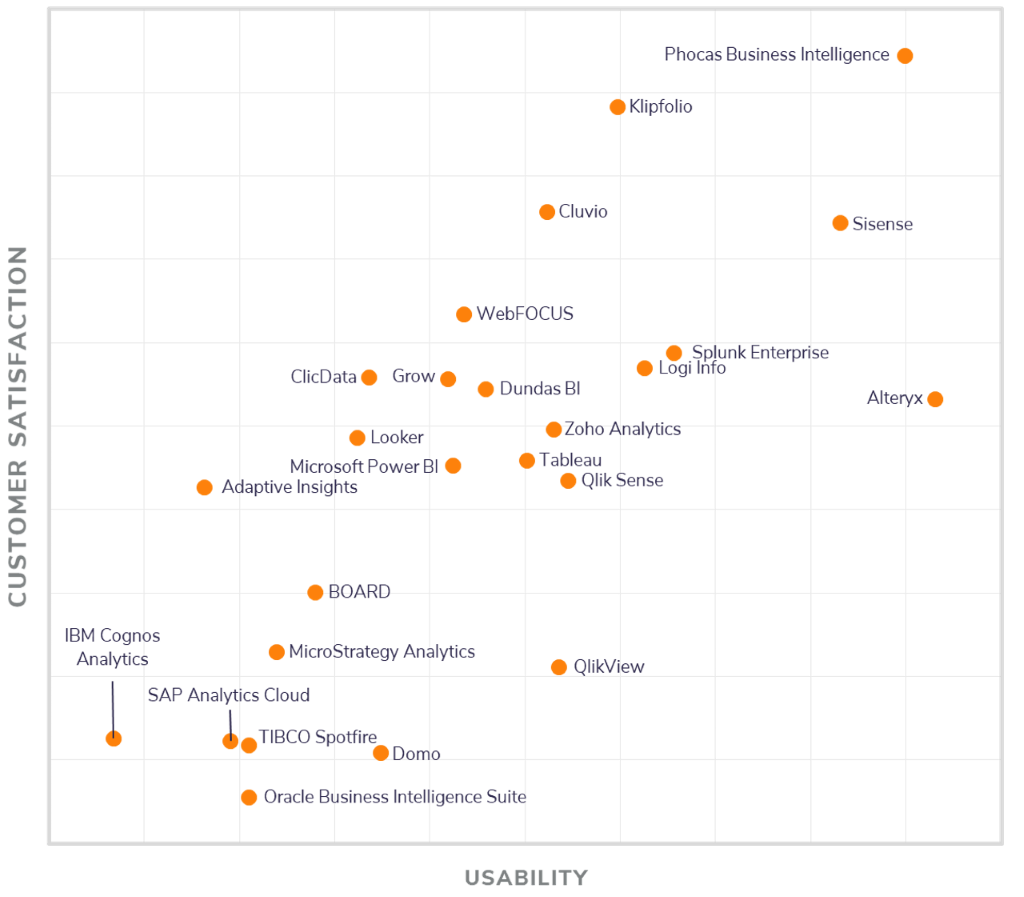 Products receive a score between one and five for each axis, the usability score is on the (x-axis) and the customer satisfaction score is on the (y-axis). Products that meet a minimum score for each axis are included as FrontRunners. Here are some examples of what the users wrote in their reviews about Phocas in Software Advice's FrontRunners 2020 Business Intelligence software report.
For Usability
Martin, Building materials supplier
Phocas provided an ideal solution for producing the same views of information for different job roles using the permissions in the background. This reduced our dependence on Excel reporting by around 60%. It's reporting for the masses.
Bill, HVAC wholesaler distributor
Phocas is very easy to use! I can show someone the basics in 5 to 10 minutes, and they are off and running, creating favorites and dashboards. The software is updated every month, and their support and documentation are outstanding. The product gives us the information we need faster than doing it in our ERP system.
Mike, Electrical parts manufacturer
Best in class BI. Phocas is extremely easy to use for non-technical users. It holds huge amounts of data and is pretty fast at being able to get the information required out of the system. It is easy to use for all salespeople. Lots of information at your fingertips.
Mike, Electrical wholesaler
BI software that lets me do it the way I want to do it. Being able to run reports in minutes instead of hours has saved me so much time. Phocas helps me work more efficiently. What I most like about Phocas is I can get to the information I need by how I think about it. While someone else in my company can get to the same information in a different manner. The great thing is we get to the same information.
For customer satisfaction
Graham, Auto after parts wholesaler
Happy to Recommend Phocas!
We started with Phocas with just the standard sales database for one region of our business but have now progressed to multiple sales databases for other business units with fully integrated rebates module as well as finance and procurement style database now, with plans to roll it out further in other parts of the business.
The ease of use of Phocas is what puts it at the top of our list for BI software. The set-up of the data was quick and easy (with great support from the Phocas guys) and ability to drill down from top line data right into the detail of a transaction is what makes Phocas a great tool for us. Phocas is widely used across our business to track and analyze sales data, finance data and purchasing data with future plans to add more modules. The PUG Forum is also a good feature for me, if there is something that you don't know how to do then you'll find the info there or someone can point you in the right direction.
For more information about Phocas business intelligence software download this free eGuide: Building the case for Business Intelligence

*Required disclaimer: FrontRunners constitute the subjective opinions of individual end-user reviews, ratings, and data applied against a documented methodology; they neither represent the views of, nor constitute an endorsement by, Software Advice or its affiliates.