9 ways to maximize value from NetSuite using BI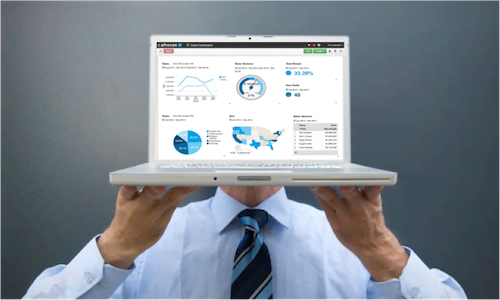 It can be a struggle to quickly make strategic business decisions given the sheer volume of data available to you. Let's explore nine ways you can increase sales, lower costs and maximize margins by using NetSuite alongside business intelligence (BI).
NB: This is an excerpt from our eBook, '9 ways to maximize value from NetSuite using BI'. To learn more about maximizing your NetSuite value through BI, download your free copy today.
NetSuite for many organizations is the all-encompassing business management system. It's the engine room of ERP, financials, CRM and e-commerce that captures and stores business transactions.
Business data, whether it relates to profit and loss, cash flow, sales or inventory is doubling in volume every two years. This data explosion presents opportunities and threats.
Opportunities can involve analyzing data already in NetSuite to spot trends that inform action and lead to increased sales and improved profit margins. Your sales team can identify cross-selling opportunities and put plans in place to take advantage of them. Alternatively, you might want to improve stock turnover with this data. People making decisions using out-of-date data is a standard threat that impacts negatively on all businesses. Looking at old, inaccurate or incomplete data sets is time wasting for everyone and meanwhile your competitors might already be using BI techniques and tools for competitive edge. Ouch!
Linking BI to the bottom line
You'll see BI value propositions floating around that emphasize business benefits like agility, responsiveness, customer intimacy, information sharing, flexibility and collaboration.
We think there are lots of ways ways to express the benefits of BI but there's no business value associated with an investment unless the benefits are defined in operational terms and can be realized through actionable steps that affect revenues or costs.
A 20K investment in a BI application must lead to additional cash flow of at least 20K (preferably in the the current financial period) or your business just suffered a reduction in assets.
So here we go... let's look at 9 ways to get more bang for your buck from Netsuite with business intelligence
1. Start at the end
Thinking about BI? Start with your "end goal" in mind. Ask these questions about possible gains and measures:
What is the business struggling with? Are we getting the right information from all the data we've got access to?
What do we need to do better, faster or with greater consistency? Are we getting the right information out to people in time?
What are the goals of this BI initiative? We need an easy to use tool anyone in the business can use that provides the right information when they need it.
How do we measure our goals? If everyone has access to the information, and it's being widely used, and it's easy to use – can we quantify "everyone", "wide", and "easy" to determine success?
Successful BI projects have this "end-game" in mind at the start of the journey. Take some time to consider "what success looks like" and "how to measure it". We've put together a BI value scorecard below to show you at a high level how to qualify and quantify the success of the BI solution.
Determine your end goal at the beginning and you'll be on the path to success. And keep asking: how is this investment in business intelligence going to increase revenues, reduce costs or better still, both? The answer is to get focused key metrics which we'll discuss in the next chapter.
2. Get focused
You'll get the most out of BI if you can identify the areas you need to focus on.
What do you want from BI? A better way to manage revenue and margins? Specific sets of functionality or features? The ability to drill into revenue or cost?
It may be surprising to hear, but people are still selecting BI tools that are visually appealing but only give data scientists the ability to perform complex modeling of data to find exotic patterns applicable to 5% of your customers. And not everyone can afford to employ a data scientist and give them this latitude.
For most businesses, especially those of us that are classed as mid-sized or smaller, our goals are to drive additional revenue, increase margins, or we're looking to improve overall operating efficiency. These are tangible real world benefits we'd like to achieve from a modest investment in a BI solution that will deliver results quickly.
Over 15 years in the BI business we've witnessed our customers directly linking their use of BI to business improvements.
How do they do this?
You can segment customers, by size, industry, spend or geography then identify and profile customers that deliver the best margins. You can then follow this up by offering customers with a similar profile these same products. BI is paying off if you can improve your overall margins and win new sales in the process. BI can also be used to identify where demand forecasting can be refined and then follow this up by adjusting operational business processes to reduce inventory and in turn costs.
OK you get it, you've got that you've got to get focused.
That means working out what to measure but not trying to measure everything. The best things to measure are those that align with your business objectives and lead you on a clear path to revenue gain. By focusing on metrics that produce the most benefit to your objectives, your business will have a higher chance of driving those crucial activities related to revenue, costs, margins or efficiencies.
You need to choose and collect the best metrics for your business, and whatever they are, BI and analytics will help you to leverage patterns of what's happened in the past (the current metrics you hold) to make more accurate decisions in the future. We recommend building a BI effectiveness KPI scorecard to help you identify and learn more about what you want. Here's an example we use to make sure we're delivering value that can be measured pre and post BI.
Don't attempt to fulfill all KPIs at the same time or you may find yourself frustrated, spread too thin and the BI project will bear the brunt. Instead, pick two or three KPI's and champion their uptake into the business, develop strategic and tactical plans to make sure they're working and make sure cash flow is improving. Then use these KPI's in meetings, talk to people about them, make sure people have access to them and that they can see the results for themselves. When people know management is interested in these KPI's, they can't help but become interested too.
Now that we're focused on the outcomes, we'll talk about using BI to move beyond reporting in the next chapter
3. Move beyond reporting
In most businesses there's no shortage of reports and with searches you can build many more.
Given that there's plenty of report creation opportunities out there, we were curious about the usefulness of these reports and their quality.
So we asked NetSuite users: what is your view of your current reporting tools? The overwhelming response was that people couldn't dig deep enough into the reports to spot trends, identify patterns and then visualize the results.
If you're like the majority of NetSuite users, you already have all the transactional reporting capability you need. So what does it mean to "move beyond reporting"?
BI gives you the ability to move from reporting to a higher level 'questioning and answering' mode, to help you:
Analyze trends
What margin is each product group achieving in a particular region?
What about individual products?
What's the change versus last month - by margin or revenue or quantity sold?
And what about last quarter, or year?
Uncover opportunities
Which of your customers are buying and what are they buying?
Who's not buying and what have they stopped buying?
Who's buying tables but not chairs, or printers but not ink, or cloud ERP systems and not business intelligence solutions?
Find new customer segments
Why are my customers in California buying lots of tanning lotions and we're trending down on sunscreen? Is there a new market opening up…?
Here are just some businesses using business intelligence to move beyond reporting.
Let's explore two main limitations of report creation available in existing ERP, CRM and other enterprise systems.
The built in reports are geared to providing data to business users, but aren't designed to allow them to create their own insightful information from the reports.
The reports, and in some cases, existing search capability only let business users review data in the form of the report or structure in which it is created to be consumed.
Now we'll look at how BI tools differ to reporting tools:
BI tools let business users go beyond the current boundaries of the data and ask their own questions in their own way to uncover trends, issues and opportunities.
BI tools typically use governed data in a structured way to create certainty and consistency in findings.
BI presents an analytical capability that makes it easy for everyday business people to shift into a questioning mode that naturally leads to decision-making and action backed by data.
BI encourages analytics which promotes data-driven decisions that have a measurable beneficial impact on a business such as campaign effectiveness, pricing, channel segmentation and customer targeting.
Now that we can move beyond reporting to analysis, in the next chapter we'll explore the power of the cloud and the importance of mobility when using BI tools.