Financial Statement Reporting Software: A friend for your finance team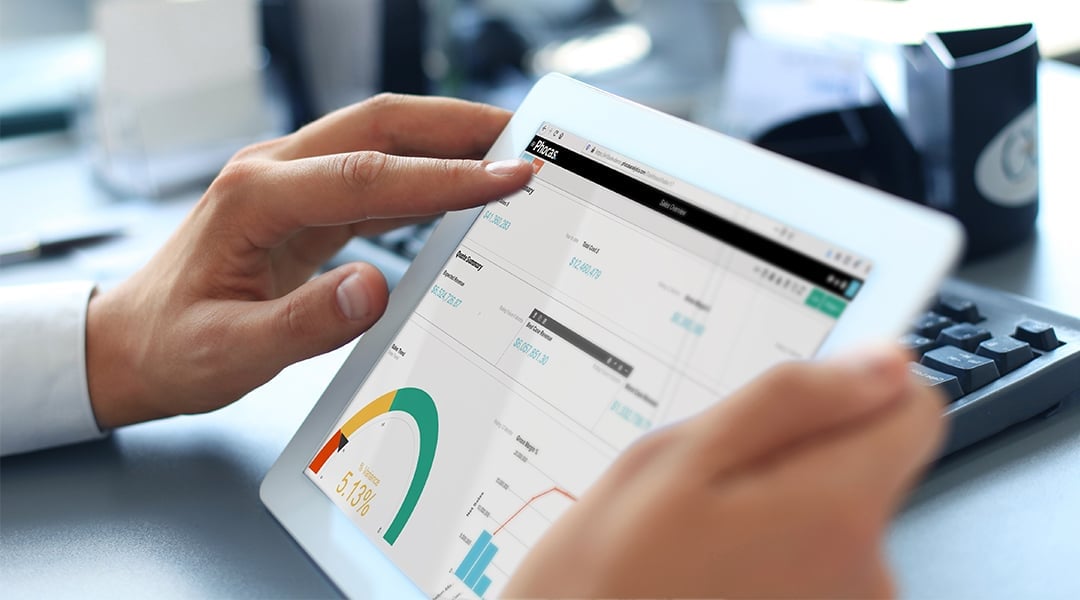 Finance teams have been opposing the arrival of Financial Statement Reporting Software for a simple reason — many assume that it will put you out of a job. But what if Financial Statement Reporting Software isn't here to replace you; instead, it will assist you in your routine tasks, empower you to lead, and make you a more valuable asset for your organization.
For a long time, you've been working overtime to pull data from your ERP into spreadsheets, create charts and pivot tables, and prepare monthly or quarterly static financial statements.
But your boss is still not satisfied nor always in support of your efforts.
Do you know why?
Because the data, reflected by these static reports, can be outdated or not enough.
But times are a changin'
Financial Statement Reporting software has everything you desire — it automates the preparation of financial statements and reports, pulls data from different data sources, and creates highly-visualised, interactive and customised dashboards.
But before we look at the benefits of financial statement reporting software in detail, let's discuss why a static reporting system is a big headache.
Why static financial statement reports are a tool of the past
Customers' demands are increasing, business models are revamping, and market conditions are shifting significantly. To gain a competitive advantage, managers have to be agile and aggressive in making key business decisions, for which, they need accurate and up-to-date data.
However, static financial statements pose a threat as they reflect outdated data from the last month or quarter. In this situation, managers pressure the finance or IT team to set aside their current work and extract a fresh and relevant report urgently.
Even when decision-makers get up-to-date data, they trouble the finance team by asking for another static report to find answers to their queries. This process results in back-and-forth communication, causing unnecessary delays in decision making.
Result? — Businesses miss out on creating a competitive edge in the market, mitigating risk, or adapting themselves to a change.
Why is the financial statement reporting software a blessing?
The financial statement reporting software does all the heavy lifting — it pulls data automatically from ERP into its business intelligence software and generates dynamic reports, which can be customized by content and layout.
Further, the financial reporting software also builds highly-interactive, live dashboards to present a snapshot view of financial performance and key ratios.
These dashboards reflect complex data in a bite-sized format, making it easier for the users to view, analyze and interpret data. Users can view significant variances at their fingertips and then drill through and down into any specific data up to the transactional level.
The self-service reporting model ensures that the users can find answers to their questions themselves. They can manipulate data to view information specific to their department, region, or area of responsibility, and make informed decisions.
Check out our ultimate guide to financial software, budgeting and forecasting
How does the finance team benefit?
After the arrival of financial reporting software in your organization, the role of the finance team will change forever.
Traditionally, the finance team is termed as a "number cruncher". Its role has been limited to managing spreadsheets, accounting for income and expenses, and submitting monthly or quarterly financial reports.
However, financial statement reporting software frees up the finance team from mundane reporting tasks by automating the entire process so it can focus on value-added analysis.
The finance team has the closest interaction with data. Its insights can drive valuable inputs for managers and users belonging to sales, marketing, operations, production, supply chain, and warehouse department.
Ideally, your financial statements reporting software works in tandem with your business intelligence software and ERP to facilitate the sourcing and management of data. Phocas Financial Statements, for example, is an add-on to Phocas business intelligence software and integrates with a variety of top ERP systems such as Infor, Epicor, Microsoft, MYOB, Oracle and SAP.
To find out more about Phocas Financial Statement Reporting Software, here's your free ebook :
Turbo charge your finance team to value-add.
FEATURED EBOOK
Learn more about financial software
Download eBook
Fill out the form below to download the eBook.