How can data analytics help janitorial and sanitary companies grow their business?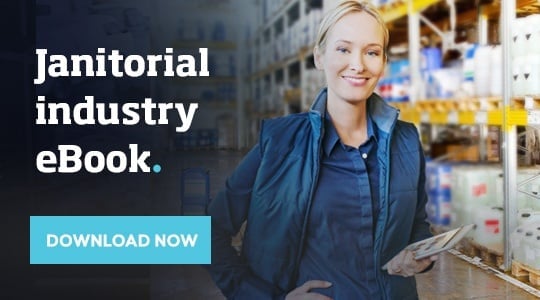 Having a clean living and working environment is paramount, which has only heightened since the onsite of the coronavirus. When it comes to sanitation and cleanliness, this cannot be taken for granted – especially as workspaces and homes need to meet specific safety standards. The janitorial and sanitary industries are both predicted to grow by 10% in the next five years, so in this blog, we explore how individual companies can use data analytics to take advantage of the growth.
A consistent demand for various commercial cleaning services is prevalent in areas such as retails sectors, public institutions, hospitals, and sporting stadiums. Yet despite a promising outlook, if janitorial and sanitary suppliers fail to address the underlying challenges in productivity, profitability and performance, their individual growth could stagnate.
The cleaning industry is now having to quickly adopt new technologies – such as cloud-based software, integrated collaboration and mobile business intelligence – to increase efficiencies and improve profit margins.
Using data to get ahead
Industry leaders have turned to data and analytics to gain better insights into their operations but more can be done to make the most of their findings.
Janitorial and sanitary suppliers generate huge sums of data from their customers and increasingly more from other areas of the business such as stock management, staff performance, and sales results.
But many are still unaware of how their data can be optimized, or think they have it covered because they have an Enterprise Resource Planning (ERP) system.

The pitfalls of ERP systems
ERP systems fall short in their inability to perform deep-dive analysis to reveal strategic insights. ERPs are not built to perform trend analyses or give you in-depth data.
Relying solely on your ERP system to generate reports is time consuming and requires technical skills to understand complex spreadsheets.
ERP reporting is also static and incomplete. A static spreadsheet only provides a snapshot of information, and users can't discover underlying insights and trends that lie beneath the business.
How does this affect janitorial and sanitary suppliers?
Firstly, inventory managers may understock products as they are unaware of increased demand. Secondly, sales reps could miss out on up-selling or cross-selling opportunities because they're unaware of a customer's changing buying habits. Thirdly, managers may be less effective in training their staff on how to sell certain products due to incomplete insights.
Incomplete data occurs when information is spread across different systems. While the majority of data may sit in your ERP, some may lie in CRM or inventory systems and be missed, leading to incomplete information being used to make decisions.
Even more problems can arise when you need to export data to spreadsheets, which can be susceptible to errors, difficult to troubleshoot and at risk of security breaches.
Most companies rely on IT to build and generate reports but the reality is IT reports can take a few days or up to a week to land on your desk and by then the information is outdated.
Business intelligence is your single source of truth
Business intelligence relieves ERP limitations by collecting your company's data from different sources in real time and presenting an intuitive live grid that lets you reveal actionable insights. Now employees across your entire company can explore the data behind the reports, and discover potential issues, trends, and pro table opportunities. What's more, a BI report is generated in a matter of minutes and provides real-time insights.
A BI solution like Phocas provides your company with simple but powerful analytical capabilities to maximize business opportunities. You can pull up data in seconds, from local to international sales, forecasting, inventory and much more. Phocas is a comprehensive solution that helps janitorial and sanitary suppliers stay ahead of the competition.
For more information on how your business can save time, money, and remain competitive, download our free Janitorial and sanitary eBook: Increasing sales and improving stock management for janitorial and sanitary suppliers.
FEATURED EBOOK
Top 7 KPIs and metrics for mid-market executives
Download eBook
Fill out the form below to download the eBook.