Sales and operational data for better budgeting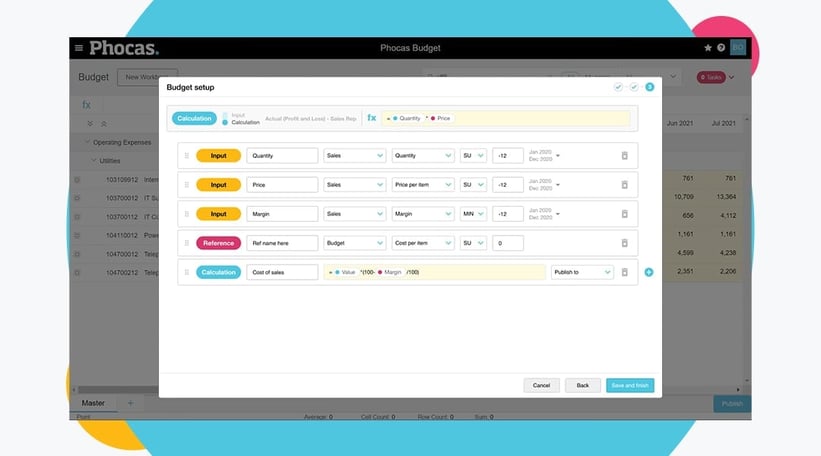 Capturing non-financial data from sales and operational teams isn't easy. It's typically a manual, time-consuming process where data often becomes out of date by the time it's published. As a result, too many high-level business plans and budgets are made without enough insights from the teams that need to deliver them.
Driver-Based Budgeting in Phocas Budgeting & Forecasting helps businesses integrate sales and operational drivers into the budgeting process. This means you'll get better insights into what drives bottom-line performance and create the budget you need to support your business goals.
Re-think your approach to budgeting
When sales and operational teams can include specific data into budgets, then answering the tough questions they are faced with every day is much simpler.
Do you know what headcount you need to hit your sales targets? What margin to incorporate into your prices? How much storage space you need?
Traditional budgeting processes make these everyday challenges a lot harder to solve. Because top-down budgeting processes struggle to incorporate these non-financial drivers, there can be a real disconnect between budgets and the resources linked to them.
"With Phocas, you can use driver-based budgeting to adopt a bottom-up approach – and get to the heart of what really drives business performance," says Jordena Tibble, Chartered Accountant and product specialist, Phocas. "Rather than budgets based on limited data points and educated guesses, you can create budgets that capture critical non-financial drivers that actually occur on the ground right across the business."
Integrate non-financial drivers for meaningful budgets
Phocas Budgeting & Forecasting allows teams from different areas to effectively add all their drivers to the budgeting process. For example, sales teams can add call volumes, cost per sale, and margins. Inventory teams can add turnover rates, stock-to-sales ratios, and weeks on hand. Purchasing teams can include raw materials cost, undamaged shipment rates, and supply chain cycle times. With real-time access to these additional metrics, your budgeting process becomes far more reliable and valuable to the business.
"Driver-based planning helps you connect real-world drivers to the budgeting process. This means you can see exactly how different drivers affect the bottom line, allowing you to measure and control their impact."

Jordena Tibble, Phocas Subject Matter Expert, Financial Products
The driver-based budgeting feature unlocks the power of Phocas Analytics, by bringing in your operational data to create drivers and connections across the business. Once set up, all the data drivers are connected within Phocas and you can start to model the knock on effects these drivers have across the business. This makes it easy to pull information from different teams into one place, update your current position, and reforecast in real time.
You no longer need to use spreadsheets, create complicated formulas or chase up data from across the business that quickly becomes out of date. And with enriched budget capability, you can create budgets that incorporate operational and financial business drivers.
Staying on top of the results that matter
When you embrace driver-based budgeting in Phocas, you can plan, track, and forecast the drivers your team can control and drive performance. Here's how:
Focus on the most critical factors that drive success
Driver-based budgeting helps you identify what actions contribute most to your bottom line – and those that have little impact. This means that in the battle for resources, you'll know where to focus your team's effort and where you can pull back.
Highlight how your team's metrics roll up to the business financials
By incorporating your team's metrics into the budget, you can directly link your output to top-line financials. You'll see the influence your team makes on the bottom line, so you can make sure you track meaningful metrics.
Easily adjust your teams' forecasts based on real-time data
The traditional budgeting process is manual and time-consuming, leading to outdated data and unhelpful forecasts. With Phocas, you can incorporate real-time results for more reliable forecasts, so you can better allocate resources to drive performance.
Play out scenarios to see how different decisions affect the overall financial budget
Test different scenarios so you can see the impact of certain changes to financials and business performance. This helps you respond fast to changes in the market while being clear on the financial impacts of your decisions.
Blending operational and financial data for reliable budgets
According to FSN's "Future of Planning, Budgeting, Forecasting and Reporting" Global Survey 2022, 72% of organizations want to improve the dependability and reliability of their forecasts. And the truth is, you can't improve reliability without detail from other business areas. Driver-based budgeting allows you to blend operational and financial data, so you can bring all relevant data into the planning process.
"The best thing about this new software is that you can now get a true picture of what is driving performance," says Jordena. "It means no more blind spots. No more version control issues. And no more chasing up information. Instead, you can now easily combine operational and financial data to create responsive, robust budgets – and all within one single source of truth".
Interested in learning more? Get in touch today for a personalized demo of driver-based budgeting.

Empowering businesses with intuitive data analytics, driving informed decisions for growth and profitability. We make people feel good about data.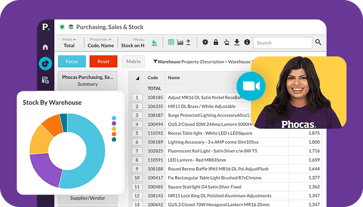 Get a demo
Find out how our platform gives you the visibility you need to get more done.
Get your demo today