New Year's resolution for CFOs: more data discovery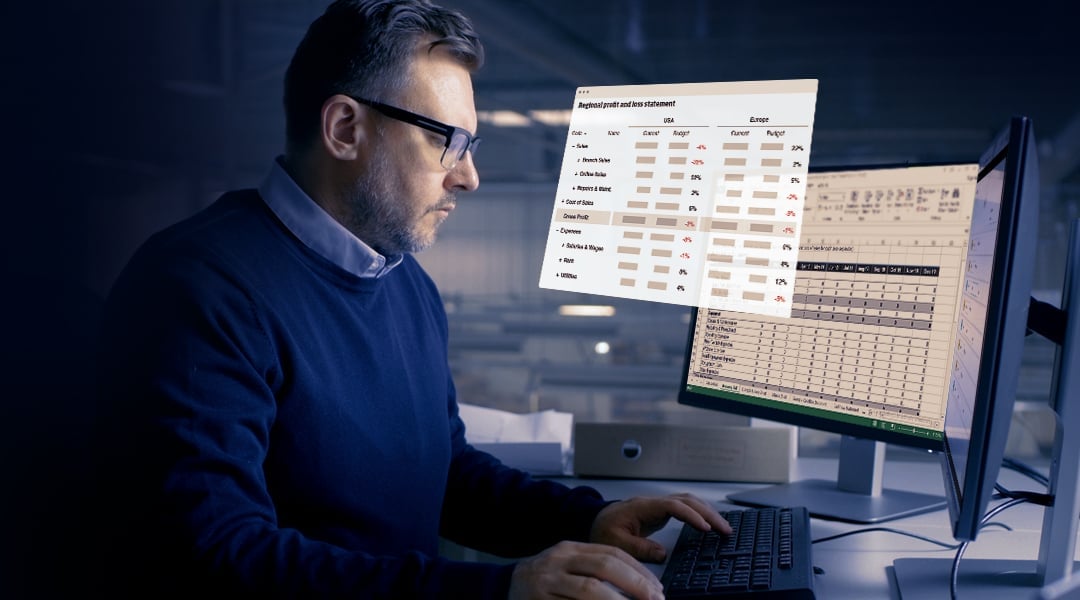 Data discovery is the process of collecting raw data from your various databases and systems and converting it into a single source for instant analysis. Once data is converted, CFOs and the finance team can drill down, follow a train of thought and share insights with the rest of the business. After another fast-paced year, business people acknowledge that up-to-data data is no longer just a byproduct of business operations, rather it's an asset. Data insights help develop strategy and quickly gauge the impact of decisions on business performance in real-time.
If you're wondering how you can make 2022 a year of full data visibility and clarity, we recommend carrying out more data analysis and discovery with the help of purpose-built financial analysis, planning and reporting tools.
Step one: Identify key areas for data discovery
The first step to data discovery is to determine what data should be collected. Think about what data you need to achieve your 5-year plan. Businesses collect so much information that they are often drowning in a sea of irrelevant data. This makes the monumental task of processing it nearly impossible. Instead, focus on your most precious assets such as financials, customer purchasing behavior, sales data, sales rep performance, inventory and warehouse information, and so on.
Step two: Streamline data into a single source of truth
Once you know what data is important to you, streamline it into a single source of the truth. When data is stored in various databases and systems, the data can be fragmented, redundant, or otherwise inaccurate. A purpose-built financial analysis, planning and reporting solution will funnel the data residing in disparate systems into a single source where it is consolidated for analysis.
When data is transformed into a unified, consistent, and trustworthy source, it starts to become useful. The ability to trust your data is critical to decision making. This 360-degree view of your business means you can see what's occurring beneath the surface and driving certain trends. By drilling down into your statistics, you will gain important insights into sales figures, variances, and inventory levels. This reveals what's selling, what's not, where, and why, in just a few clicks on your dashboard. With this information, you can easily see what needs to change. For example, you may need to increase revenue by adjusting your product mixes. Or you might be able to reduce costs by eliminating deadstock from your warehouse.
Step three: Give data to all through a self-serve solution
Traditionally, data analysis requires the IT department to collect and store data, and generate reports to be reviewed by analysts. By contrast, today's self-service analytics enables all staff in any role to perform analysis and generate reports. This empowers users to make decisions based on the facts.
With Phocas, there is one administrator, but dashboards can be created for all.
Gordon Howell, the data engineer for Locksmith Supply Company (LSC), administers Phocas so that he takes ownership of the solution while ensuring everyone in the business gets the data they need. "Essentially everyone gets their own dashboard tailored to exactly what they need. They then use it for their day-to-day operations," said Howell.
A sales representative's dashboard enables sight into current sales for the month compared with the budget. The rep can see how he/she is doing over the year, which could be broken down by quarter. This data can then be compared against a previous time period.
"The salespeople love the dashboards to hone in on customers who might be in decline and those who are on the up. The dashboards let them know how well they're doing – they are motivating."

- Gordon Howell, data engineer at LSC
"No matter what department we're working with, everyone has something to do with Phocas. The sales have hourly updates, HR has people metrics, purchasing has purchases, inventory control has snapshots throughout the month and the finance team has the entire financial statements module including our AR collections and AP," says Howell.
Step four: Use data discovery to create more visualizations
With data discovery, users search for particular information or patterns in a data set. Visualizations make this easy, fast, fun, and intuitive. Today's visualizations have advanced beyond traditional static reports to include geographical maps, pivot tables, heat maps, and more, giving you the ability to create high-fidelity presentations of your discoveries.
It's important to choose the most appropriate visualization for your needs.
To help you carry out more data discovery in 2022 download our free eBook: 7 data trends for 2022
FEATURED EBOOK
7 data trends for 2022:
operational + financial
data in one place
Download eBook
Fill out the form below to download the eBook.