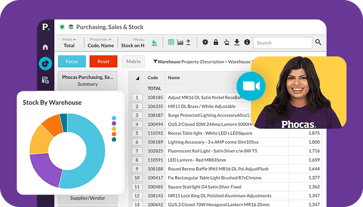 Get a demo
Find out how our platform gives you the visibility you need to get more done.
Get your demo today
What are data visualization tools?
Your data is only as useful as its ability to be understood and communicated. Data visualization tools help improve this understanding and communication by transforming complex information into easily digestible graphical representations.
When we visualize data in the form of charts, graphs, or maps, it's easier to see relationships, uncover patterns, communicate insights and make data-driven decisions. Communicating through visualizations stimulates viewers' brains, enhancing the impact of the information and allowing people with different responsibilities to share insights. Factors such as colors and shapes are visual cues that attract viewers' attention, expedite comprehension, and enhance retention and recall.
What visuals are used in data analytics?
Gauge charts are typically used to visualize data containing a comparison or variance, such as sales vs. budget. Business managers often use gauge charts to visualize daily and weekly changes to their business.
Bullet charts are considered one of the most effective types of graphs, often described as a secret weapon for efficient analysis. Bullet charts are great for individuals who want all of the information in one place without having to compare different visualizations.
A heat map is a visualization in which the area inside defined boundaries (such as a states or regions) is shaded in proportion to the data being represented. The hotter the color (i.e. closer to red), the higher the number in that general vicinity. Heat maps can be used to represent things like population density or average temperatures.
What industries benefit from data visualization?
Every industry can benefit from using data visualization to explain key findings in their data. From online sales figures to CRM data to accounts receivable, businesses constantly accrue data; this data can become a burden if it can't be accessed and harnessed. Data visualization tools help business managers take advantage of the opportunities that lie within their data by supporting informed, agile decision making.
Key industry examples:
ICU medical products and devices distributor uses dashboards to change the decision-making process.
Whiting Holdings, a steel distributor, dashboards KPIs to monitor performance.
Obex Protection, a glazing product manufacturer, uses dashboards to see how its business is tracking across three international divisions.
What is data visualization software?
Data visualization software is built into business intelligence software. It can handle the large and often fast-changing datasets that are created across a business — from sales to finance to inventory — as well as data from external data sources. With data visualization software, users can create easy-to-understand graphics and visualizations efficiently.
Depending on what users are analyzing, they can select a chart that suits their needs with a click of a button. For example, users can seamlessly switch between viewing a table to viewing a chart, while inbuilt instructions can decorate the different axes with colors and labels.
How do data visualization tools increase ROI?
For information to provide valuable insights, it must be relevant, accurate, and easily interpreted; data analysis with visualizations can help you achieve these goals. By using graphical representations of business information, managers are able to see large amounts of data in clear, cohesive ways and draw conclusions from that information. Data visualizations help businesses address problems and answer questions faster.
While different departments might create different charts, visualization tools can aggregate multiple data sources in one place. This single source of truth enables everyone in your organization to draw from the same data.
Visualizations can be queried through dashboards and shared across organizations, ensuring even non-technically-minded people can find the answers they need. Data visualization tools don't need to be created from scratch; users can simply pick from a range of options, and the dashboard or chart will instantly populate with data from your business. These simple, cross-functional tools empower collaboration across your entire business. For example, finance can explain variance in profits and revenue to others who have less knowledge about the financial details of your organization.
Pitfalls of not using data visualization tools
Data visualizations are a must-have tool for managers because they provide an efficient way to make sense of complicated data— saving precious time in today's fast-paced business world.
Complex systems such as business process workflows, purchasing patterns, and customer behaviour are hard to understand — much less fix — if you can't see them clearly. Visually interpreting data supports people in making confident, data-informed decisions.
Key features of data visualization tools
Decision-making tool
A visualization tool displays data in a meaningful format by analyzing previously-recorded data and predicting future patterns. This information supports end-users in making necessary decisions based on the revealed patterns and information.
Cloud infrastructure
The more dynamic the infrastructure, the better it is to extract insights on the go, at client meetings, or on mobile devices. The quantity of data stored, managed, and analyzed can be immense, and maintaining an infrastructure for this data is critical. A cloud BI infrastructure enables all this data to be managed and configured easily without a hefty price tag.
Real-time insights
Data visualizations provide real-time insights, so the tool must have features like dynamic loading and other data optimization controls. Once a data visualization or dashboard is created, it should update in real time so anyone logging on will see the most accurate picture.
Must-have features for data visualization tools
Above everything else, businesses need to look for
tools that are easy to use
. Many people evaluate data visualization tools based on how many
chart types
are offered or how beautiful the visualizations are, but ultimately, businesses need to ensure they will actually use the tools
every day
to help make better decisions. The ability to understand key metrics and slice and dice the numbers to find out more about an opportunity or problem is paramount.
What role does IT play in visualization?
Years ago, IT was the only team with the technical know-how to build data visualizations. Today, business intelligence software is so sophisticated and intuitive that everyday users can also build powerful data visualizations.
However, IT still plays an important role in adding new data sources, ensuring this data is actually available to users, and troubleshooting any user challenges.
Evaluating data visualization providers
Software Advice helps businesses evaluate which software products may be right for them. In 2020, Software Advice named Phocas the top dashboard software out of 24 other competitors in its FrontRunners report. The report uses verified end-user reviews and product data to evaluate products based on:
Usability (functionality and ease-of-use) and customer satisfaction (value for money)
Likelihood to recommend and customer support ratings
Phocas scored highest in both categories, with a usability score of 4.95/5 and a customer satisfaction score of 4.75/5.
Here's what our customers are saying:
"Phocas data visualizations are giving us an insight we have never had before into our performance. I am most excited about the ability to draw in different strands of information from the various software platforms we operate as part of the business. We generate so much data that frankly, it's too intimidating to consider the analysis of it all without the services of Phocas." - James, Wholesale Distribution
Why built-in visualizations are easy to use
Phocas has done the data visualization development work for our customers so businesses in manufacturing, distribution, and retail can immediately connect the software to their ERP and other data sources to get started. All the content is built in, including charts, dashboards, KPIs, data cubes, and reports, ready for the everyday user to start answering their questions.
Phocas allows users across your entire organization (from sales to purchasing to finance and everywhere in-between) to use one centralized data visualization solution. This streamlined experience appeals to many businesses because running different software for different functions is neither desirable nor efficient.
Phocas users find the software helpful, accessible, and simple to use, and they can do everything themselves.
Phocas' data visualizations features are customizable to meet your needs so people can show their data and insights in the way that suits them. For example:
Jurox animal products manufacturer uses data visualizations to drive innovation.
Equipment Controls uses data tools to navigate the changing marketplace and keep business moving.
Understand the past, operate better today, and plan well for the future
Whether you want to get your data organized for your team or you're looking to combine business intelligence capabilities with financial reporting, planning and analytics… We can guide you. Let's see if we can help.