Phocas CEO's prized IT memorabilia uncovered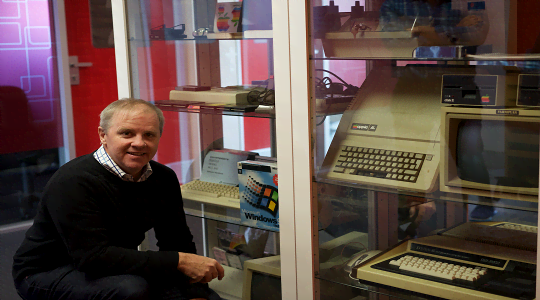 In this blog, Phocas CEO Phil Dodds reveals his favourite IT memorabilia which is enshrined in glass at R&D headquarters in rural Australia. Phil's collection includes an 8 inch floppy from his data analytics days in the `80s.
Q: What was your first piece?
PHIL: A Dick Smith System 80 from the early 80s with 12K of ROM. It was based on Tandy Corporation's TRS 80 that sold through Radioshack (US). This was before DOS, the IBM PC1 and the Commodore 64. We didn't have Radioshack in Australia so Dick Smith, an electronics entrepreneur, made his own. My part-time job while studying at university was writing applications for the System 80 so people had a reason to buy it.
Q: Got anything with a notorious history?
PHIL: The Apple Newton [personal digital assistant, 1987]. It was actually Apple's first iPad and a disaster for the company when it was trying to be relevant. It was before the internet so it was pretty useless. I wrote software for it to capture time and attendance on a handheld device that McDonalds was going to roll out, but they couldn't because Apple discontinued the Newtons.
Q: Which item is worth stealing?
PHIL: Probably the Apple IIe [1978], because it was such an important machine. It belongs to Rob Scott, originally a computer programmer, who still works for Phocas. The IIe was released by Steve Jobs and was so successful, it got Apple going. It was the first commercially viable PC that businesses started using. Rob still has visiting rights.
Q: Which item is of least interest to anyone else but you?
PHIL: I have an IBM DOS 3.1 manual which I think is fascinating. It's in really good condition.
Q: And the oldest item?
PHIL: An 8 inch floppy disk that came out of an NEC Astra. That would have been the 70s or early 80s. They used to have 5.25 inch floppies but the only way to get more data onto them was to make them larger. I used that one to take sales data out of a company's system to analyse it; effectively doing the same work we do today at Phocas.
Q: Did you buy any of the collection?
PHIL: No, it's mostly bits and pieces that were lying around that belong to me and other people: six machines, old Palm Pilots, a Commodore 64, SuperCalc software, a new shrink-wrapped version of Windows 95. Its's a great conversation piece. Everybody who comes into the office stops by and goes "Oh wow, look at that!".
Q: What collectable do you lust after?
PHIL: I should have kept my IBM PC1.
Q: What do you predict will join the collection over next 20 years?
PHIL: A 3.5 inch floppy of Phocas 1 would be good. What we should do though is see if we can get those old machines fired up…
END
Revisit the history of business intelligence in our free eBook - the Past, Present and Future of Business Intelligence. Click the button below to download your copy.


Empowering businesses with intuitive data analytics, driving informed decisions for growth and profitability. We make people feel good about data.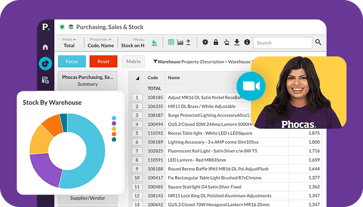 Get a demo
Find out how our platform gives you the visibility you need to get more done.
Get your demo today