Phocas is a Software Advice 2023 budgeting and forecasting FrontRunner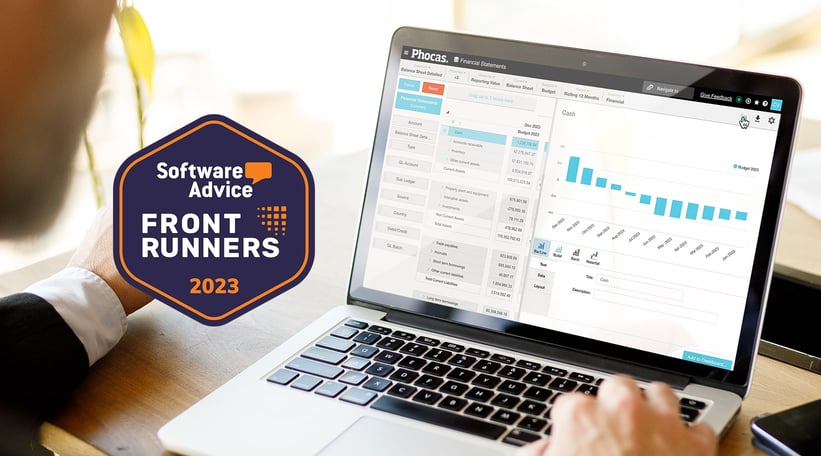 It's our customers and employees who are the driving force behind everything we do.
We are excited to share that Phocas has been recognized as a leader in the Budgeting and Forecasting software category in Software Advice's 2023 FrontRunners Awards. This achievement holds great meaning for us as it highlights the successes our customers have experienced using our software. This was made possible through the hard work of our dedicated employees, making our first appearance in the Budgeting and Forecasting report a very special one.
The 2023 FrontRunners Awards employ Gartner's methodology to rank software products based on user ratings and product features. This demonstrates Phocas' dedication to empowering businesses through data-driven decision-making.
"We didn't want to put something out there that was too complex. With Phocas, it was just drag, drop and click, everything was right there. This was going to be easy for everyone to jump onboard."

Jim Hinkle, Chief Financial Officer at Superior Tire Service
The dedication of Phocas customers and employees to leverage and enhance Phocas budgeting and forecasting capabilities has enabled us to make significant improvements to our product over the past year. The product facilitates collaboration across multiple departments within companies, making data-driven decision-making more accessible and streamlining the entire process.
"I love that you are able to assign category and accounts to individuals for review, to ensure each department has a say in the budgeting process."

Justin Campar, Controller at American Metals
Myles Glashier, CEO of Phocas, emphasizes the importance of customers and employees in the Phocas journey:
"Our recognition as a leader in the Budgeting and Forecasting software category is a testament to the relationships we invest in with our customers and the hard work of our employees, who are at the heart of everything we do. Our customers' valuable feedback and our employees' tireless efforts help us continually refine our product, ensuring we deliver the best possible solutions to support their goals."
Software Advice, a Gartner company, uses written reviews from active software users to showcase top-rated products in various categories. To be eligible for the Budgeting and Forecasting software category, products must be standalone software or offer budgeting functionality within a suite, as well as provide features such as "what-if" scenarios and forecasting.
Phocas' position as a leader in the 2023 FrontRunners Awards for Budgeting and Forecasting software is a testament to the power of our solution in helping businesses optimize their financial planning processes. Our software's ease-of-use and robust functionality empower organizations of all sizes to improve the accuracy of their budgeting and forecasting, fostering collaboration and driving data-driven decisions.
"The budgeting and forecasting tool has allowed us to automate and simplify the process and helps to reduce mistakes. In Phocas, you have access to the audit trail, and you can see who's changed what and who has access to what. It makes the budgeting process a lot smoother."

Daniel Lyons, Finance Manager, Fuzzy
We want to express our deepest gratitude to our customers and employees for their ongoing support and valuable feedback. Their success is our success, and we remain committed to providing exceptional budgeting and forecasting software solutions.
To learn more about Phocas Budgeting and Forecasting software, visit our B&F product page, or contact us today to request a demo.
The FrontRunners for Budgeting and Forecasting software report is available here.