HVAC distributor debunked old beliefs with data and progress ensues
Following the recommendation of industry peers and the organization, Behler-Young decided to integrate Phocas business intelligence into its infrastructure.
Complex BI and static reporting
Data and reporting were an ongoing challenge for Behler-Young.
The company used the Infor A+ ERP system and IBM Cognos for business intelligence. Unfortunately, without a resident expert on staff for the BI tool, the company struggled to get value from the data it was collecting. The system was complex, and every report had to be built manually by a developer. The reports were delivered via Excel spreadsheet or a PDF document, so people could only look at the data in the way that it was presented.
"We lacked the ability to give our people access to the information and the flexibility to allow them to look at the data how they wanted to."
"We needed a more user-friendly solution that our team would actually use" said Robert Wright, senior application developer/analyst, Behler-Young
A recommended BI solution
Behler-Young is a member of Heating, Air-conditioning and Refrigeration Distributors International (HARDI), a major industry distributor organization. Several members of the organization started using Phocas and shared their experiences with other members.
Following the recommendation of industry peers and the organization, Behler-Young decided to integrate Phocas into its infrastructure. The company rolled out Phocas to all its users in May 2015.
The BI tool contains a significant amount of sales data, providing the Behler-Young sales team with a central location for all their customer and product information.
"Phocas is widely used by our sales team to do customer analysis and reconnaissance," said Wright. "They like to get an idea of where customers stand and their variances before customer meetings. We also use it to pull contact information for a variety of marketing processes."
In addition to sales and marketing data, the company has integrated its inventory databases to make inventory management more transparent across the organization. Sales and product managers produce monthly reports for the executive team, while company's management team and branch leadership use Phocas to monitor company goals, customer activity and product performance. Behler-Young has also loaded budgets into Phocas to compare with progress.
Culture shift to data-driven decisions
"We have a mantra at Behler-Young about having data available at our fingertips. A lot of our initiatives are about getting the data out there so that our people can see it. Because of Phocas, we are starting to see a culture shift where our decision-making processes are becoming more data-driven. This is a big benefit to our company," added Wright."
As a result of Phocas, people are seeing things that they would not have expected to see. Wright explains that commonly held beliefs about performance have often been debunked by the data.
"Our team better understands what is actually happening," he said.
"It was easy for people to disregard our old reports because they believed something so firmly. Fortunately, the data says otherwise. Now that our people have access to data, they are becoming more reliant on the data to make decisions."
Balance of simplicity and accessibility
The self-serving solution has reduced the amount of time IT spends on BI, while allowing the group to dedicate more time and resources to working on other areas of the business that needed attention.
"Ninety percent of our needs are met with the basic functionality of Phocas," said Wright. "We haven't seen many products on the market that do BI in a way that is as user friendly as Phocas. Where Phocas excels is when it gets in the hands of the everyday user. It empowers them to do things they couldn't do before. It has the perfect balance of simplicity and accessibility."
Behler-Young
celebrated its 90th year in business in 2016. The HVAC distributor is the largest in Michigan, operating 16 branch locations across the state and Ohio, as well as a large distribution center on the east side of Michigan and its corporate headquarters in Grand Rapids.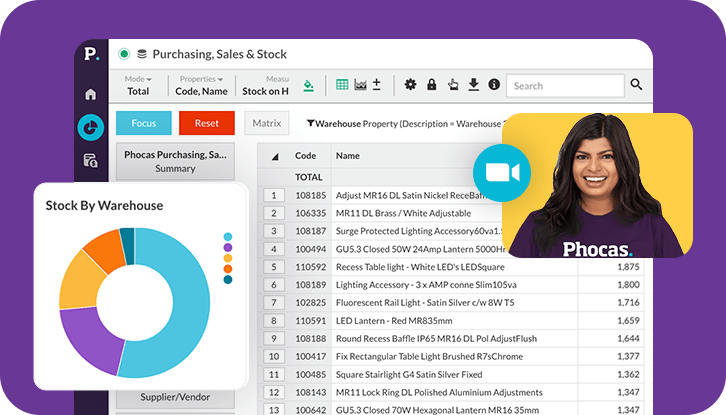 Get a demo
Find out how our platform gives you the visibility you need to get more done.
Get your demo today