Data is key to e-commerce success at Hein Electric Supply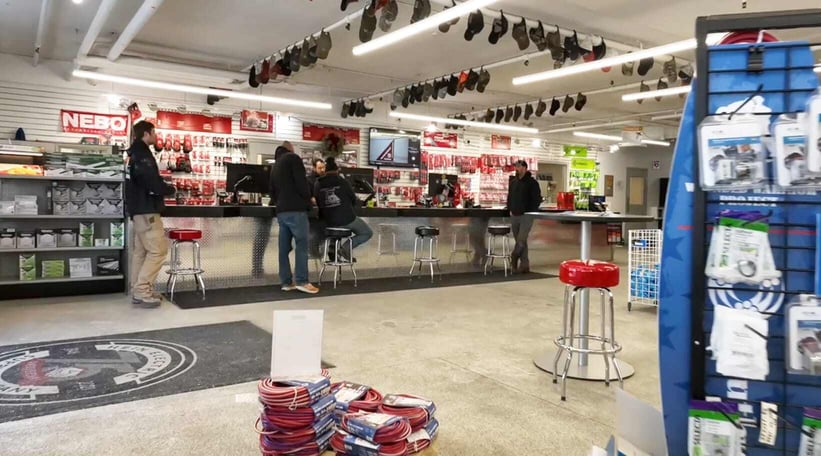 American electrical wholesale distributor redeploys Phocas to restore data confidence and help company with B2B ecommerce initiatives.
The company's data analytics evolution
While the company's physical footprint has remained the same for the last 15-plus years, the emphasis on data and role of data analytics has changed dramatically. Hein Electric Supply President Chris Stoming has been with the company since the last location opened 15 years ago and has been part of the data evolution.
For the first 10 years, data was not looked at as a tool that could really help our business, it was just kind of a means to an end," said Stoming. "I became president about five years ago, and we've made a lot of changes since then to put data analytics programs in place."
"Independent mid-size companies like us, need a competitive advantage, and a tool like Phocas, allows us to compete on the same level as larger, more sophisticated companies in a real-time, cost competitive way."
Chris Stoming, President, Hein Electric Supply
The need for e-commerce success was a key driver of change
Stoming led a major data conversion of the company's items and item history. Hein Electric Supply had a lot of homegrown data that was simply entered by hand, resulting, for example, in the same stock item stored three different ways.
"We have partnered with companies to help us normalize our data," he said. "We've done quite a bit of data cleansing to be able to use tools like Phocas to analyze our data and use data to make strategic decisions. We've made slow, steady changes over time with Phocas being a big part of it. Data analytics is a game changer for us.
Stoming has an executive summary dashboard that he "lives and dies by every day" and other basic tools built in Phocas that with a click of a button or two, provides a snapshot of how the business is running. He attributes the company's current success with Phocas on what he learned the first time Phocas was deployed at Hein Electric Supply.
Cloud-based ERP system upgrade leads to BI change and challenges
At the beginning of 2020, Stoming led the company through the data conversion initiative because it was going through a system upgrade to Infor's cloud-based product. The company knew that it needed to clean up its data, not so much for the cloud upgrade, but because the company was preparing to launch its Hein.com B2B e-commerce site.
We cleaned the data, got it normalized, and went through a system upgrade that included utilizing Infor's cloud based BI product," said Stoming.
"We thought because it was embedded in the Infor cloud product that we should try it, and we made the decision to part ways with Phocas."
Going through the Infor system upgrade was not an inexpensive undertaking, so for Hein Electric Supply, the promise of a fully integrated BI solution was a way to save money in addition to perhaps delivering better data integration than the Phocas API. Unfortunately, Infor's product did not provide the functionality or intuitiveness that Hein Electric Supply was used to having with Phocas. Getting raw data out of the solution in a timely fashion was a challenge, while it was missing basic features and tables.

The decision to go back to Phocas
The implementation of Infor's BI product was also difficult, as Hein Electric Supply was one of the first deployments of the product with its VAR partner. The company spent four months getting the data flowing, and once connected, the information was missing critical fields. Running reports was also challenging, as there were no sorting mechanisms and reviewing data involved simply scrolling through a spreadsheet.
When we had made the data conversion changes, Phocas was a big part of the process," said Stoming.
"When looking at e-commerce and how/which items to highlight on the company website, Phocas provides the data in a normalized fashion, quickly and easily, allowing us to make decisions on how and what to post. Infor's product wasn't anything like what we were used to, so we made the decision to go back."
Hein Electric Supply went live with its Infor Cloud upgrade in August 2020 and brought back Phocas in March 2021.
Quick and easy redeployment of Phocas
Infor's new cloud interface required some new API integration and data mapping with Phocas, but the implementation took only six weeks, with the last three weeks simply stress testing and making minor tweaks. Any concerns for data flowing through the Phocas API were allayed as Phocas' team made the connections quickly, allowing data to flow sooner than anticipated.
I was surprised how quickly Phocas was able to get our APIs linked and data flowing," said Stoming.
"I was sitting back thinking, alright, we might be going through this for another three, four months. And after a couple weeks, there was data flowing. The implementation went much better than I expected."
The beauty for our use of the Phocas product, is we've got 10-plus power users on it now, and whether they're in inventory management, sales, purchasing, or e-commerce, the ability for people to point and click to put the data together the way they want on their own is highly productive and rewarding," said Stoming.
We don't need a separate person to assist in data analytics. Independent mid-size companies like us, need a competitive advantage, and a tool like Phocas, allows us to compete on the same level as larger, more sophisticated companies in a real-time, cost competitive way."
Phocas provides the flexibility to have multiple users to get the data the way they want, plus gives each department ownership in the process, ultimately leading to tangible results and success. Stoming added, "Rerunning and structuring reports is extremely easy, while with the dashboards, our users are one click away from getting a high-level metrics on company performance at any given point in time. We do quite a bit of baseline comparisons as it relates to customer sales/accounts receivable and inventory control performance from prior year. Setting those up in Phocas takes just a few clicks."
Data key to e-commerce launch and success
With Phocas fully integrated, Stoming was able to stay on track with his B2B e-commerce plans. Stoming added, "I really wanted to use Phocas for our e commerce program and provide our e- commerce team with the data analytics. So, when they are analyzing how we're going to have items in the store, we know which ones are most popular. Where are we at? Where's the history with the products and how many of these are we selling? With Phocas, they have the data at their fingertips and can use it in a strategic fashion."
Phocas is going to play a major role in helping the company understand how to rank items that are the most popular when Hein Electric Supply's e-commerce initiative is introduced to its B2B customers. Giving customers the ability to find items quickly and easily will be critical to Hein Electric Supply's e-commerce success, and Phocas is the solution that will provide the data and keep the company on track.
We have a high confidence level with the Phocas product, because it's so easy to use, because it's so intuitive, and because it's so interactive," said Stoming.
Once we build these things, when we're starting to take next steps forward, we know we have Phocas in the background to get us what we need from a data perspective. When you have a confidence level in a solution, like all our users do with Phocas, they really like it and are comfortable with it; that speaks volumes as to the quality of the Phocas product and the team of people backing the product."
Stoming added, "From the sales team to the implementation team, Phocas is an industry leader that when utilized strategically can make a difference in any particular company's business.
Hein Electric Supply is a 75-year-old independently owned electrical distributor with nine locations throughout southeast Wisconsin and a member of Affiliated Distributors (AD). The company's headquarters are in West Allis with each of its eight 7,000 square-foot stores located within a 20-mile radius. The business, which has more than 70 associates, is a true hub-and-spoke operation, with
all purchasing activities and deliveries done from the corporate headquarters. The eight branches are replenished nightly and serve as pick-up/counter sales locations for contractors across the region.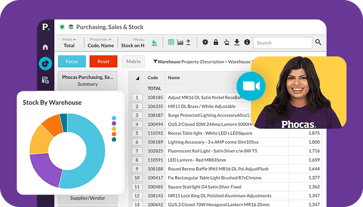 Get a demo
Find out how our platform gives you the visibility you need to get more done.
Get your demo today
Understand the past, operate better today, and plan well for the future
Whether you want to get your data organized for your team or you're looking to combine business intelligence capabilities with financial reporting, planning and analytics… We can guide you. Let's see if we can help.