Phocas helping Wessex Packaging find value in data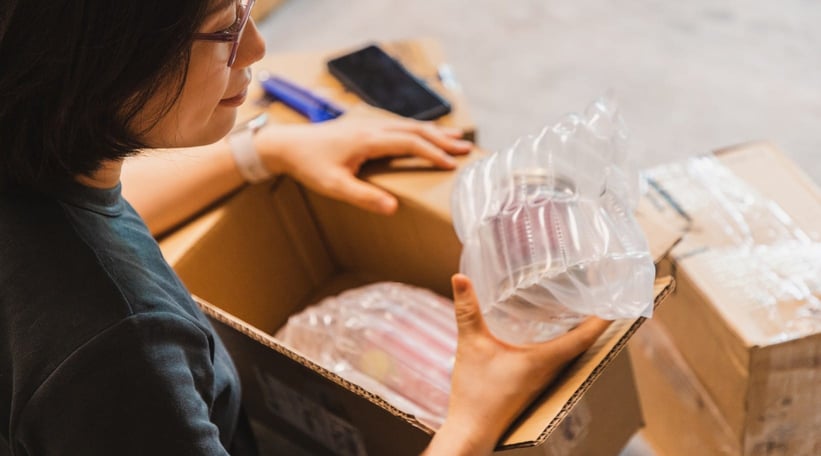 Greater visibility into sales, purchasing and inventory data leads to better business decisions for UK packaging materials company.
Too much inventory
Wessex operates out of a single 75,000 square-foot warehouse in Somerset with 30 employees managing over 2,000 SKUs. The large volume of products is one of the main reasons the company moved from Sales-i to Phocas Business Intelligence. Keeping track of the purchasing and inventory data was challenging with Wessex' previous solution.
"Our purchasing data was not easily managed," said Sheldon Barter, project manager with Wessex. "We had a couple of reports that we could run off our SQL database that showed limited data such as quantity sold. We also have a tool that shows live below low stock levels. That's what we are limited to, so effectively managing our inventory has historically been difficult for our team."
Wessex used Sales-i for sales, however few people in the company knew how to use the system due to a lack of training and the knowledge of the system was limited.
"Beyond a quick report detailing what a customer bought or didn't buy, it was simply software costing us money," added Sheldon.
Sheldon was introduced to Phocas BI during a breakfast presentation at a UBT event.
"The main thing that caught my attention was the ability to see what is and isn't selling, something companies using Phocas have leveraged to reduce their stock levels by a significant amount," said Sheldon. "We were running a lot of deadstock, so we knew Phocas could help us reduce that drain on our bottom line."
The power of Phocas
Wessex went live with Phocas in January, and quickly learned the power of Phocas during the implementation process.
"We had some serious data problems from the start, as we couldn't pull information from more than two years back," said Sheldon. "Phocas found that we had some dodgy transactions that were causing the problems. They helped correct the transactions and now we can report from the beginning of time. We wouldn't have realized this had we not moved to Phocas."
Today, most of the Wessex' salespeople are using Phocas, setting up dashboards that make it easy to check on how sales are going, when they are going to hit their targets, and what they need to do to get there. They also use Phocas to identify downward trends and what customers are spending less and recognize possible cross-sell and up-sell opportunities.
"We can quickly see when a customer is buying a lot of one product and suggest complementary products that will allow us to expand our sales," said Sheldon. "In the past, customers would continue to buy an older version of a product simply because we couldn't see what they were buying. This meant that we continued to stock the old products to meet customers' needs when we should have eliminated the old version and moved them over to the new product."
New level of sales and purchasing data details
Phocas Dashboards provides Wessex sales team with levels of detail that they couldn't access prior to Phocas, including declining loss, decreasing customers, slippage, and products that are moving in certain areas, but not others.
"We've had situations in the past where customers have asked about their sales history, but our sales history only went back 12 months," said Sheldon.

"We couldn't help customers that wanted to go back five years to see all their product purchases. Now our sales history goes back to the beginning. We are using Phocas to produce PDF reports that show every single product, their quantities and the price customers paid for the past five years. A report that takes only a couple of minutes."

While the sales team continues to find revenue-generating opportunities in Phocas, the purchasing department is just now beginning to use Phocas to manage stock turns and dead products.
Sheldon noted, "We know we have products that haven't moved for six months, and while we have eliminated some deadstock, we will be working with the purchasing department to create dashboards that helps them to see what is happening."
Managing purchasing with Phocas will be important as Wessex moves forward. The company found recently that there are quite a few products in stock that are within 10-15 millimeters of each other. Purchasing were buying 500 of one product that was only 10mm bigger than something they were buying 5,000 of.
"Instead of stocking both items, we should be buying 10,000 of something a bit bigger to sell to more customers," stated Sheldon.

"Phocas is showing us that level of information. We can also use Phocas to tell us what products we aren't selling so we don't need to stock them at all."
Better data, better decisions
Another data point that Sheldon wants to track is the minimum product levels. The company plans to move to a new ERP system soon, so making sure Phocas can capture all the right data is critical to eliminating the need for the old reporting system.
"Every day you use Phocas, you can find something new, something else to do," said Sheldon. "We've never been used to getting anything so quickly or as accurately."

For example, Phocas is helping Wessex understand that the gross profit it thought it was generating was incorrect, and the company was losing money on products that it thought otherwise.
Sheldon explained, "We can see gross profit by products in our sales database, and then focus by customer. We can identify which customers are receiving products for less than they should be and bring our pricing in line with the rest of our customers. We couldn't see this type of information before. We couldn't get anywhere near as deep dive as we can now with Phocas."
Sheldon also noted that Phocas is helping the company improve the layout of its warehouse.
"We can see how many times products have been picked in the last six months, and whether it is in pallet or pack quantities. Based on the picking level, we can better plan where to put things in the warehouse. This illustrates a big difference between reporting and BI software. BI makes our warehouse work better. Sheldon added, "Phocas just makes our jobs easier. Before, we'd look at a spreadsheet and wouldn't know where to go next. With Phocas, we can just get to things, allowing us to find value in our data in a matter of minutes."
Wessex Packaging
is a family business started in 1975 with a focus on selling packaging materials to distribution and manufacturing companies. The company specializes in pallet wrap, edge protectors and strapping, and is the official distributor of several branded products, including the ErgoPack family of mobile pallet strapping machines. If it is used to keep something on a pallet, then Wessex likely sells it.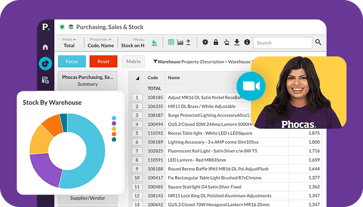 Get a demo
Find out how our platform gives you the visibility you need to get more done.
Get your demo today
Understand the past, operate better today, and plan well for the future
Whether you want to get your data organized for your team or you're looking to combine business intelligence capabilities with financial reporting, planning and analytics… We can guide you. Let's see if we can help.