5 ways Infor ERP users can feel good about their data
Take advantage of what your Infor ERP has to offer.
Download eBook
Infor doesn't just help your business manage its financials, inventory, customers and other key factors — it's also a wellspring of data. There are insights in your ERP data that could be used to make more timely and informed decisions, address new challenges and opportunities and improve your operations over time.
But sourcing, processing and analyzing all of this data can feel intimidating. In this eBook, we describe why this doesn't have to be the case. You'll learn 5 reasons why using a data analytics solution alongside your Infor ERP will make you feel good about your data, including:
Being able to unify siloed data into a single source of truth
Moving away from one-size-fits-all reports that are difficult to build to customizable, easily crafted reports
Accessing real-time data in reports, rather than information that was relevant only when the report was built
Proactively reducing waste, duplicated effort, bottlenecks and other inefficiencies
Cutting through the noise to identify which metrics really matter for your business
Download this eBook by completing the short form below.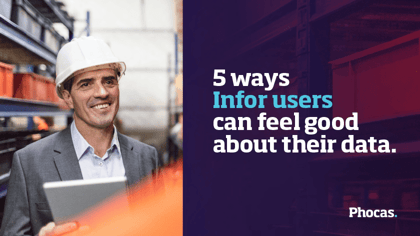 Let's download your free eBook