International Women's Day with Phocas board member Dr Michelle Deaker
Dr Michelle Deaker, likes a challenge and so is the perfect fit for the theme of this year's International Women's Day podcast, choose to challenge.
We're very excited to mark this special day with a podcast featuring Dr Michelle Deaker, who has spent a lifetime challenging the status quo as a PhD, entrepreneur, venture capitalist, Phocas board member, mother of two and frisbee champion.
Michelle has achieved many firsts in her life, which began at university when she was the only female in the distinction physics class when completing a double major in the Master of Science degree and has continued this trailblazing theme throughout her career.
Ultimate frisbee champion – only female to represent Australia in a men's team
While studying at the University of Sydney, she started playing Ultimate Frisbee, which is like netball on a hockey field. It is very active with lots of running, and to score; you have to touch down in the end zone like gridiron. After becoming proficient in the sport, Michelle went to the Australian Frisbee Championships and was a top scorer. The university only sent men's teams to compete internationally and controversially, Michelle was picked for the men's team that year. Michelle's teammates were excited to have her skills on the team but the competitors didn't believe that a female should be allowed to play. We're pleased to note that today, the teams are always a mix of females and males - influenced by Michelle's willingness to 'show-up' and perform, pathing the way for other women to play frisbee at a high level.
Set-up first fintech business in Australia
After her mother-in-law received a gift voucher for Mother's day in the late 1990s, Michelle had the idea to create a digital version. She had already been watching the rise of dot coms in the US and had been playing around with e-commerce, and the internet, so she bought up all the domain names for gift vouchers she could find. Soon Michelle created Australia's first fintech company, called GiftVouchers.com. The company created some of the first patents around digital code and electric vouchers and was instrumental in building the technology for the Australian pre-paid cards market. The business grew into geos like New Zealand, South Africa and the UK and was then acquired by a UK public listed company.
When you look at what businesses actually do, there is no reason why women can't do roles within those businesses as well as men.

Dr Michelle Deaker
The first woman to launch a venture capital firm in the southern hemisphere
After selling a couple of businesses, Michelle saw the opportunity to set-up a venture capital firm. Using the same mindset that she always has, women can achieve anything if they set their minds. A few years after she created One Ventures, Michelle was told that she was the first woman to launch a venture capital business in the southern hemisphere.
OneVentures is now one of Australia's leading venture capital firms, with over $500M in funds under management. OneVentures takes companies to that all-important next stage by actively shaping their future. Data plays an important role in informing investment decisions and usually after reviewing 700 companies a year. One Ventures will invest in between five or seven.
The first woman on the Phocas board
Michelle joined the Phocas board in 2017 and this year One Ventures invested $15 million into the data analytics company. Michelle says the investment is due primarily to the importance of data for businesses. Companies with analytics maturity are more valuable, so Phocas' software is integral to businesses globally. Many companies are just starting this data journey and digital transformation, so Phocas is well placed to serve these companies and to make data accessibility a lot easier for them. Phocas takes the guess work out of decision-making, to understand financial performance and scenario plan.
All of Michelle's experiences have helped her grow and mature. Her science training allows Michelle to think critically, analyze data and inform her decision-making. She is relationship-driven, a good networker and never been willing to believe there is a glass ceiling. She just pushes through with her own identity and charm.
inPhocas podcast
The inPhocas podcast showcases people from Phocas' circle of friends. It's a forum to share ideas, celebrate success, understand hard work, consider data and learn some new fun facts. Don't miss our next episode.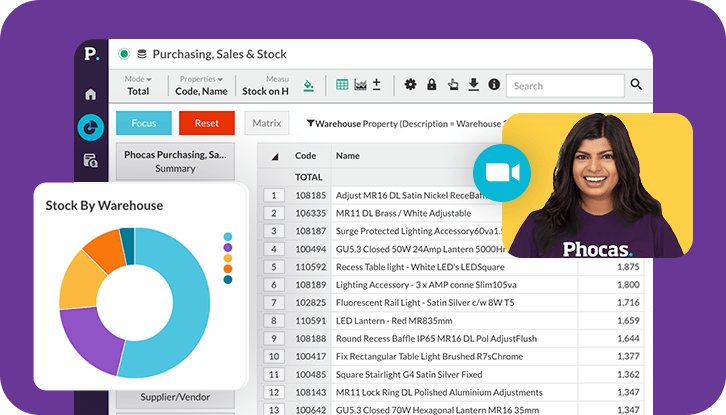 Get a demo
Find out how our platform gives you the visibility you need to get more done.
Get your demo today