Tech culture: A look behind the Phocas culture and its secrets for success
'Culture Bites', is a podcast created by culture experts, Human Synergistics. Phocas leaders, Myles Glashier and Karen Hailwood feature in the episode called Phocas. Please have a listen to find out how culture was influential at Phocas before the founders knew what it meant. They explain the evolution of the tech company's culture, why it now has a data-supported view of it and how Phocas has maintained a fun and fulfilling ethos during rapid growth and change.
Tech culture at Phocas
The podcast is a follow-up to Glashier and Hailwood's presentation at the Human Synergistics APAC culture and leadership virtual event. It's a lively chat with host, Dominic Gourley, about the secrets of developing a great tech culture.
Some topics covered in the podcast
When and how was Phocas founded?
Myles Glashier (co-CEO) founded Phocas with Paul McGee (Chairman) in the United Kingdom in 2001. They met when Myles travelled to London after finishing university. Paul owned an Enterprise Resource Planning software company for manufacturers and distributors; the software companies use to run business operations. Myles identified an opportunity for sales people in these companies to sell more to existing customers but needed greater data visibility to guide them. He flew back to Australia, and with the help of his brother built the prototype. He returned to London, and the ERP customers loved the software, so Phocas was born. Glashier went on to set up divisions in Australia and the United States.
When did culture come into the vision?
Myles has always focused on people. In the early days, the company didn't have any money, so life at Phocas had to be fun and professionally rewarding. He then released that if the culture was good, and people had interesting work and autonomy - they stayed. The values of fun, fulfilling and forever were there before being formalised a decade later. Karen Hailwood, joined as a consultant to help measure the culture in 2016 and was very impressed with what she discovered. She had never encountered such a fulfilled workforce in her consulting career. So she stayed, and is now the chief people officer.
What tips do you have for establishing and maintaining a great culture ?
1. CEO role is so important
The CEO has to be real – you can't fake it. You can't be someone you're not because all scrutinise your behavior. The CEO casts a long shadow — and if it's a positive one — you're bound for success.
2. Leaders working with the CEO need to share the same values
As Phocas grew, Glashier couldn't be in three places at the same time. The offices noticed a change in morale or switch in the mood when he wasn't around. Phocas appointed General Managers in each territory who all have similar values and appreciation of the culture that existed and have done a great job in adding and enhancing with their personality and flourish.
3. Keep it simple
Can everyone tell you the company's values and know what they mean? Are they as meaningful and simple as fun, fulfilling and forever? Do your people work to them? Do you all talk about them?
4. Keep Learning
Hailwood thinks Glashier's superpower is his capacity to learn. He is the ultimate lifelong learner and is always telling people to read this or have you seen that. This is so important in every company, but especially in tech, where there is pressure to continue to innovate, it has to be safe to fail, you need to learn from it and move on.
For more information about Phocas and its tech culture, check out what job opportunities we currently have on offer here.
inPhocas podcast
The inPhocas podcast showcases people from Phocas' circle of friends. It's a forum to share ideas, celebrate success, understand hard work, consider data and learn some new fun facts. Don't miss our next episode.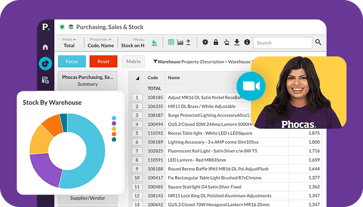 Get a demo
Find out how our platform gives you the visibility you need to get more done.
Get your demo today