What is vendor managed inventory and how does it work at Caprice Homewares?
Vendor managed inventory (VMI) helps Harvey Lewis, one of Australia's leading homeware suppliers sleep at night.Harvey's company Caprice supplies thousands of homewares and products to the biggest names in retail in Australia and New Zealand and is our inPhocas podcast guest.
Harvey takes listeners on a wonderful tour of the Caprice story, once a local manufacturer of fabric, now a leading supplier of bedding, fashion accessories, shoes and licensed children's wear across Australia and New Zealand. Harvey took over the business from his father-law who established it in 1959. Harvey credits relationships, being willing to adapt to constant change and the use of data to manage Caprice's diverse inventory portfolio as the reasons for the company's longevity and success.
VMI is the new black
Due to Caprice's data management systems and the trust Harvey has established with retailers, Caprice — the supplier — maintains the inventory levels of his products being sold at various leading retailers.
"We initially started a trial with Target and the planners were a little dubious about the information flow and accuracy. Then when we combined all of our information with actual sales by SKU across 126 stores at Target – we were then able to analyse everything from classifying sales as regular, promotional, seasonal or weather-related and account for any anomalies. The accuracy of our planning became very sharp and we soon won over the retailer," Harvey explains.
"Retailers love that we are doing all the work and outsourcing this part of the supply chain management to us. VIM helps retailers stay focused on other elements of their operations while ensuring that inventory remains at the right levels at all times."
"The planners can't wait for their automated weekly report that tells them what products by SKU they need to order for each store each week. There is no running out of white queen-sized fitted sheets in the Bondi store anymore," Harvey advises.
Caprice is also more efficient in having access to the shared data between his business and the retailers. Harvey and his colleagues can go deep into the detail to ensure Caprice has placed the right commitments with its resources, its vendors overseas and to ensure it is holding the right number of weeks stock domestically to meet demand.
"Our data ensures we are running a profitable business."

Harvey Lewis, Managing Director, Caprice
VMI drives efficiencies
Greater efficiencies are being achieved with the vendor-managed inventory, there are fewer orders and no more expensive last-minute orders. The movement of stock between locations has reduced considerably, helping to keep the cost of goods down and returning overstock is a thing of the past.
Margins are tight in the wholesale world at the moment and with the cost of containers increasing by 350% and many ongoing delays getting the product from Caprice's production sites in China – there is little room for error.
"Our data ensures that we are running a profitable business," says Harvey.
Harvey is planning on using the vendor-managed inventory model he has developed with Phocas across all of his retail partnerships.
inPhocas podcast
The inPhocas podcast showcases people from Phocas' circle of friends. It's a forum to share ideas, celebrate success, understand hard work, consider data and learn some new fun facts. Don't miss our next episode.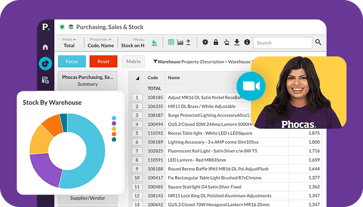 Get a demo
Find out how our platform gives you the visibility you need to get more done.
Get your demo today