The BI & Analytics Survey 2019, BARC
Find the right BI solution for your business.
Download report
Phocas is recommended by 100% of customers in BARC's The BI Survey 19.
3,000+ business intelligence (BI) users around the world give detailed feedback about different BI solutions in BARC's The BI Survey, the largest and most comprehensive BI survey in the world.
Phocas outranked many big brands this year, including Microsoft Power BI, QlikView, Looker, Sisense and Tableau in categories such as business benefits, project success, ease of use and business value in its peer groups.
Download the The BI & Analytics Survey 2019 report to learn more about how Phocas compares with other vendors and explore in more depth what measures are included in the KPIs.
Hear what some of our customers had to say about Phocas in this year's survey:
An excellent, easy to use, intuitive platform. Excellent support both Help Desk (not often required), and context sensitive online help documentation.
CIO, retail/wholesale
The best BI system I have worked with.
Head of Business Department, retail/wholesale/trade
Brilliant product. Very simple and easy for people to understand. Good documentation and support.
CIO, Healthcare
Download this report by completing the short form below.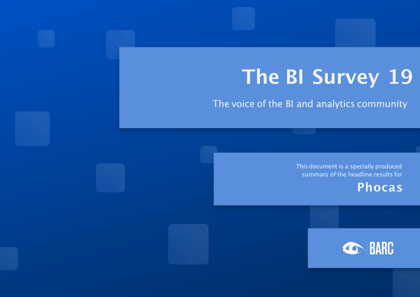 Let's download your free report