Phocas secures 37 top rankings in BARC's 2023 BI + Analytics Survey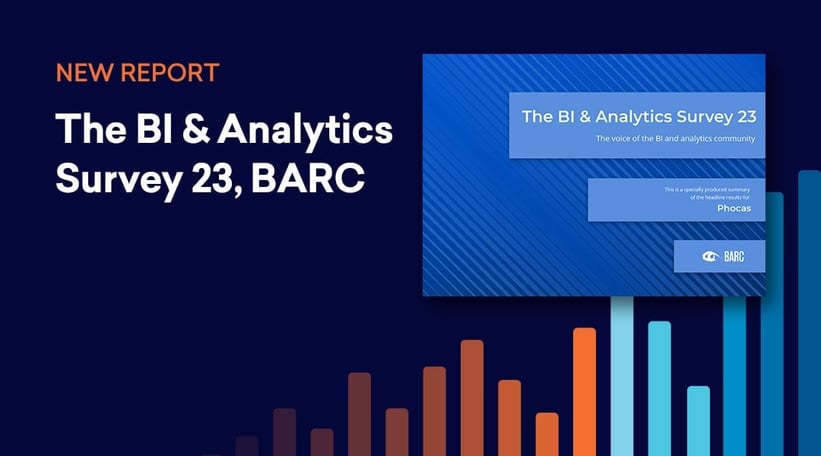 The voice of the BI and analytics community has officially spoken following the release of The BI & Analytics Survey 23 by software selection and strategy experts, BARC last week.
And [drum roll please] we're so proud to report it's been another record year for Phocas.
Continuing to outperform BI competitors on many KPIs in its peer groups, Phocas has scored 100% customer satisfaction1 and a recommendation2 score of 97% from its users.
What is BARC + how does it work?
From March to June this year, almost 2000 people provided detailed feedback about 24 business intelligence (BI) tools and solutions, including Domo, Looker, Power BI, QlikView, SAP Analytics Cloud and TARGIT. They rated the software across 34 Key Performance Indicators (KPIs), making BARC the largest BI user survey in the world.
The survey features a range of different types of BI and analytics tools so BARC uses peer groups to help identify competing products and allow fair and useful comparisons.
And the results are in…
In total, Phocas secured the top spot on 37 KPI rankings and achieved 41 leading positions across three different peer groups: Report & Dashboard Focus, BI & Analytics Specialists and Midsize/Departmental Implementations. Phocas has also attained a 31% user adoption rate compared to the industry average of 21% [yes, a whole 50% more!] as well as retaining its leading position in the Ease of use KPI with a score of 9.4.
Phocas Analytics – a strong performer since 2013
Phocas Analytics is no stranger to BARCs' BI & Analytics Survey. Since 2013, Phocas has continued to establish itself among the leaders in the industry, finishing on top of eight different categories in 2015, 16 in 2016, 24 in 2017, 28 in 2018 and 34 in 2019. Phocas has consistently outperformed the perceived BI leaders on KPIs such as project success, ease-of-use, and user recommendation. And this year's results are no exception - with 37 top rankings being Phocas' best performance yet.

"For the last six years, Phocas has had the highest proportion of customers saying they would definitely recommend the software to others."
Carsten Bange, founder of BARC

Why does this matter to our customers?
"This year's BARC survey reinforces our commitment to making people feel good about data" said Myles Glashier, CEO of Phocas. "Our above average user adoption rate coupled with our sustained high performance in the Ease of use KPI are testament to our vision of democratizing data in businesses; breaking down departmental barriers and helping leaders to foster a collaborative data culture that's inclusive for everyone."
Phocas monopolises the top rank positions across all three peer groups; achieving a maximum score of 10 on several KPIs including Business Benefits and Product Satisfaction.
Glashier added "What I love most is the consistency of our performance on the BARC surveys. We continually dominate both product and service KPI categories compared to the perceived BI leaders in the industry, proving that we tick multiple boxes for users. It's also exciting to see that over 30% of our users reported that they're looking to bolster their existing Phocas Analytics solution with our new Financial Planning & Analysis (FP&A) software in the future. Increasingly we're seeing significant overlap in the needs of financial + non-financial teams; a need to save time, a need for greater collaboration and a need for better tools to do their job – all of which can be achieved with Phocas".
A final word from BARC
"Phocas is ranked number one in a number of KPIs," said Carsten Bange, founder of BARC. "The software's consistent performance speaks to Phocas' ability to deliver software that meets customer expectations and needs. For the last six years, Phocas has had the highest proportion of customers saying they would definitely recommend the software to others. This is an impressive achievement in such a competitive market, especially when customers are expecting more and more from their BI tool each year."
To download the highlights report of Phocas' results in The BI & Analytics Survey 23 and see how they compare to other BI solutions available on the market, click here.
---
About BARC
The BI & Analytics Survey 23 was conducted by BARC from March to June 2022. Altogether, 1,951 respondents worldwide answered a series of questions about their BI and analytics software. The survey offers a comparison of 24 leading business intelligence tools across 34 key performance indicators including Business Value, Customer Satisfaction, Customer Experience and Competitiveness. For more information, go to www.bi-survey.com
1 Based on the aggregate of "Very satisfied" and ''Somewhat satisfied"
2 Based on the aggregate of "Definitely" and "Probably".