5 trends in the building and industrial materials industry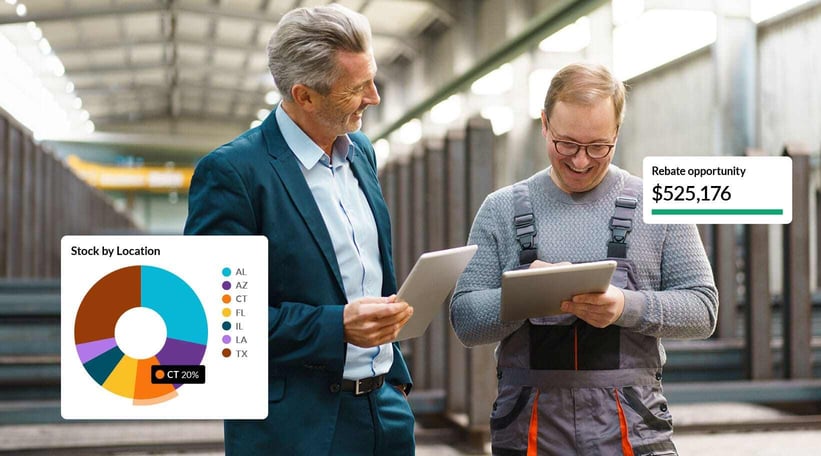 The construction, engineering, building and industrial materials industries are some of the most resilient and adaptable in the world so have played a vital role in the global economy recovering from the pandemic. The group represents 13 percent of global GDP but has faced its own challenges with cashflow and supply chain issues this year. In today's blog, we will explore five trends to help companies prepare for a different future.
Trend one - Residential housing boom boosts the building supply industr
The rise in work from home has led many homeowners to invest their money in home improvement projects. The growth is supported by low mortgage rates, strong demand for bigger living spaces and very low housing stock available in the market. As builders purchase supplies such as flooring products, plumbing fixtures, paint, and hardware from their local Home Depot or similar businesses, wholesalers are experiencing a boost in their sales revenue.
Trend two - Increased digitization
Builders and engineers are using 4D and 5D simulation to replan projects and re-optimize schedules. Company owners are using online channels for monitoring their employees' well-being and safety compliance through apps, ordering construction materials, managing resources more accurately, and maintaining cash flow.
Trend three - Labor shortages
The industry faced a shortage of skilled labor before the crisis. With ongoing physical-distancing measures and restrictions on cross-border movement of labor, skilled labor shortages are becoming more pronounced. The case for off-site construction rises and the use of more digital tools that are proven to increase productivity will become even stronger which loops back to the digitization trend above. Construction firms will increase the use of project management tools, data analytics, simulation, headcount planning and real-time progress tracking.
Trend four - Wholesalers face competition
Retailers continue to purchase directly from manufacturers, completely bypassing the wholesalers. It is therefore critical that wholesalers scrutinise their prices and improve their service performance. Many wholesalers offer complex rebate programs. These programs make it difficult to have a clear picture of the business' bottom line to set profitable price levels. Great understanding of financial performance across all products reduces the need to constantly adjust pricing. Wholesalers who invest in software to perform this analysis save both time and money, while avoiding costly pricing mistakes.
Trend five - Continued move to sustainability
Some Governments encourage construction to meet carbon reduction targets—for example grants to retrofit houses to improve energy efficiency. Such incentives might be a combination of policy changes and direct public investments. There is stronger demand toward more sustainable buildings and communities to promote healthier lifestyles. Many companies are now making and supplying sustainable materials and involving renewable energy sources into their processes. These efforts aim to lessen the burden of waste on the planet. Sustainable materials such as recycled material and reclaimed wood also provide a boost and allow for the implementation of a circular economy.
Today's building and industrial businesses can no longer afford to rely on outdated technologies or practices they've inherited through generations of management. It is essential that these businesses have the ability to stay on top of new challenges. Those that do not are at risk of being left behind in today's highly competitive and rapidly changing marketplace.
Business intelligence software and financial reporting will help building and industrial materials businesses frame new business models, optimize inventory management, and see a clear picture of their business' performance.
Phocas Software has been enabling building materials retailers, wholesalers, and manufacturers to make full use of their business' data, save time, and improve profitability for more than decade.
For more information on the ways that Phocas Software can help building products suppliers download our free Building Industry eBook: 4 ways to improve performance with data