5 ways to effectively manage employee performance (through BI)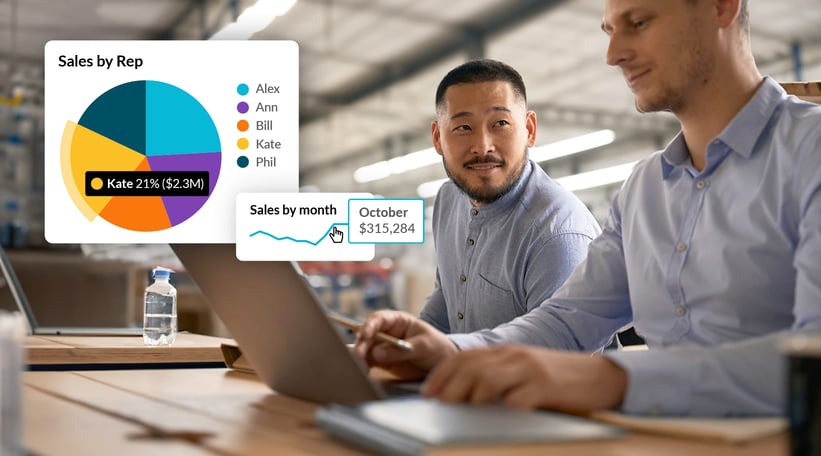 Managing the performance of employees plays an important role in meeting company goals, keeping employees motivated and being able to take appropriate action to help employees when they are struggling. Using business intelligence data to measure targets and demonstrate new opportunities is a transparent and effective way to treat all of your people fairly and bring out their best performance.
From the company side, performance management is essential to ensuring corporate strategy and goals are attained. It enables managers and executives to focus on specific areas in order to meet targets. Without performance management, the company would not know how they were performing and would be unable to adjust either company targets or the strategy used to attain these targets.
From an employee side, performance management is of equal importance. It allows managers to identify those who perform well and reward this behavior. This incentivizes employees to perform to the very best of their ability.
Effective performance management consists of meeting both task and people needs. Task needs are those dealing with structure and practical strategy. People needs relate to the development and motivation of your team.
The structure of effective performance management is said to be continuous. Each step should inform the next, and the last step should again feed into the first, creating a repeatable process. To assist you, we have divided the processes into five steps, each of which has a task component and a people component.
1. Set goals + Recruit right
When setting goals, it is important that they align with your company culture and what your employees can realistically do. We suggest you look at past performance of your department, identify points for improvement, and try to quantify the increase in performance you would like to achieve. At Phocas, we are strong believers in using the concept of SMART goals – goals that are specific, measurable, achievable, relevant and time bound. These goals can easily be translated to KPIs, and are great for effective performance management.
While setting the right goals is extremely important, you also want to ensure you have the right people on your team. Make sure you put the right employees on the right tasks. In this regard, we suggest you have a look at their past performance (this is easily done in Phocas), and speak to your employees to discover where their motivation lies – you could be surprised especially now talent is harder to find and people have experienced greater flexibility in where they work.
2. Set a structure + Provide support
In order to create a hybrid work environment in which employees feel comfortable, it is important to keep an open dialogue. However, as a manager, you cannot constantly be answering questions and emails when you should be attending to other tasks. If necessary, outline a structure of communication where junior employees first seek advice from more senior employees before they come to you and provide the necessary collaboration tools to build these relationships.
When doing this, also ensure there is enough support for both junior and senior employees on your team to feel comfortable with their roles and ensure they receive enough support and training. Recognize their past experiences and skills and build on this by offering relevant learning resources as well as your own advice and guidance.
3. Communicate your plan + Coach and challenge
Once you have set a structure, it is time to communicate your plan of action. Ensure each employee has a clear idea of what is expected of them. It may be useful to create KPIs for graduate staff. This in turns makes your reviewing progress easier. Make sure you use clear language when communicating with your team. Use data and visualizations to illustrate what you are saying. Business intelligence software allows you to share reports or KPI progress with employees in a manner that can easily be understood by non-technical users.
Ensure you provide continuous coaching and challenge your employees at this stage. Take their feedback into consideration, listen to any concerns they may have, and provide appropriate support. As a manager, you are responsible for helping your staff build their capability. You should stay attuned to the different learning styles of your staff - do they work better with written or verbal instructions? Do they prefer you to be hands on or hands off? Ensure you tailor your coaching style to the individual.
4. Monitor & evaluate + make joint decisions
Monitor and evaluate how you are performing compared to expected progress but don't spend hours on end building reports. When reports are built over the course of days, or sometimes even weeks, they are often no longer relevant by the time they are used. In software like Phocas, you can monitor progress in real-time, so that you do not have to build a new report each time. Better still, you can combine relevant data from different sources to create a comprehensive view of what is happening across the business or in your specific department. Phocas can be accessed on any device, meaning that you don't have to sit down with each employee in your office, but can show them progress and opportunities off-site or as you go. (Watch this 3-minute video to see how it works)
Once you have an idea of how you, your team and each person individually are doing, you can involve them in decision-making processes. This provides a sense of ownership over the targets and can be a great source of motivation. Ask employees if they would like to have any input on your strategy, how they believe they can improve or how targets should be adjusted, and take this into consideration. Not everyone wants to participate in things outside of their job scope but inviting your team to contribute to a whole of team strategy can help you identify future leaders who are motivated by more than just their inputs or their job role.
5. Hold accountable + Empower, engage, listen
When you constantly monitor and evaluate performance as per the previous step, you can hold your team accountable. If certain employees constantly underperform, this should indicate you need to take action. Communicate with the employee, show them the data indicating they are underperforming and ask them what they believe they need to improve. Perhaps they could benefit from learning new tricks from employees who are doing well, or perhaps they don't fully understand the value of a product you are manufacturing or distributing? It may not just be the fault of the employee - if there are common issues across your team, you may need to fix a business process such as better product training for new hires or refresher training for more experienced staff.
Lastly, it is important to empower and engage employees to make the best decisions and listen to their feedback. An excellent way to achieve this is to provide employees with the information they need to make such decisions. By using business intelligence, you are providing your employees with one view of the truth in an easy to understand manner. Phocas allows you and your team to identify trends fast, so you can act on them before problems arise or opportunities disappear.
Using these strategies to manage performance can be incredibly beneficial for both your team and the company as a whole. Chances are you will be seen as a better leader, your team will be more motivated, and the company as a whole will perform better.
Learn more about using business intelligence by downloading your eGuide: KPIs for Executives.