Attract and keep the best finance talent with financial analysis software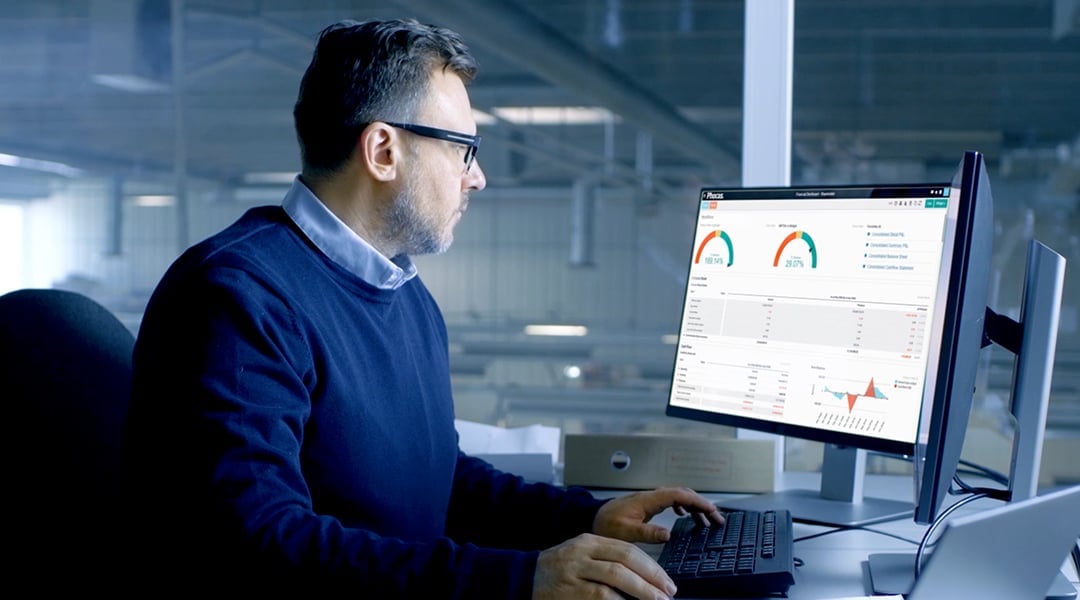 There is a global shortage of finance talent. Yet there is also a growing push toward having a more modern finance team that can be ready for anything, can quickly share up-to-date numbers and coach others in the business about financial performance. The biggest obstacle to achieving digital innovation in finance is the lack of trained teams. To help address the problem, companies need to consider intuitive financial analysis software. These tools can build a bridge to digitizing finance capabilities providing benefits for both the experienced finance team member and the rookie.
Get a strategy for talent
A new generation of educated, diverse and tech-literate talent has entered the workforce. They're seeking meaningful roles and the ability to understand the whole business, whether it be manufacturing or construction. And they have the skills to use new technologies to bring about change. All this is happening at a time when finance's customers—external (e.g. tax office, suppliers), internal (e.g. CEO and purchasing)—are requesting more information that's accurate, insightful and timely. You need to attract these people to your business, motivate them and include them in the transformation of both your finance team and company.
A poor fit hire that leaves within 12 months can cost companies dearly, and most of the time, a person doesn't work out because of a mismatch to the company culture. It's important to consider whether a person is suited to your finance team and what your business can provide. As well as a great mentor to train them – does your company use modern financial analysis software tools? These business tools will be attractive to both the new graduates and the rest of the team. Software that reduces administration and 'busy work' keeps morale high and allows people to concentrate on providing more value to the business.

Retaining talent is as crucial as finding talent. Some of the best finance professionals may leave your organization if you fall behind in keeping up with financial technology or they're unaware of the strategic path of the business.
What skills are needed in a modern finance team?
To start modernizing the finance team, the CFOs need to get close to stakeholders and determine how their needs are changing and what new talents the finance team are likely to need. Two skills often come up are a) fundamental accounting knowledge plus the ability to adapt and grow, which usually also means excellent communication skills so finance people can work across divisions and understand their issues.
These hybrid skills are in demand for emerging finance team jobs such as process owners, business growth advisers, and data analysts. The problem-solving skills of accounting managers are in demand across the business —so they can automate reports and dashboards for others and share financial knowledge.
Help finance teams succeed
The best way to transform a team is to have a great leader. Talk to the CFO or maybe the CFO has already approached the board with the need to change. A strong leader will know he/she needs a group of diverse people who can drive strong performance and can merge strategy with the day-to-day delivery of reports, paying suppliers and monitoring cashflow.

With the growth of cloud ERP technology and data analytics, most companies have seen the benefits of adopting technology that provides easy access to information, greater standardization and simplification.

Utilizing the right tools means keeping things simple, finance teams are focusing on collecting the right data and presenting it clearly to the business, to drive the right business outcomes. Teams are then building on that foundation with data insights – allowing the company to find new opportunities and long term value for the business.

Develop a plan for change
A plan that reviews the finance team's goals and appetite for change will uncover many ways to automate, reduce costs, and increase the efficiency of transactional processes.

Addressing time-consuming processes is the right place for companies to start and an easy way to get some quick wins.

At Prochem, management accountant Shane Angel started by tackling low margin accounts, Previously it had been a very manual process and the finance team only had time to review high-level invoices.

"When we started using Phocas, we were able to unlock all of the low margin invoices automatically – we'd set a threshold for each account type, and we could identify them all. This was a huge time saver," adds Angel.

Shane Angel is a management accountant and a typical example of a professional who augments his traditional financial responsibilities with comprehensive data analysis. Angel describes himself as 'the Phocas guy' and also 'the numbers guy'. He carries out the financial reporting as well as sharing data insights and skills across the company's nine branches in Australia, Thailand and Singapore.

Another obvious process for change is financial statement reporting as many studies have shown about 40% of management accountants time is spent on month-end reports.
Trade Supply Group uses an Epicor Eclipse ERP system matched with Phocas data analytics and Phocas Financial Statements.
"Phocas Financial Statements takes away the nightmare of producing consolidating financial statements that are broken down by branch division or consolidated for the entire company," says Scott Sokoly, Business System Administrator
The head office accounting team can consolidate or split the statements anyway the different companies want them and to any level of detail; be that a top-level or viewing individual expenses.
"The accounting department is excited because it's less work to make a consolidated financial statement. In the past, we have five Excel sheets and you basically add them together. It's just busy work for them so I think they're excited they don't have to do that anymore," says Sokoly.
To find out more about Phocas financial analysis software, watch this 35-minute video that includes an explanation from an in-house expert, a quick demo showcasing how it works and some feedback from early adopters.
FEATURED EBOOK
Top 7 KPIs and metrics for mid-market executives
Download eBook
Fill out the form below to download the eBook.