Collaborative FP&A – a Q+A session to understand how it works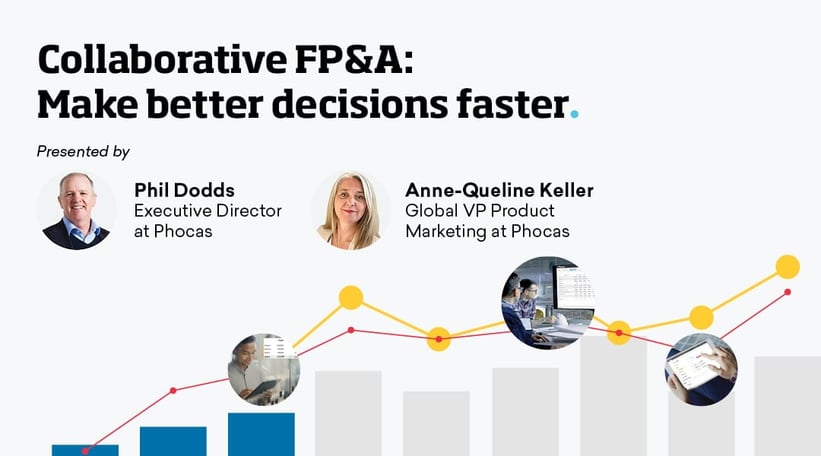 The kind of analysis FP&A teams provide has long been about financial data. Businesspeople are now interested in this type of rigorous planning across the whole company that includes all data from sales to operations. This shift has come in part due to the pandemic and because businesses need the full picture. Businesspeople want to move in unison with all departments making decisions together, and fast. Accountants and business leaders are looking at software to consolidate the data and automate common processes – so the planning, budgeting and analysis— is accurate, companywide and collaborative.
Phil Dodds, Executive Director of Phocas (a trained CPA and software entrepreneur) and Anne-Queline Keller, Phocas Global Vice President Product Marketing recently hosted a collaborative financial planning and analysis webinar with 100+ financial professionals attending. It was a candid discussion with participants responding in three distinct ways when asked about the biggest challenge for finance teams right now in executing collaborative FP&A:
errors inherent in traditional reporting methods

multiple teams involved having different objectives

pressure to meet monthly deadlines
Here's the full discussion in a Q + A style with Anne-Queline setting the scene and Phil answering the questions.
We're in the middle of an economic recovery that is tough on most small and mid-market businesses. Many companies are having trouble with cash control because business is lumpy and the local and global markets remain unstable. So when we analyze that kind of situation — the standard operations and sales planning that most businesses do is simply not enough. This has two implications, the first is all departments need to reach out to the accounting professionals in the business to provide financial smarts around the budgeting and planning process and the second, CFOs and finance teams need to step-up as trusted advisors.
Question: Tell us your experience and key learnings for finance professionals wanting to move into a trusted advisor role?
Answer: Firstly, it's great we are talking about collaborative FP&A. In my experience, collaboration is the key behavioural shift in moving an accountant from crunching numbers to becoming a trusted advisor. Budgeting, forecasting, and planning processes can be complicated and if you do them collaboratively, then you're going to improve the results for your business.
You really will struggle with the collaborative process, unless you've got good tools and systems to assist you.
Question: Do you see the pressure of budgeting adding errors to this new style of FP&A?
Answer: Absolutely. I mean, everybody knows the stress that can come with budgeting and the effect that has on an individual's performance. Whether you budget monthly or annually the stress is there.
What happens is the end task becomes meeting the deadline, rather than achieving the right result with great accuracy.  There's an entire process going on, your spreadsheets are sent out, they're collated, consolidated and discussed. Then pushed back. It's a never-ending cycle so people start overriding spreadsheets and accepting numbers without question, and effectively, the collaboration is neglected just to complete it.
We also know that industry research backs up this lived experience. 
According to an article in CFO magazine, written by Mary Driscoll, top performing organizations still see a 1.5% sales forecast error rate, with the bottom quartile experiencing an error rate of 3.30% of sales or more. In addition, mid-level market companies with sales of $100-$500million fare worse than bigger corporate companies. For a mid-size company this could mean a revenue miss of over $4 million dollars.
"I

n the last 18 months structures and assumptions in the budget models had to change and companies were forced to pivot. Change is hard to discuss especially when everyone is not in the same room and when the information underpinning it is spread across multiple, disparate systems.

"



Phil Dodds, Executive Director, Phocas
Question: Does having multiple people involved in the FP&A process add complexity? Are there natural tensions due to different objectives?
Answer: These people, although interconnected, of course have different objectives.
It's the responsibility of sales managers to increase sales through discounts and promotions, while the production manager or the supply chain manager may be dealing with capacity constraints, for example, with how many products they can deliver. 
So FP&A tasks are widespread and vary across the organization and the finance team needs to be supportive of the objectives of each department while ensuring the process remains coherent and consolidated. It needs to be in tune with market conditions and external constraints. To predict the future, you need to get the collaboration right and be agile across all departments.
For example, if sales has a massive forecast to reach, the FP&A team needs to also circle back to production and know whether the longer lead times for materials means the business can produce what it is hoping to sell and therefore make the planning realistic. So, the collaboration part needs to put "sales targets and production restraints" back into the model, re-run the model and then it's a reiterative process.
Question: Has covid added more urgency and complexity to the budgeting process?
Answer: Yes absolutely. Most organizations during covid found that their budgeting models were outdated and were scrambling to keep up. In most cases traditional budgets are built in silos, owned by each department but then suddenly departments were also spread out and working from home offices, so the collaboration task became more laborious and a more difficult job. 
Not only this, in the last 18 months structures and assumptions in the budget models had to change and companies were forced to pivot. Change is hard to discuss especially when everyone is not in the same room and when the information underpinning it is spread across multiple, disparate systems.
Again, if we look to the research:
According to FP&A Trends, Financial Executives will want to focus on dynamic FP&A - no more fixed rigid models, businesses will want to focus on cloud based flexible models that allow them to play out the "if/then" scenarios. In this way, using an online FP&A tool will be instrumental in allowing financial executives to have immediate access to data and insights. Thanks to modern FP&A capabilities, CFOs will have the power to make strategic business decisions based on data and insights, transforming their role in the organization from "number crunchers" to advisors. That's the big shift CFOs need to make, but in a collaborative way.
Question: What should a CFO look for in a cloud FP&A tool?
Answer: The past two years have shown that using an online approach to collaboration has allowed for faster results. Here are some of the attributes of cloud-based online FP&A tools that our customers are finding appealing as they move to a new model: 
Fast and easy to use

 

Allow for multiple users to be working on the same model in a secure way

 

Fast recalculations 

 

Most are integrated to existing BI tools for quick dissemination

 

Intuitive to build new models and scenarios

 

Visually appealing for better communications
Question: What is your advice to build the right culture in an organization to achieve collaborative FP&A?
Answer: It's all about the people – less about the tools, the software is an enabler but the people need to make the cultural shift.
To build strong partnerships across departments CFOs need to work alongside these people to build trust and knowledge.
To start I recommend changing the perception of being a "number cruncher" so before you simply say "no" to any capital request, bring valuable financial insights to operational decisions.
Then learn about all aspects of the business and have deep data insights at your fingertips. 
Separate budget reviews from FP&A. Use accounting to discuss budget variance, use FP&A as a trusted advisor.
Be consistent and over-deliver by offering consistency and frequency with reports, meet regularly and provide self-service capabilities for business leaders to see progress through the models they are building.
Finally, seek out these partnerships by anticipating each business leader's needs, forget about your need to get the budget done. What are their cycles? When do they begin to budget? When to re-assess and pivot? How can you make suggestions to help them recalibrate when needed? 
This means the budget deadlines we talked about at the beginning of the webinar happen more naturally with better results. The ownership of the budget model is more personal because when everyone has a vested interest, there are less mistakes, more confidence, and a willingness to take part.
For more information about Phocas Financial Data Analytics download the eBook: Modern Financial Planning and Analysis