Employee engagement is at an all time low: How BI reports can help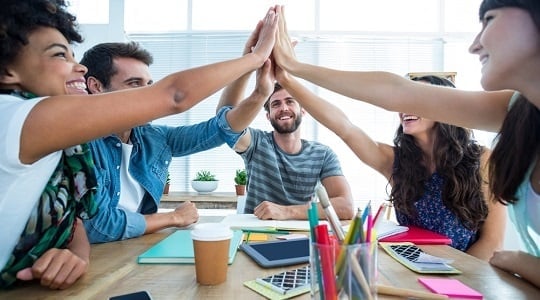 Are your employees engaged?
Sure they might show up for work every day and put in their time - but that's not the same thing as feeling committed to your company and its goals. Unfortunately, statistics indicate that you might have a larger problem with employee engagement than you think.
According to a 2018 survey by Cascade HR, more than half of Human Resources directors believe employee engagement is the biggest hurdle they will face this year.
Low engagement in the workplace isn't a new problem. Gallup has been studying employee engagement since 2000, and every year the research findings seem to grow a little more troubling. While the numbers have changed slightly, for the most part only about 32 percent of the American workforce has been engaged - meaning they are enthusiastic about their work and committed to their employer in the last several years.
Using BI to Improve Employee Engagement
Data has changed a lot of processes over the years, and managing employees could be one of them. It's tough to foster an environment that promotes employee engagement if you don't have any information about how your employees are doing on the job. Using big data translated through a business intelligence (BI) platform, you can find opportunities to approach unengaged or poor performing employees and take action quickly. Here are a few other ways BI reports can help you keep your staff engaged, productive, and loyal to your organization.
Show their outcomes
Liking their colleagues or enjoying the work they do will only keep your employees self-motivated for so long. After a while, it can help to show your employees the results of their job performance. If you have insights into how an employee's or team's efforts have impacted your bottom line, don't be afraid to share them. Your employees can use BI reports to see where their performance has improved or can be improved. Tracking outcomes also gives managers an opportunity to intervene early with disengaged employees, providing suggestions or tools that could help enhance motivation and performance.
Establish manageable goals
Without using data, it's tough to know where your organization is going and how you can get there. Armed with BI reports, you can set meaningful goals for your company's growth, and take a look at how your staff can help you get there. This could include ways to increase engagement, improve retention, better train employees, offer promotions or role changes, and identify talent gaps that exist, among other staffing insights.
Address talent gaps
BI can help you identify your staff's strengths and weaknesses. In some cases, this could require making a new hire, but oftentimes, talent gaps can be filled by offering the right training opportunities. Use the data at hand from your human resources (HR) software, your employee engagement tools, and your sales engagement tools to see where there are gaps. By tapping into data about your staff, business goals, and customer retention rates, you can identify areas where training could be beneficial. Investing in your employees can help foster a better sense of loyalty and a newfound energy for approaching tasks.
Reward hard work
It probably goes without saying that you shouldn't only use data to identify problems. Positive reinforcement of good behavior helps both the employee being rewarded and those around them who learn from example. Look for your engaged, productive employees who are adding value to your organization, and reward them accordingly. Consider offering incentives that could promote employee engagement and help employees to feel valued, such as an extra day off, a chance to work on a new project, or more flexibility.
When you harness the power of BI reports, you give yourself the opportunity to identify areas of growth, as well as the leverage to enhance profits and meet your business goals. You can easily analyze employee performance with data analysis to find low engagement and intervene early. After all, hiring new employees is costly and time-consuming--it's always better for your bottom line to hang on to your current staff. Luckily, BI insights can help you learn how to best invest in your team and maximize results.
---
This is a guest blog from Megan Pacella, a writer for TechnologyAdvice.com. She is a Nashville-based freelance writer specializing in healthcare, wellness, and lifestyle content. In addition to writing for national outlets such as USA Today, she works with a variety of healthcare companies to create patient engagement and education programs.
In this blog, we have discussed how BI can benefit your business. Would you like to know which key performance indicators (KPIs) executives and managers can track to acheive business success? Download our free eBook here.