[eBook] How SAP Business One users can make their ERP system go from good to great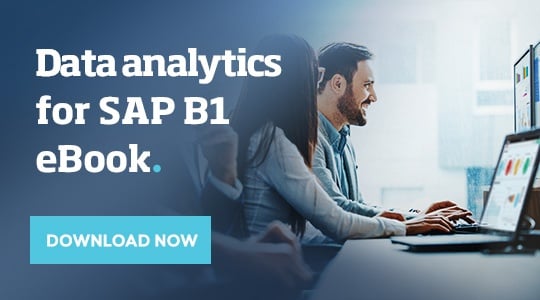 For the majority of medium-sized organizations, purchasing, integrating and maintaining an Enterprise Resource Planning (ERP) system is the foundation of good business management.
ERPs are the backbone of manufacturing, distribution and retail businesses and the right system will facilitate reduced costs, improved efficiencies and be the central collection of valuable data that can be analyzed to help you make better business decisions.
Analyzing product and customer data in the ERP is often the missing link for organizations desperate to get the right data into the right hands to make the right business moves.
The importance of data
Your company's data, and the software used to analyze it can be the difference between getting ahead of competitors or constantly playing catch up.

The amount of data produced by companies is growing rapidly, yet many decision makers are unclear about how it can be used to grow their business.
Companies have traditionally relied on ERP systems to collect and combine this information in the hope of streamlining processes, reducing costs, improving profit margins and increasing return on investment (ROI).
The limitations of ERP systems
Unfortunately, many ERP systems were not specifically designed for company- wide data-driven decision-making.
The strength of ERP systems is not in their ability to perform trend analysis or provide high-level data-driven insights. Their value is in giving you an exact view of your business from an operational perspective.
Most ERP systems can be challenging for the average person. Users might find that they depend heavily on IT staff to lead all analytics and reporting, or attempt to make sense of confusing spreadsheets themselves, leaving them frustrated.
As well as being complicated and time consuming, in many cases, ERP reports are static. While the information is helpful and provides a snapshot of business performance at a particular time, a static report does not provide a complete picture of up-to-the-minute insights that can truly help users make strategic decisions.
Business intelligence makes reporting and analytics easy
Business intelligence (BI) solves the ERP challenge with reporting and analytics by aggregating all of the data from various systems and presenting it in ways everyone can understand.
A good BI solution will let you ask questions of your data and let you keep drilling down as the need for more specific data arises. Any findings should be presentable in graphs, charts, dashboards and scorecards and be easily shared with others.
BI minimizes the uncertainty around predicting future trends. Forecasting is made easier and offers facts to inform decision making regarding market conditions, competition and customers' buying behavior.
It also lets users review past performance, discover opportunities and uncover potential challenges before they impact your business.
Perhaps most importantly, BI software empowers a company's entire team – at every level of the business – to use the data sitting in ERP and other systems more strategically.
Why integrate a specialty BI solution?
ERP software providers have caught on to the advantages of BI and many now offer their own version in an attempt to bene t from a growing market demand.
But sadly, many of these offerings are not flexible enough, are too expensive and clunky to use and fall short in the level of industry expertise and dedication required to provide a BI solution capable of meeting customers' needs.
Users want to access and analyze their data and turn it into actionable intelligence in order to better understand their operations and customers. They need to be able to make decisions that increase efficiencies, drive sales, and improve customer relationships.
The benefit of combining a dedicated BI solution that integrates easily with SAP Business One is that users will be better positioned to receive the highest quality upgrades and solutions from BI specialists. In other words, invest in the experts and get the results.
To learn how you can get the most out of the data stored in your ERP and other systems, download your free eBook today.