How to achieve a seamless budgeting process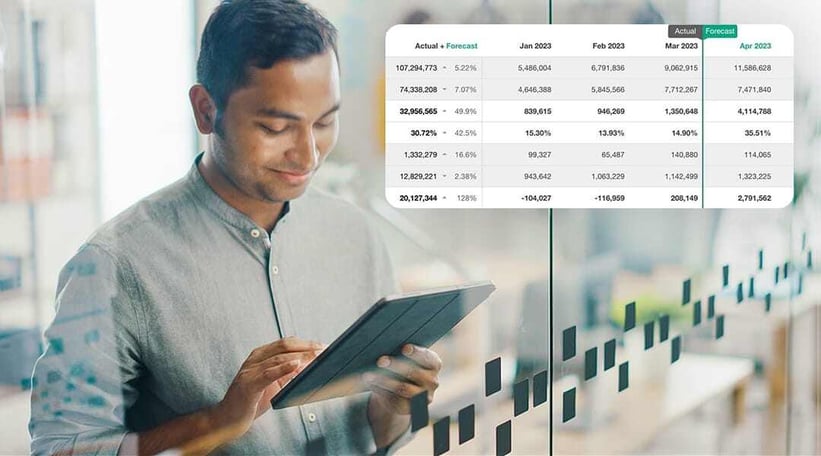 As a finance professional, you know all too well the labor-intensive task of budgeting each year. While your team spends hours manually updating, revising, and cross-checking spreadsheets, you're likely missing out on opportunities to drive insights, create more accurate forecasts and otherwise add value to the organization.
Shockingly, financial managers waste about 12 hours per month manually updating, revising, modifying and correcting spreadsheets, according to Ventana Research. As you know, spreadsheets can be error-prone and difficult to manage. To solve this problem, many companies are turning to a more modern and seamless approach to budgeting with the help of data analytics budgeting and forecasting software. If you are considering a more user-friendly digital solution, you might be concerned about the time investment in training and adopting a brand-new process.
The good news is that the implementation cycle for a tool like Phocas Budgeting and Forecasting is only six weeks. Here's how to create a seamless budgeting process.
1. Involve the team
A traditional budgeting model doesn't allow much input from outside of the finance department. In a typical scenario, you'd email files to management to solicit input. Of course, you want to be careful with the information you share with other departments and might worry about outdated versions circulating throughout the company.
A budgeting software solution offers you the chance to share financial information with any departments that it chooses, with built-in permissions set by finance. Budget workflows allow employees to view the assignment, submission and approval process for each account code line, with the opportunity to add comments and view a detailed history of each workflow.
Since access is available throughout the company, employees can quickly pull up the info they need without checking with finance.

2. Automate the budget process
Working with Excel can be a cumbersome, inflexible process that limits your team's ability to gather insights. Your team spends a bulk of its time transferring data from the Enterprise Resource Plan (ERP) into spreadsheets. When corrections and modifications need to be made, you must create new versions since the old static spreadsheet reports become outdated.
Automating the budgeting process can eliminate these time-consuming manual inputs. Using a budgeting software solution that automatically integrates with your ERP and other data sources can be a true game-changer for your accounting department. Users can easily make changes that become visible to other users in real time, removing the worry about using an outdated or incorrect version.
3. Integrate other elements of the business
It can be difficult to create a detailed budget when you're waiting on figures from other departments — which don't always share the same sense of urgency as your team. A digital solution can help you automatically cull data from non-financial databases so that you can include the true budget drivers such as sales figures, headcount and capital expenditures.
Using this feature, you can drill down into detail lines that comprise the budget for those items. For example, when adding sales figures, you can drill down into salesperson, product group, or SKU level to determine the effects of different drivers and budget more accurately.
4. Leverage dynamic insights
Your business likely uses monthly financial reports to review business performance. Unfortunately, these static reports don't offer many insights — and if a manager needs more information, it could take hours for a finance team member to verify the figures in a spreadsheet or legacy system.
When you create a seamless budgeting process with a digital solution, you can create dynamic reports that feature interactive data. That means the report will automatically pull the relevant information from the ERP for managers to review and analyze throughout the month. You won't have to spend time generating multiple reports for divisions or departments since this digital tool enables you to create as many customized reports as you need.
5. Create more accurate forecasts
As you know, budgeting can be an inexact science — particularly when you're dealing with error-prone spreadsheets. A digital budgeting tool can offer you the ability to use "rolling forecasts" to create more accurate budgets throughout the year. You can either re-forecast estimates during the budget period or create a rolling forecast, which will come in handy for future budgets.
Because the software offers financial dashboards to showcase month-end financial reports, you'll also be able to identify patterns and insights to make data-driven decisions in the months to come.
A more modern budgeting approach can free up your team to spend more time on strategic, financial analysis-based work. If you choose to use a financial statements solution in tandem with your budget process, such as Phocas Financial Statements, you'll be able to integrate the software with top ERP systems such as Infor, Epicor, Microsoft, MYOB, Oracle and SAP.
To learn more about the new budgeting and forecasting tool and how it works alongside Financial Statements, watch this on-demand webinar. It consists of a further explanation from Dan Harrison, chartered accountant and subject matter expert, a demo of the new software and comments from some of the beta customers involved in the development.