How to better prepare for your next sales meeting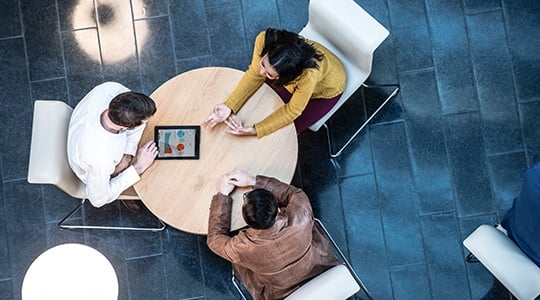 One of the biggest concerns for sales leaders is making sure that their sales force is prepared when they go out into the market and engage with customers. The sales team are, after all, a major face of your business.
If your sales team meet with customers, current or prospective, without preparation, they may not maximize their time or opportunities. Instead, they could be delivering poor experiences and leaving a negative impression of your company and or products.
When it comes to customer meetings or sales calls, it's important that your team is prepared. For most sales meetings, you have only a few minutes to cover a significant amount of business, and then leave with a stronger relationship and hopefully new orders. Access to accurate and timely data through a centrally administered business intelligence (BI) solution offers the foundation of your team's preparation, providing a comprehensive picture of your customers' transactions with your company.
The ability to access data from their desk or mobile devices will ensure your team has understanding of their customers' buying patterns, and perhaps more important, what they are not buying. For prospective customers, a validated understanding of the marketplace, from what products are selling to what competitors are buying, can go a long way to help build relationships and secure new business.
This blog will discuss how BI can serve as a critical part of your sales team's preparation, providing data that answers questions about the past, present and future.
Historical perspective
Before your sales team enters a sales meeting with current customers, they need to know what the customers are buying, as well as what they aren't. BI solutions can make it easy to understand customers' buying habits through visualization and dashboards.
Raw, historical data can be presented in charts, graphs and tables that can quickly highlight how much customers have purchased and which products they are buying most often. You can quickly drill into the data to identify what products aren't selling and see if customers have stopped purchasing products as well. The data will also illustrate any supply chain challenges, so your team knows if there have been stock or delivery issues to specific branches or geographic locations.
Your sales team can go into customer meetings with a strong historical perspective of the customer relationship, armed with product and promotional strategies that address customer concerns and incentives to expand the relationship.
Current events
While historical data is important to the complete picture, real-time data helps to showcase the current state of the business. BI dashboards can be integrated with other systems and departments so that with a quick glance in the BI software, your sales team can find information about orders in process, backorders and outstanding invoices. With this information, your sales team can address distribution issues such as stalled deliveries, update customers about the status of recent orders and request updates from the customer about payment status. The combination of an historical perspective and an understanding of the current business relationship will make it easier for your team to work with customers to develop strategies that drive future success.
Future outlook
To help your customer make future plans, you need to understand what is working for their business. Your future success with customers will depend on a variety of factors, including learning from past mistakes and taking advantage of new opportunities.
BI can help you identify trends in your customers' purchasing habits so as your sales people prepare for the next sales meeting, they can identify opportunities for growth. As you manipulate and visualize your raw data through your BI solution, you will recognize ways to expand sales across your customers' locations and how to grow revenues with complementary products.
The same data will also reveal issues with underperforming products or supply chain issues that can help you to develop strategies to eliminate similar challenges in the future. This level of detail will help your customers recognize the interest you have in their success while building a stronger relationship.
Companies need to ensure that customer sales meetings exceed expectations, add value to the customer and the business relationship, while helping them stand out from the competition. BI provides sales professionals with the information they need to turn transactions into data-driven insights that increase the value and productivity of customer visits.
A well-prepared sales person armed with data to illustrate performance will ask the right questions while building confidence with customers and helping portray your company in a more professional light.
Would you like to learn more about improving your team's sales performance? Download a free copy of our eBook '10 metrics every sales manager should know and measure'. Simply click here or on the button below.

FEATURED EBOOK
Top 7 KPIs and metrics for mid-market executives
Download eBook
Fill out the form below to download the eBook.