Increasing sales in your wholesale distribution business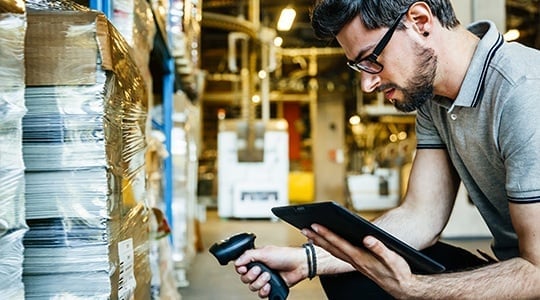 Wholesale distribution companies make money when other businesses purchase their goods. Yet, in today's challenging marketplace, this can be easier said than done. The recent disruption has shifted demand patterns, creating difficulty in determining what items and quantities of products to buy and store. To adapt, the industry needs an efficient way to measure the shift in consumer behaviour and to keep the right inventory levels so you can use your data to continue to increase sales.
Perform a gap analysis
The best way to generate new sales is to increase the sales revenue from your existing customers. Performing a Gap Analysis will enable your sales team to quickly identify new sales opportunities. A gap analysis is done by monitoring your customers buying patterns to track which products that are buying and which products they should be buying but are not. This enables you to pinpoint any "gaps" in your sales. For instance, you may determine that a number of customers are buying drills (Product A) but for some reason they are not buying the accompanying drills bits or grinder heads (Product B). With this information, your sales team is equipped to present cross-selling or other offers to close those sales gaps. By proactively making offers that add value to your customers, you will improve your customer relationships and boost your annual sales revenue organically.
Monitor declining customers
When companies realize they are losing customers, they often shift their efforts to acquiring new ones. Research by Invesp shows 44% of companies focus on acquisition, while only 18% put their efforts into customer retention. However, most studies agree that it is five times more expensive to attract new customers than it is to retain the ones you have. Therefore, preventing the loss of customers will yield a far better outcome for your bottom line.
Business Intelligence (BI) such as Phocas provides your team with a customizable dashboard that will enable them to continuously monitor the number of customers in decline in near real-time. A few clicks will display which customers are declining and provide a detailed view of their purchase history. Now a sales representative can quickly meet the customer and offer a discount, a deal on a special bundle, or a more suitable product mix to stop the decline. By demonstrating a desire to understand and meet their needs, you nurture your customer relationships and ensure their loyalty.
Be prepared for sales meetings
It may surprise you to learn that it is quite common for a sales representative to meet with clients unprepared. Unfortunately, many sales reps find that they have too much to do and too little time to adequately prepare. However, preparation for a sales meeting can make or break a deal, particularly if a competitor does come prepared.
Preparing to meet with a customer requires more than reviewing their website. A sales representative should be familiar with an established customer's buying history and trends. For a new customer, it's helpful to review the buying history and trends of an established customer similar to the new prospect. With Phocas' mobile capabilities, your sales reps can prepare for a meeting on their tablet or smartphone while on the road. Robert Wright, a Senior Application Developer at Behler-Young, integrated Amazon Alexa to be used with Phocas so that he can query his customer information hands-fee while on the go.
Save time with business intelligence
It can take hours to generate traditional ERP and CRM reports for each customer. With Phocas, your sales team can perform a gap analysis, analyze customers in decline and prepare for a sales meeting in a matter of minutes, and they can monitor the data as often as they like. Phocas has years of experience helping wholesale distribution businesses achieve greater success. As an out-of-the-box solution you can be up and running, increasing revenue and saving money in no time.
To learn more ways in which wholesale distributors can get a step ahead with BI, click here or on the button below.
FEATURED EBOOK
Top 7 KPIs and metrics for mid-market executives
Download eBook
Fill out the form below to download the eBook.