Can caring for others drive business performance?
At Eastern Industrial, a caring philosophy and family culture matter. On this episode of the inPhocas podcast – we chat with Mr Kip Miller, the President and Chief Executive Officer of Eastern Industrial Supplies, about his philosophy for business.
Eastern Industrial Supplies (Eastern) is an independently owned distributor of pipe, valves, fittings and commercial plumbing products.
Eastern has 18 branches and two support locations across southeastern America.
Kip has built his career at Eastern from the ground up – he started in the warehouse after graduating from university, and in 1985 he was promoted to head of sales and vice president. His responsibility was also the company's culture, or at that time, it was called the 'working environment', which he relished.
The decline of the family culture kept the CEO up at night
A year later – due to unforeseen circumstances, he became the Eastern owner at just 29 years of age. He had a lot to learn, navigating massively high-interest rates and lots of debt, and while he managed to get Eastern out of trouble, when we surveyed all of his people, they advised Eastern was losing its family culture.
The decline of the family culture kept Kip up at night, so he sought advice from different people and then decided to make caring a priority in the business.
"Of all the places I have been, I have never met a person who did not want to be cared for. We have a great opportunity to have a positive impact on people everywhere."

Kip Miller, President & CEO, Eastern
Eastern cares
Based on his observations of what people need, he questioned himself as a business owner and set himself the challenge of meeting this need through business. He launched a new program in the late 1980s called 'Eastern Cares', which continues to be pivotal today.
Eastern started caring for its workers and associates by offering them great benefits and chaplain support services to empower them and make a positive difference in their lives. Next, Eastern employees were encouraged to care about local communities and volunteer. Then it moved further afield to help in other parts of America and then abroad, where the company has been supporting a community in Tanzania via education and business for 15 years.
Eastern Cares started with five values (transparency, self-responsibility, integrity, caring, positivity). As Kip moved around Eastern's 18 branches talking to people about the values, the feedback was these core values mean different things. Hence, they expanded them to 28 fundamentals that are more specific and have become a scorecard for everyone to walk the talk for 'Eastern Cares'.
Each week they focus on a fundamental to unpack and then relate and apply it to their business lives.
Does caring help the bottom line?
And the big question – does caring help the bottom line? Kip says the program does give Eastern a competitive advantage, leading to higher customer and employee retention.
inPhocas podcast
The inPhocas podcast showcases people from Phocas' circle of friends. It's a forum to share ideas, celebrate success, understand hard work, consider data and learn some new fun facts. Don't miss our next episode.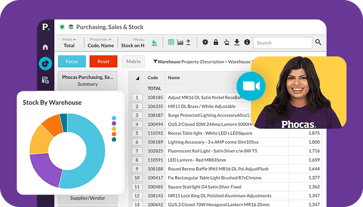 Get a demo
Find out how our platform gives you the visibility you need to get more done.
Get your demo today