Culture matters as Phocas scales up
Myles Glashier, our co-founder and co-CEO explains the evolution and development of Phocas on the popular podcast, 'Scaling Up'. Myles chats with Ed Cowan about the story behind the data analytics business.
The genesis for Phocas came when Myles was a backpacker in London and met ERP owner Paul Magee. The two co-founders have stuck together over 20 years, bootstrapping a subscription-based business intelligence software company into a global success story. If they had one rule, it's culture matters.
The story of Phocas
Listen to the Scaling up Podcast: Lessons from the world's best CEOs and Founders. Episode S3E6: Backpacking the road of business intelligence software with Myles Glashier.
It's 2001, Myles Glashier is an Aussie backpacker in London. He falls into starting a bootstrapped business selling on premises business intelligence software. Fast forward 20 years and Phocas has carved out a niche to serve manufacturing, distribution and retail customers around the globe. Having grown consistently year on year, and now with revenues north of $40m and 200 people across 3 continents without any significant external capital, this is a scaling up story of boundless hustle, and drive to make every dollar count.
Here are some of the questions Myles covers in the podcast:
How did Phocas business intelligence start?
When Myles Glashier worked for an Enterprise Resource Planning software company 20 years ago in the United Kingdom, he found a gap in the software that if addressed, people would value. Sales people could not get access to important information about customers and products that was embedded deep in the ERP software - in effect, he wanted to create business intelligence insights which the sales people could access themselves. He shared the idea with the owner, Paul Magee and flew back to Sydney to get started on the prototype. Myles came back to England within the year, and the new software sold quickly.
What was the model for the business?
Paul Magee owned real estate properties and liked the recurring monthly rental payments, so when it came to selling software, they decided to sell it as a subscription model. Phocas was one of the pioneers to sell software in this way which we now know as the Software as a Service (SaaS) model globally.
What is Phocas secret sauce?
There are many factors behind the success of Phocas; here is a couple that Myles outlines:
Razor focus on the verticals Phocas serves. All the new features are created to address the specific needs of different job functions within manufacturing, distribution and retail and the customer service is personal and set-up to be an active resource.
Low barrier to entry for companies – we want to help people get consolidated data quickly, so we offer a solution that has built-in content that is easy to implement and start using straight away
What advice do you have for start-up founders?
Invest in people and culture early. Involve your people in every decision because they are going to help you make the best decisions for scaling your business.
For more information about Phocas and its culture, check out what job opportunities we currently have on offer here.
inPhocas podcast
The inPhocas podcast showcases people from Phocas' circle of friends. It's a forum to share ideas, celebrate success, understand hard work, consider data and learn some new fun facts. Don't miss our next episode.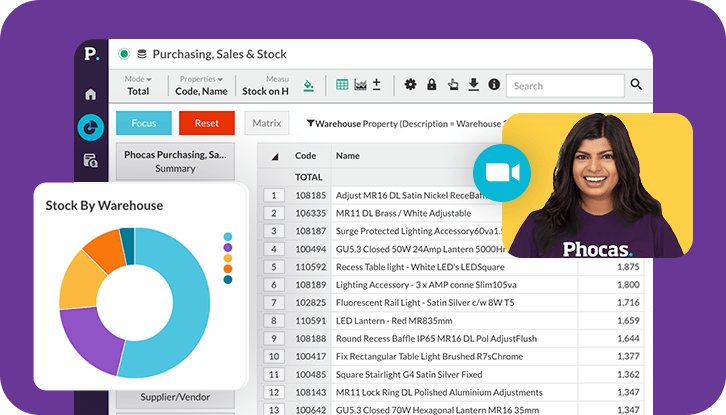 Get a demo
Find out how our platform gives you the visibility you need to get more done.
Get your demo today