Anticipating customer needs is the future of B2B sales
Nuts and bolts go together and without them, most construction wouldn't be strong or safe. Profast, based in Ireland specializing in these essential items and ensures many iconic buildings, schools and industrial parks remain standing across Europe
On this episode of the inPhocas podcast – we chat with Profast's Head of Sales, Stephen Clarke who is an optimistic leader who uses data to track performance and motivate his team. Stephen also likes to take his people on a journey and one that he describes is getting on the bus together and looking out for potholes and bumps along the way.
Using data analytics, Stephen has been able to change Profast sales model to be the proactive consultative approach.
What makes a great sales leader?
When asked what makes a strong leader, Stephen says it really comes down to how good your communication skills are and whether the leader knows the strengths and weaknesses of their team.
Stephen also believes in providing people with a vision so they know where they are going and what they need to achieve and perhaps even help them believe they can also do a bit more.
"Give them the vision. Allow them to believe that they can achieve things that may not be possible. If you can build the people you can build the business."

Stephen Clarke, Head of Sales, Profast
Data + Uncertainty = Opportunity
Data insights have helped Profast measure customer and salespeople performance accurately and quickly. Data identifies where extra support and resources are required.
"Data is very important because if you're not reviewing your performance, how do you actually know how you're performing, especially for sales individuals including myself .. we all think we are doing a fantastic job and we have that positive outlook as individuals but if our strengths and weaknesses aren't visible then we can't improve as individuals."
Dashboards keep us on track
Dashboards are a fantastic way to stay on top of performance because they are constantly there and Profast looks at them on a daily basis.
"Dashboards tell us what's in the pipeline and with new proactive sales operating models, it's very important that we are constantly thinking ahead and we are not just reacting to now. As soon as we stop thinking ahead, we get complacent and we could find ourselves getting lost on our business journey."
inPhocas podcast
The inPhocas podcast showcases people from Phocas' circle of friends. It's a forum to share ideas, celebrate success, understand hard work, consider data and learn some new fun facts. Don't miss our next episode.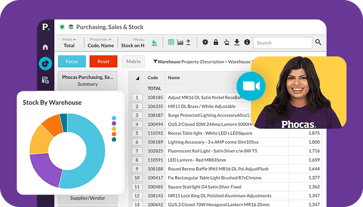 Get a demo
Find out how our platform gives you the visibility you need to get more done.
Get your demo today